Christmas is almost upon us again! I'm busy making last minute treats for neighbours. I thought I would share this Reindeer Caramel Fudge. I saw the cute packaging idea on a Thermomix sharing forum and I couldn't wait to make my own reindeers.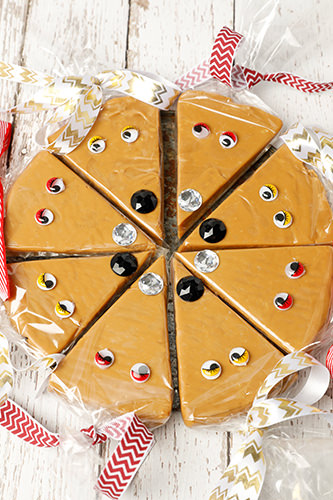 Is it just me or does each year whiz by quicker than the last? It seems that I'm always posting last minute recipe ideas. I remember last year I posted a last minute Blonde Christmas Cake.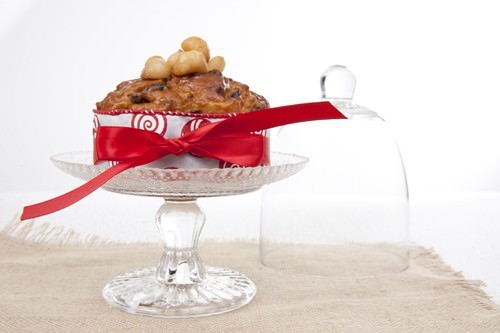 I'm calling this a last minute recipe because it's super quick to make and it can be packaged up and given as a last minute gift to neighbours or friends that drop by.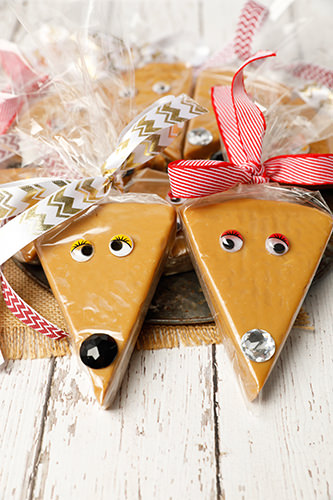 The caramel fudge is a really easy recipe that I've shared previously on this website. If you prefer you could also use this Vanilla Fudge recipe. If you make the vanilla fudge your reindeer won't be as brown but they will still look crazy cute.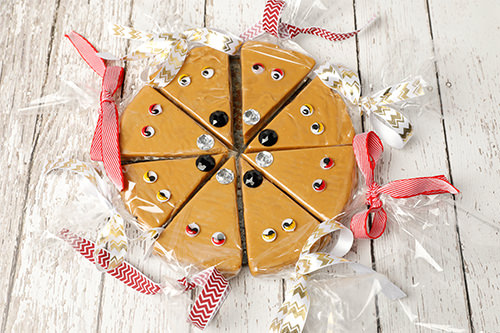 To make the wedges of fudge I used a spring-form pan that I lined with baking paper. Once the fudge was set the sweet was cut into eight wedges. The reindeer caramel fudge was then wrapped in clear cellophane and secured with sticky tape.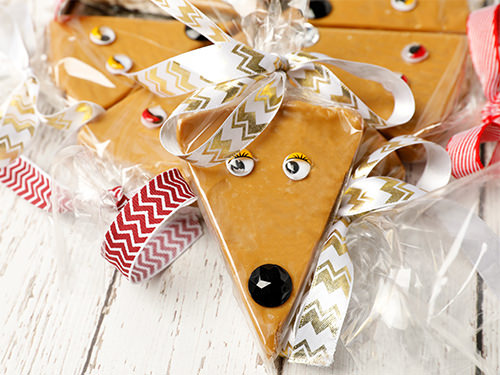 At this stage, it was time to ask for a little help from my daughter Anais. Anais loves helping with gift making. We had chosen some adhesive gems for the nose and some cute googly eyes. The googly eyes needed to be stuck on with a hot glue gun. To finish the Reindeer Caramel fudge we just wrapped some lovely Christmas ribbon around the end.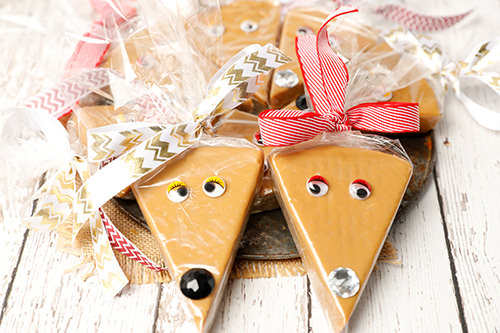 Ingredients
170

grams

Cadbury Dream white chocolate

1

can sweetened condensed milk

160

grams

brown sugar

120

grams

Butter

75

grams

golden syrup

50

grams

glucose syrup
Instructions
Place broken up chocolate into TM. Lid on 5 Sec/Speed 9.

Remove the chocolate and set aside for later use.

Add condensed milk, chopped butter, brown sugar, golden syrup and glucose syrup to TM. Cook 8mins/100C/Speed 3 MC OUT.

Open the lid and scape the sides and bottom of bowl with spatula.

Cook for a further 20mins at Varoma Temp/Speed 3 MC OUT.

Add the chopped chocolate to the TM. Combine 10 secs/Speed 4.

Repeat this process until the chocolate has melted and is combined.

Pour the fudge into a lined round springform tin, refrigerate until set.

Slice the fudge into wedges.
Nutrition
If you're looking for some other delicious last minute Christmas treats take a look at some of these ideas. Below is my Christmas Rocky Road.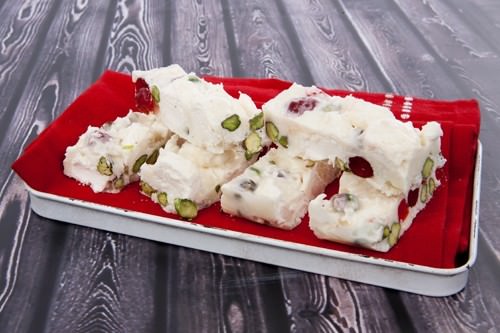 Coconut Ice is a recipe I learned to make with my nan. It wraps up beautifully for a sweet gift.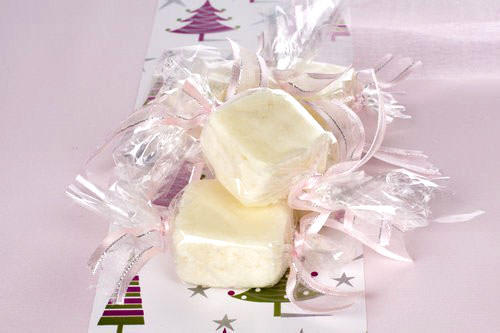 Or if you're looking for an edible centrepiece try this Ferrero Rocher Christmas Tree.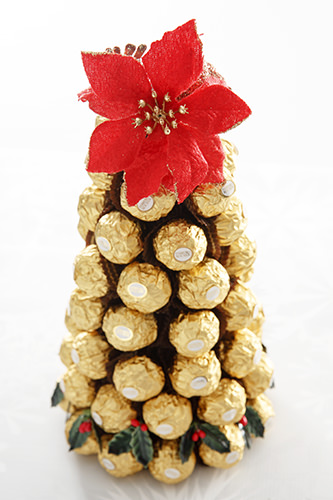 Please feel free to add any of your own last-minute treats in the comment section. For more delicious ideas don't forget to follow me on FB – Gourmet Getaways.