I have been spending a lot of time trawling the internet looking for delicious Christmas treats to make with the kids.  There are so many gorgeous, cute ideas out there! I decided I needed to share some of my favourite recipes from other websites with readers.  If you follow me on Pinterest you would have already noticed that my Recipe – Christmas Cooking Pin Board is getting a little out of hand.
I have managed to choose my top 20 Quick and Easy Christmas Treats to make. These are all sweet Christmas snacks or desserts that I think could be made with help from the kids. My kids always want to give little Christmas gifts to their school friends so I went in search of some simple Christmas gift ideas for them to make. Then of course I had to include some of the more traditional Christmas recipes like rum balls and shortbread.
I have tried to keep to a quick and simple Christmas treats theme. So most recipes have very few ingredients and some can be made in only five minutes!
1 Sleigh Riding Teddies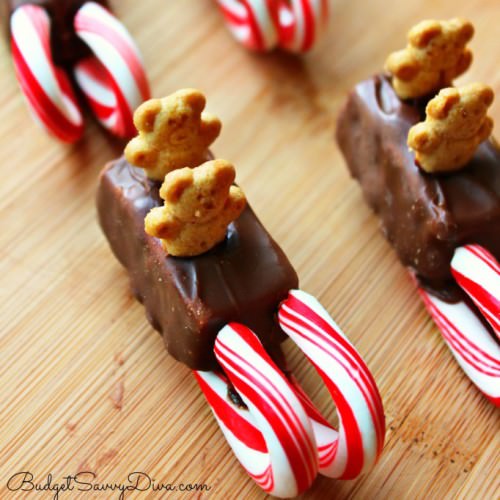 These a simple and so cute!! Created by Budget Savvy Diva I can imagine making these with my daughter for the Christmas table.
2. Candy Can Pretzel Bark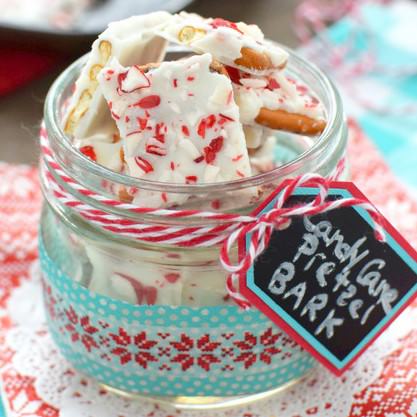 This is a recipe to make with the kids as gifts for the neighbours.  It takes just 10 minutes to make and looks fabulous gifted in a decorated jar. For the full instructions visit Inside BruCrewLife
3. Rum Balls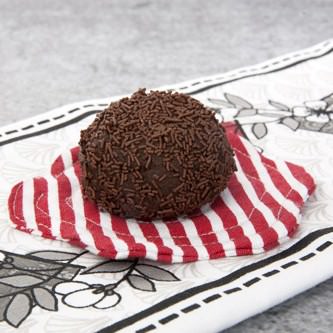 Everyone needs to have a Rum Ball recipe up their sleeve at Christmas. This is the only recipe you will ever need, it's simple, delicious and there will NEVER be left overs, these are addictive! Check out the Rum Ball recipe here.
4. Strawberry Christmas Trees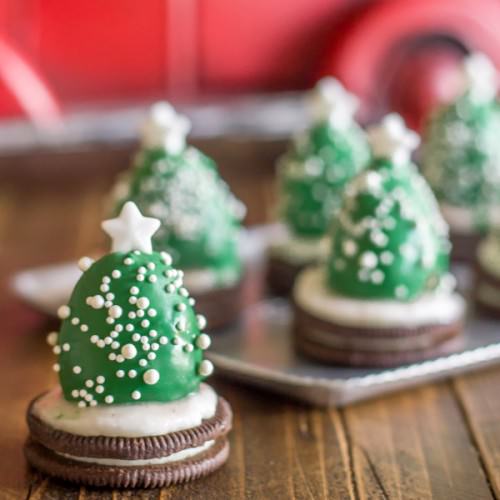 I absolutely LOVE these adorable Christmas Trees! The tree is a strawberry covered in chocolate. This will be something we make for sure this year. The recipe can be found at Lovely Little Kitchen
5. Reindeer Chuppa Chups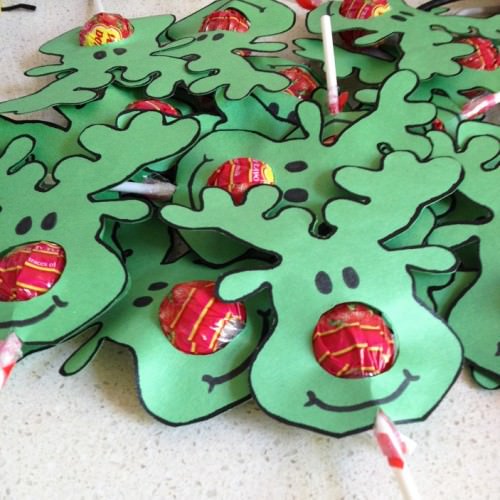 This is a real winner for School Friend Christmas gifts! Anais likes to give out presents to all her classmates and the mini Chuppa Chups can be found in bags of 20. I think this is a fabulous idea from Brisbane Kids.  The Brisbane Kids Website includes full instructions and a template for the reindeer.
6. Mini Gingerbread Houses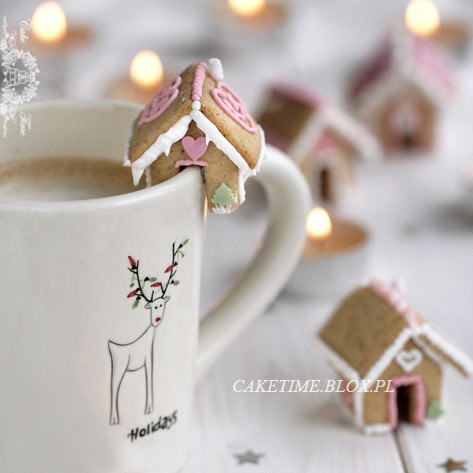 I LOVE these mini Gingerbread Houses. I have made a large house and found that it took for ever to eat but these little ones are super cute and perfect for a cup of tea or as a gift on a tea cup! LOVE! The instructions and recipe are on CakeTime.
7. Shortbread Christmas Tree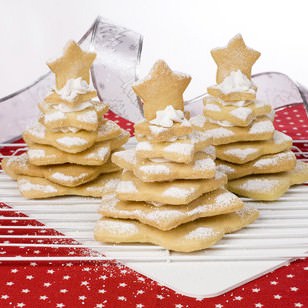 It's not Christmas to me until I have made at least one batch of shortbread! I love the buttery flavour and this christmas centrepiece is the perfect way to celebrate Christmas and Shortbread.  It can be made as a gift and wrapped in clear cellophane with a cute red bow as a gift for neighbours. The Shortbread Christmas Tree can be found here.
8. Christmas Muddy Buddies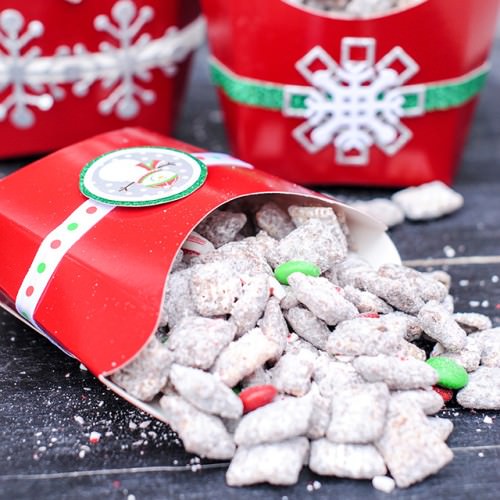 Have you ever tried to stop eating muddy buddies??? I have, they are so addictive! I love the Christmas feel of this recipe by Crazy Little Projects! Delicious!
9. Christmas Tree Brownies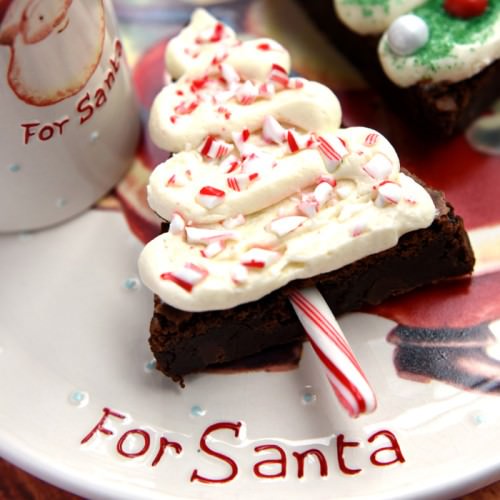 The delicious looking Christmas Tree Brownies have been shared by Five Heart Home! I love the candy cane as the tree trunk! What a delicious way to eat a chocolate brownie over the Christmas period.
10. Candy Cane Marshmallows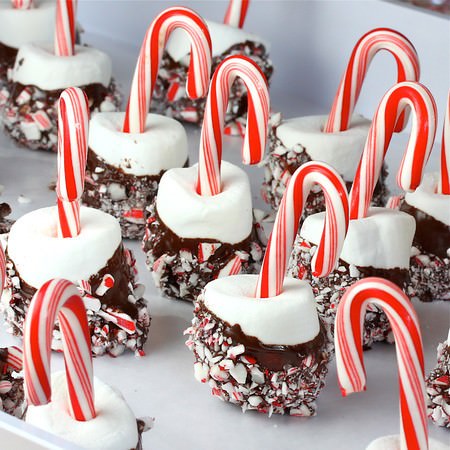 I don't know if you can make anything more simple or delicious this Christmas! These treats are to add into your Christmas Hot Chocolate. I can't wait to try this easy recipe from Mom Foodie.
11. Mini Blond Honey Macadamia Christmas Cake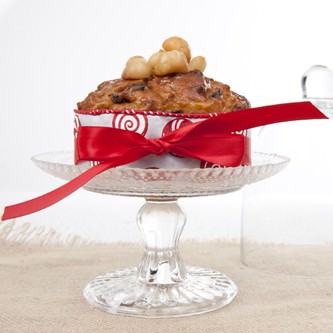 I love this recipe because it is quick! The fruit doesn't need to soak and the cake is moist and delicious! These can be made in mini tins and given as last minuted gifts to neighbours. Take a look at the Macadamia Christmas Cake recipe here.
12. Christmas Peppermint Fudge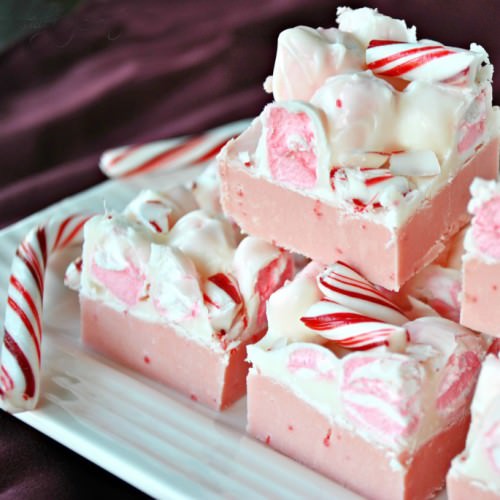 These look so good!! It took a little digging to find the website responsible for these amazing treats. Shugary Sweets has this recipe and many more delicious treats for Christmas.
I hope you've enjoyed my delicious Christmas Treats round up.  I am feeling so much more Christmas spirit now that I have looked at all these delicious sweets.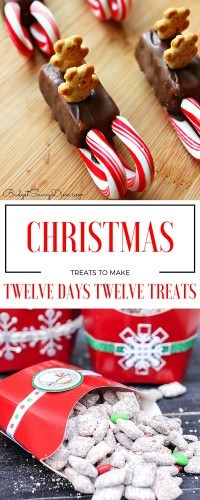 If you're not baking now, make sure you pin for later xx