Do you remember a sweet from Allens called Milko Chews, or Milko sticks? They were always kept on the corner store counter near the redskins. I've just made a Vanilla fudge that tastes almost exactly like a milko!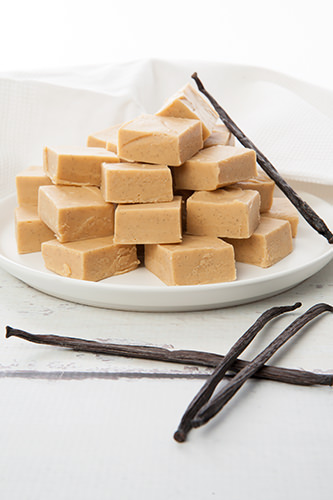 This fudge has the same milky, sweet vanilla flavour, and is deliciously moreish! When I took my first bite I was instantly transported back in time. I imagined being a girl in the mid-1970's and sweets were 1 and 2 cents each. In those days a bag of mixed lollies was my favourite treat.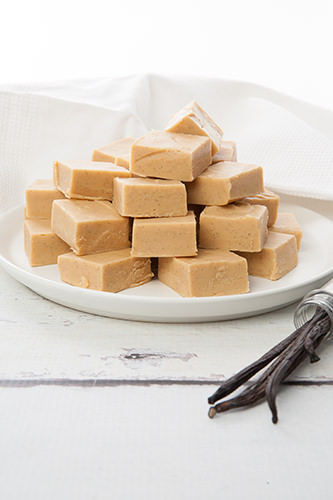 Even if you've never had a Milko I'm sure you'll still appreciate the rich vanilla flavour of this fudge.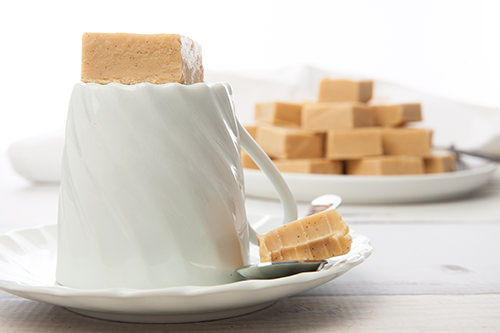 I found the recipe on the Queen Fine Foods website. Actually, the recipe kind of found me! I spotted an amazing image of the fudge and I knew I would have to make it.
It looked so perfect! So I clicked over to the Queen Fine Foods website and signed up for their free vanilla eBook. You may be wondering if this is a sponsored post for Queen's. I promise it isn't. I just love vanilla and in particular the Queens vanilla products.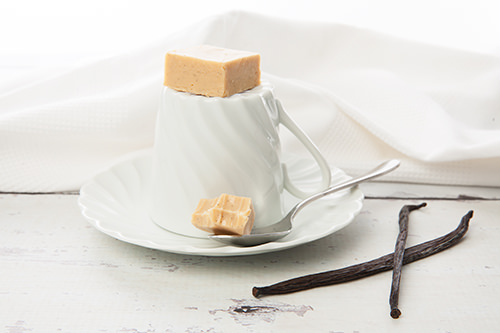 Ingredients
395

g

can sweetened condensed milk

220

g

caster sugar

125

g

butter

40

mL

Queen Glucose Syrup

4

teaspoons

Queen Organic Vanilla Bean Paste

2

teaspoons

Queen Natural Vanilla Extract

200

g

white chocolate

chopped
Instructions
Stove
Line a 16 x 26cm pan with great proof paper.

In a saucepan, combine condensed milk, sugar, butter and glucose. Heat on medium until butter is melted and sugar is dissolved, then bring to a boil. Simmer, stirring continuously, for 5-6 minutes.

Remove pan from heat, and wait for bubbles to disappear. Add the vanilla paste and extract and stir to combine. When vanilla is mixed through, add chocolate and stir until smooth and no chocolate lumps remain.

Pour into prepared pan, cool on bench for 2-3 hours before transferring to refrigerator. Cut into even pieces and store in refrigerator until ready to serve.
Thermomix
Place broken up chocolate into Thermomix. Lid on 5 seconds at speed 9. Remove the chocolate and set aside for later use.

Add condensed milk, chopped butter, sugar, and glucose syrup to Thermomix. Place the lid on the Thermomix but not the MC. Cook for 8mins at 100C on speed 3.

Open the lid and scape the sides and bottom of bowl with spatula.

Cook for a further 20mins at Varoma Temp on Speed 3 without the MC.

Add the chopped chocolate, and both types of vanilla to the Thermomix. Combine for 10 secs on Speed 3-4.

Repeat this process until the chocolate has melted and is combined.

Pour the fudge into a lined square 20 x 20cm tin or slice tin, refrigerate until set.

Slice the fudge into squares.
The recipe on the Queens website is for a stove top fudge method. When I make fudge I prefer to make it in the Thermomix. I've converted the recipe from the Queens website for use with a Thermomix.
The Thermomix makes a never fail fudge. All ingredients are taken to the correct temperatures and there is no chance of being splashed by a boiling sugar mixture, or worse still, burning the bottom of the fudge. If you don't have a Thermomix you can still make the fudge as I have included the Queens Fine Food's method also.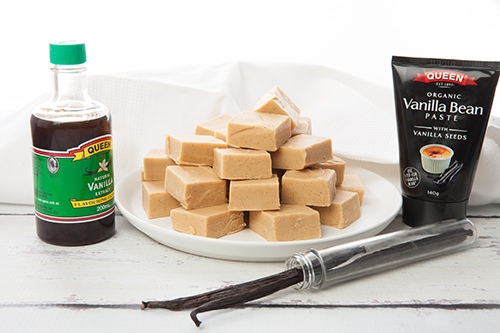 I would love to hear what you think about this recipe. Even if you don't have time to make it today make sure you pin it for later.
If you love fudge as much as I do why not take a look at these other delicious fudges I've made for the website. I'm not which is my favourite, the Salted Caramel Fudge or the Nutella Fudge Brownie?