I'm getting into the Christmas spirit a little early this year. I may have also made this Ferrero Rocher Chocolate Christmas Tree centre piece a fraction early also.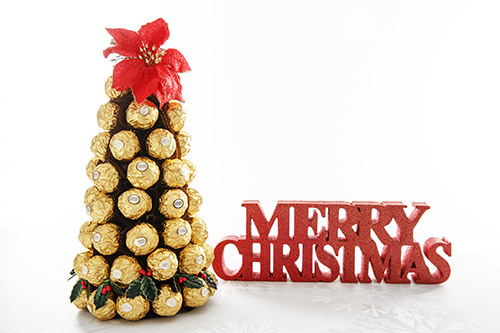 What do you think?
Each year my mother in law puts a Ferroro Rocher Chocolate Christmas tree on the dining room table. It looks amazing, and I love being able to walk past and swipe a chocolate or two. The centrepiece has a tendency to look a little poorly at times, but, as if by the magic of Christmas, the chocolates are replenish! I'm sure its the magic of Christmas.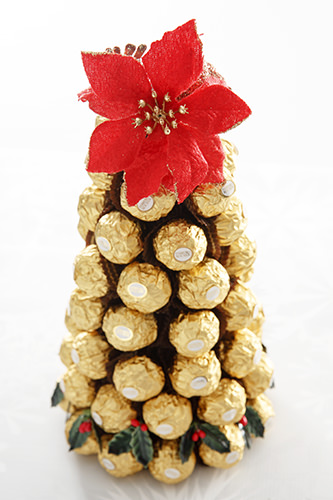 Last year I asked her where she bought the Chocolate Christmas tree as I had never seen one before.  She told me she made them herself each year!!
Wow! It had never occurred to me to make one! Her tree always looks perfect and professional I thought it was mass produced. Shame on me. Once she gave me a few tips I vowed I would make a Ferrero Rocher Christmas Tree the following year.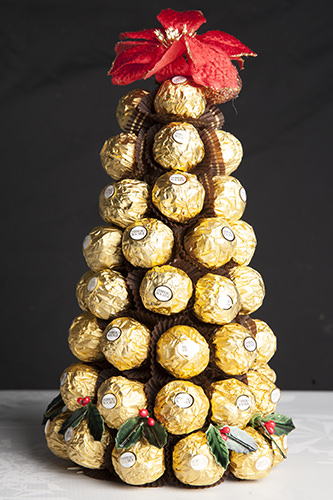 Here is my step by step guide to a Ferrero Rocher Chocolate Christmas Tree Centrepiece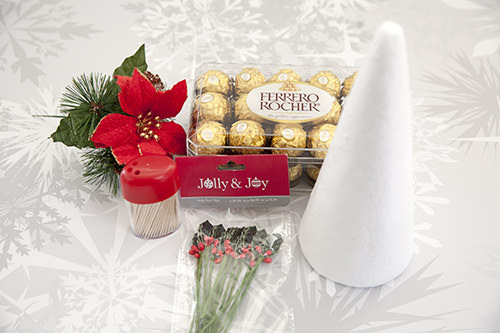 You will need:
10cm Polystyrene Cone – (Spotlight)
Toothpicks
60 Ferrero Rocher Chocolates
12 small Christmas decorations on sticks or wire
1 Tree Topper decoration on wire
Directions:
Start at the base of the cone and pierce a hole in the cone 1 cm from the bottom.
Push the toothpick into the cone and leave 1.5cm sticking out for the chocolate.
Take another toothpick and pierce a hole in the centre of the base of the chocolate.
Remove the toothpick and attach the chocolate to the toothpick on the cone.
Repeat this process allowing one centimetre spacing between the chocolate and each progressive toothpick placement.
Take a look at the YouTube which shows the process more clearly.

By leaving the toothpicks in the tree as you eat the chocolates, it is a quick process to replenish the Ferrero Rocher centrepiece.
The white polystyrene cone can be recycled each year.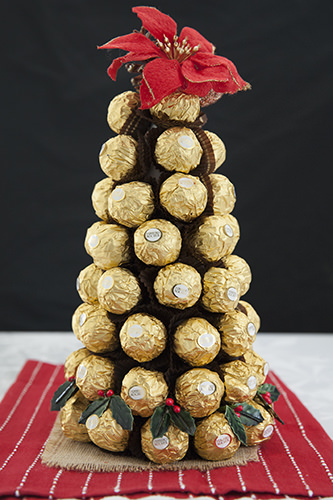 This is such a great Christmas centre piece. It ticks all my boxes, it's indulgent, pretty and an easy DIY project to make with the kids. A little word of warning though, have plenty of extra chocolates on hand to top up the chocolate tree if it starts to look a little bare.
Oh, and perhaps don't put the centre piece out in November like I did… you will be doing a lot of refilling before the big day.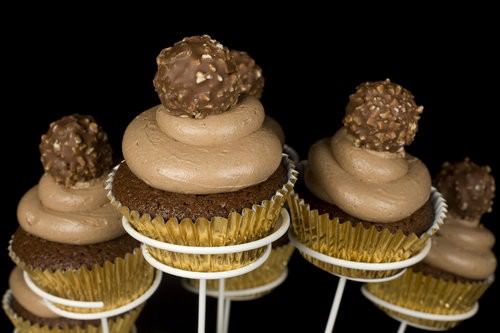 If you love chocolate Christmas treats take a look at these luscious Ferrero Roche Cupcakes, another easy and indulgent recipe for Christmas.

In the spirit of sweet Christmas Cooking I have also include a link to my Top 12 Sweet Christmas Treats.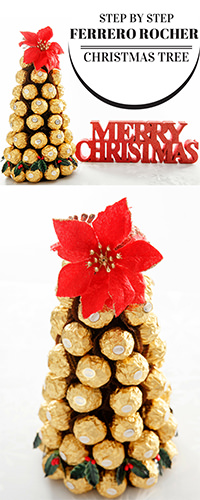 Have you started your Christmas baking rituals yet!