Get ready for the reactions when everyone smells the delicious aroma of this Vegetarian Pumpkin Feta Tart / Pie recipe cooking in the oven.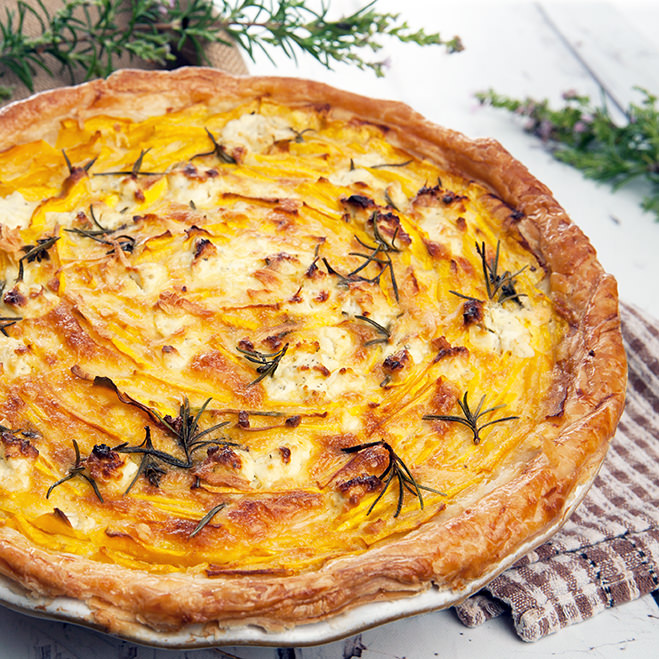 Visually the Pumpkin Feta Tart has a real WOW factor too it's one very attractive pumpkin pie. It just looks special and would make a fabulous centrepiece if you were hosting for vegetarians.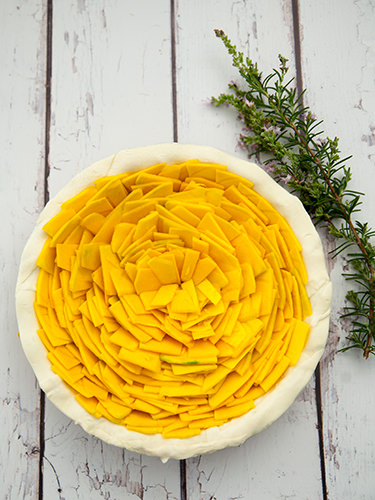 The tart looks like a giant orange rose pie prior to cooking in the pie in the oven!
I found that when I tried slicing the pumpkin by hand the slices were irregular in thickness and much too thick. So I used a food processor instead.
Vegetarian Pumpkin Feta Tart Secrets
The use of puff pastry in this recipe gives the pie a real homely feeling.
I love using crispy puff pastry for my tart and pie recipes. I really feel that tarts, pies and rolls taste better when they have a sheet of puff pastry wrapped around then.
All those delicious layers of flaky pastry around the pumpkin pie. Yum, you can't go wrong.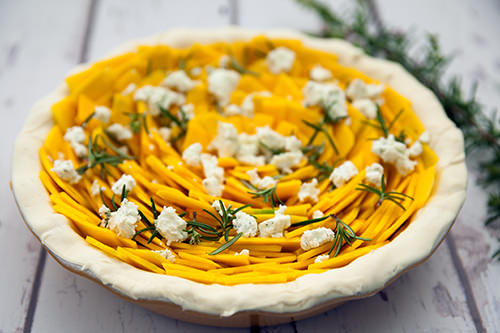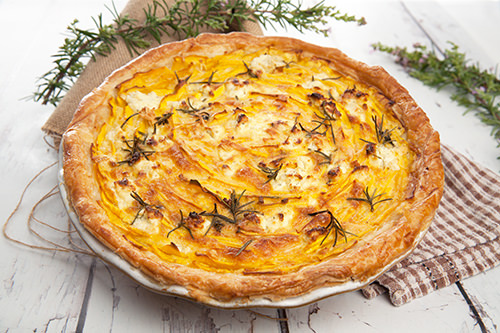 Pumpkin Feta Tart - Vegetarian Homemade Pie Recipe
What's cooking, good looking! That's how I was greeted when hubby arrived at home to smell the delicious aroma of this Pumpkin Feta Tart.
Print
Pin
Rate
Ingredients
100

gm

puff pastry

2 sheets

650

gm

pumpkin

peeled

200

gm

creamy lemmos feta cheese

1

sprig

rosemary

5

whole

egg

2

cloves

garlic

1

tbsp

ground pepper to taste

300

ml

pouring cream

1

whole

egg

1

tbsp

spray oil
Instructions
Heat oven to 200 degree Celsius

Remove the puff pastry from the freezer and allow to defrost.

Spray a pie dish with oil.

Line the pie dish with pastry and trim any excess pastry from the sides.

Beat one of the eggs in a small bowl.

Apply the egg wash to the sides of the pastry.

Line the centre of the pastry shell with a little bit of baking paper and add pie weights to the centre.

Bake the pie shell blind until it is lightly coloured.

Remove the pie weights and reserve the partially cooked pie crust.

Reduce the oven temperature to 170 degree celsius.

Using a food processor or mandolin slice all the pumpkin into thin wedges.

Crumble half the feta cheese over the pie crust.

Arrange the pumpkin slices in a circular pattern around the pie. Start at the outside and work your way inwards.

Crumble more feta over the tart.

Grate the cloves of garlic over the tart and add the rosemary leaves.

In a large bowl add the cream and eggs. Beat with an egg whisk until combined.

Season the egg mixture with salt and pepper.

Slowly pour the egg mixture around the tart making sure it gets in between all the layers of pumpkin.

Bake until the tart is set. between 40 - 50 mins. checking until set.

*If the outside crust is browning too quickly add a cover made of al-foil to the top of the pie crust.
Nutrition
Serving:
100
g
|
Calories:
290
kcal
|
Carbohydrates:
17
g
|
Protein:
3
g
|
Fat:
23
g
|
Saturated Fat:
11
g
|
Cholesterol:
59
mg
|
Sodium:
62
mg
|
Potassium:
440
mg
|
Fiber:
1
g
|
Sugar:
3
g
|
Vitamin A:
9730
IU
|
Vitamin C:
10.4
mg
|
Calcium:
63
mg
|
Iron:
1.4
mg
I decided to make this dish because I had been noticing spiralled vegetable tarts popping up on Pinterest. The only problem was, I didn't feel they would have the intense flavour I like in my meals.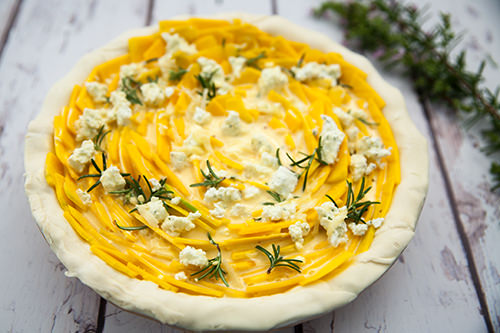 I then added a strong, creamy cheese. I thought about adding basil because I love pumpkin and basil, but hubby likes rosemary.
We have Rosemary growing wild in our garden so it was an obvious choice. I am really happy with the rosemary favour. I think it suits that comfort food feel of a pumpkin pie.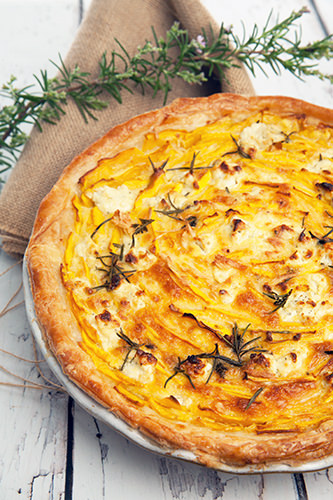 I served the Pumpkin and Feta Tart with some extra creamy feta cheese sprinkled over the top.
I also added some more fresh leaves from the rosemary sprigs.
I would love for you to try this recipe, rosemary, feta and pumpkin are a match made in heaven!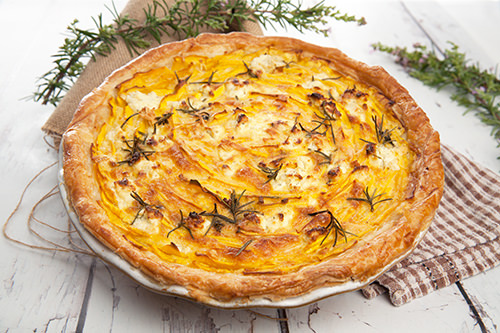 Note: Now, you may have noticed I have specified a Smooth Creamy Feta in the recipe. I will only be using brand names of products where I feel it is appropriate or necessary.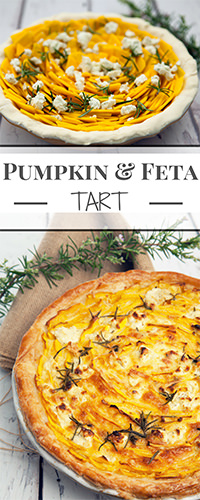 Don't forget to add this scrumptious Vegetarian Pumpkin and Feta Tart to your favourite Pinterest pie board!