I'm sure by now we have all tried a bliss ball or two. I published this Jaffa Bliss Ball recipe about a year ago and everyone loved it! The recipe included nuts and dates and was a lovely, healthy, wholesome recipe. This Peppermint and Chocolate Bliss Bomb recipe is everything the Jaffa recipe wasn't.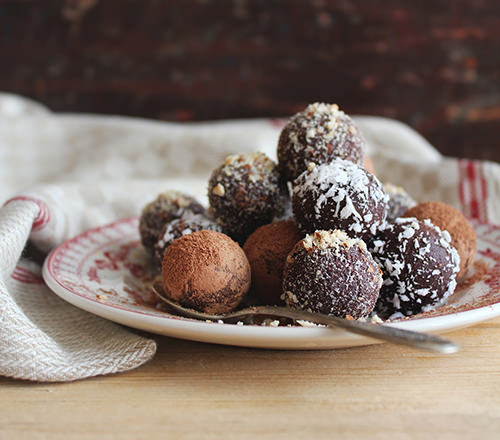 The recipe has only four ingredients, cookies, condensed milk, peppermint crisp chocolate bars and coconut! Yes I know it's BAD!! Hmm, I would like to say I'm sorry, but I'm not. I'm sure you can't be good all the time… well I suppose I don't know about you, but I can't be good all the time.
I'm giving you a break, our treat!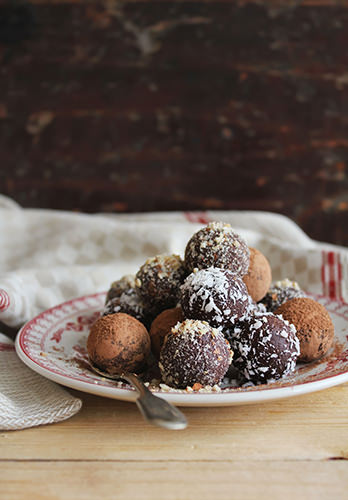 With only four ingredients the peppermint and chocolate bliss bomb is delicious and easy! I'm sure everyone knows by now that these are my two favourite criteria in a recipe. To make the bliss bombs all you need is a food processor or a Thermomix, just wiz the ingredients for 30 seconds and you'll have your snack sorted.
I know this is kind of sneaky, but… think about this fact. People are so used to seeing little "bliss balls of health" that if you're seen munching on them in public, everyone is going to assume they're healthy. How good is that!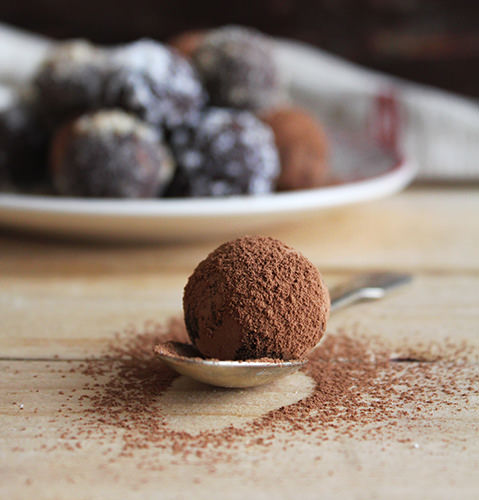 So to get the "health junkie" look, just put on your gym outfit and munch away. For extra effect you could carry some bottled water and you'll look like you're getting your protein fix after a huge work out.
Only you will know this is FAR from the truth. The chocolate bliss bomb is no better or worse than munching on a chocolate cookie.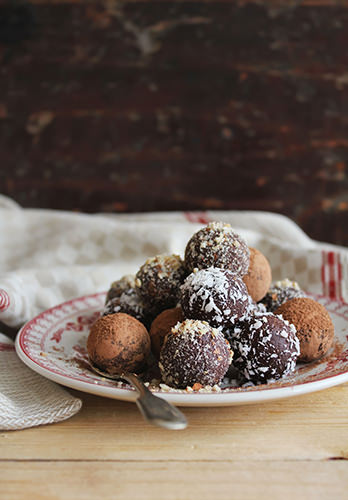 Ingredients
250

gm Arnotts Chocolate Ripple Cookies

1

x 320gm can Nestle Sweetened Condensed Milk

3

x 35gm Peppermint Crisp Bars

30

gm desiccated coconut
Coating
Crushed Peanuts

Desiccate Coconut

Cocoa Powder
Instructions
Add the Chocolate Ripple Cookies and Peppermint Crisp bars to a food processor or Thermomix Bowl.

Process on high for 10 seconds or until fine crumbs have formed.

Lower the speed to less than half and whilst the motor is running add the condensed milk and coconut.

Process for another 20 seconds.

Add each of the coating ingredients to an individual small bowl.

Roll the mixture into small balls.

Add the chocolate balls to your choice of coating and press the topping into the ball.

Refrigerate until set, allow at least and hour.
Nutrition
Jokes aside, I like packing a chocolate bliss bomb in the kids lunch box as a treat. These are so much easier than cookies to make, and they never come home uneaten. They may not be super healthy, but as an occasional treat I think it's not too bad.
Also, I have super active kids that love to play during lunch and recess. Getting my kids to actually stop and eat something is a challenge. Sometimes I think they believe they can survive on air and laughter only.
Have I justified these bliss bombs enough yet?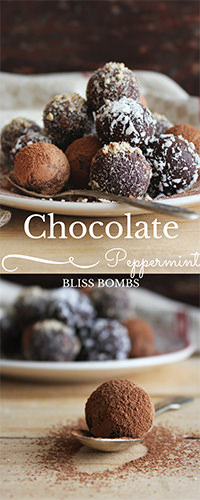 I hope you try this recipe, but as the title says BEWARE. The Peppermint and Chocolate Bliss Bombs are a little bit addictive. I like to make them when I have to bring a plate to a BBQ or party. These babies are always well received and they disappear like hot cakes!