Hello dear readers, today I want to share a Thermomix recipe for Pesto Pea Soup. If you don't have a Thermomix don't worry, my original Pea soup is a stove top recipe and can be found by clicking the link.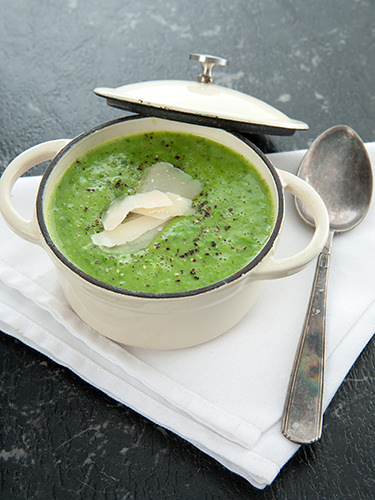 I haven't changed any of the ingredients for this Pesto Pea soup.  I have simply altered the cooking method to suit Thermomix users.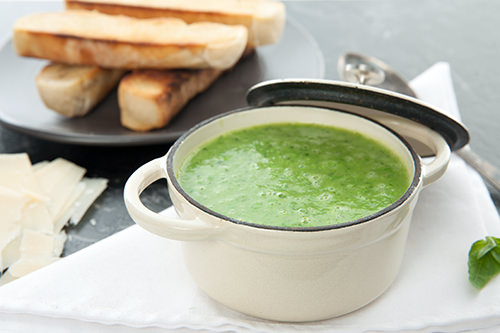 I created this recipe because I wanted a healthy, warming meal that's low in calories. I find in winter I need more filling food options. I know fibre is the key to feeling full longer, so I decided to make a hearty pea soup. I always have Basil growing in the garden, so I added it to freshen the soup, and add flavour.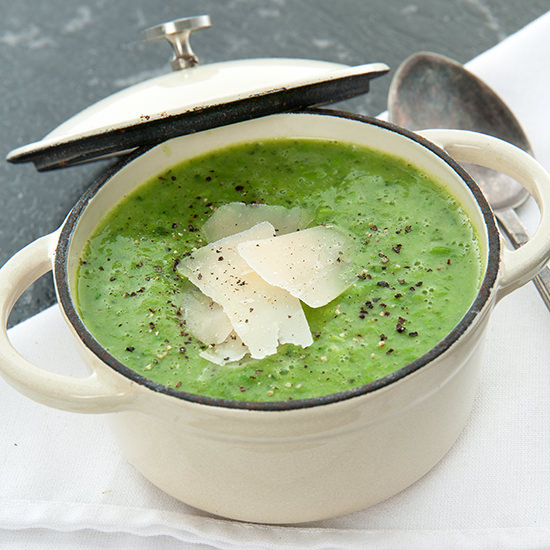 The soup includes potato which gives it a creamier, silky texture, without adding cream. By keeping dairy, especially cream out of the soup I have been able to create a very skinny, healthy soup that is surprisingly filling. It's also a vegetarian, vegan and dairy friendly option!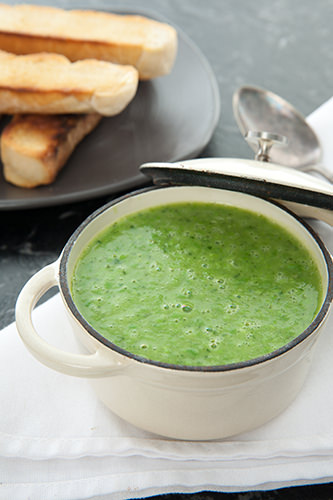 Because I've been getting a little soft around the waist I decided to calculate the exact calorie content in the soup. I was pleasantly surprised to find the pesto pea soup contains just 160 calories if it's divided into six servings. Yeh! A bonafide low fat and low calorie meal. I think it's safe to say I will be having a few bowls of pea soup this winter.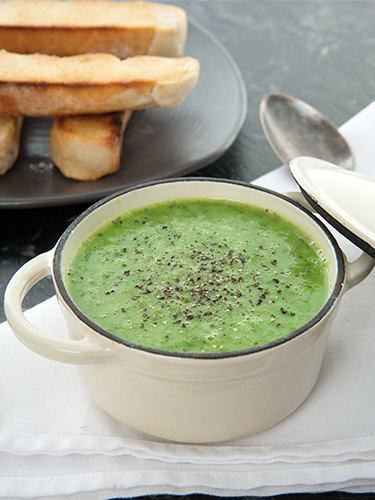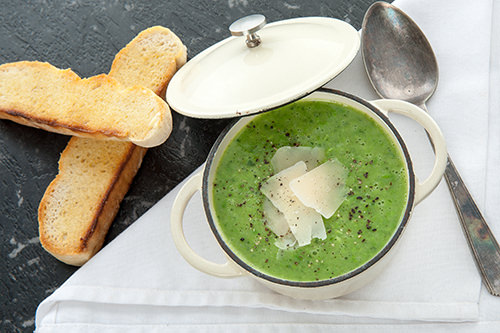 Ingredients
2

cloves

garlic

100

gm onion halved

20

gm butter

250

gm potato quartered

1

litre "Campbells Real Stock"

55

gm fresh basil

600

gm frozen green peas

salt and pepper to taste
Instructions
Place the garlic and onion in the TM bowl. Chop 3sec/speed 5.

Scrape the bowl down and add the butter. Sauté 3 min/120degrees/speed 1.

Add the potato to the TM bowl. Chop 4sec/speed 5.

Add the liquid stock to the TM bowl. Boil 20 min/100 degrees/speed 2.

Add the fresh basil leaves to the TM mixture. Puree 1 min/speed 5 increasing slowly up to speed 8.

Add the frozen peas to the soup. Heat 4min/100 degrees/speed 2.

Once the peas are heated puree the soup until you reach the desired consistency. 15-30 seconds speed 5 increasing to speed 8 if desired.
Nutrition
Serving:
0
g
|
Calories:
160
kcal
How are you going with your winter meals? Do you find you tend to eat heavier meals as the weather gets cooler? Do the scales creep up on you too? If so, this is the perfect answer to the mid afternoon munchies.  Just pack the soup in a thermos and you will be toasty and warm, with no grumbly tummy.
If it's not cold in your part of the world make sure you pin this for later.