I hope you enjoyed the previous story about our great Australian Outback. I'm sure it was easy to see how much I enjoy our amazing country.  Something I have discovered through my travels is that Australia has a taste of it's own. Lemon Mytle and Wattleseed are two of those Australian Outback flavours and influenced this recipe for Lemon Myrtle & Wattleseed Shortbread.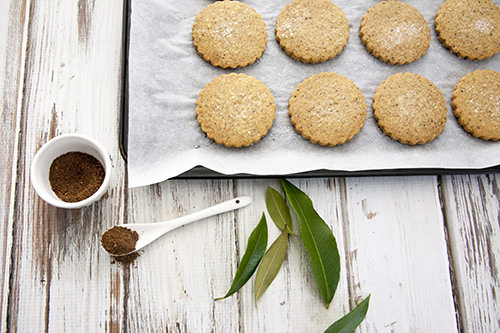 This might not be immediately obvious if you are eating in cities, but when you are eating closer to the land you discover people using our native Australian bush tucker foods. These are foods with such a unique flavour profile, I immediately associated them with the Australian bush.
To help you experience the Australian flavour I have created a Lemon Myrtle & Wattleseed Shortbread.  I think these little cookies captures what I consider to be a uniquely Australian taste.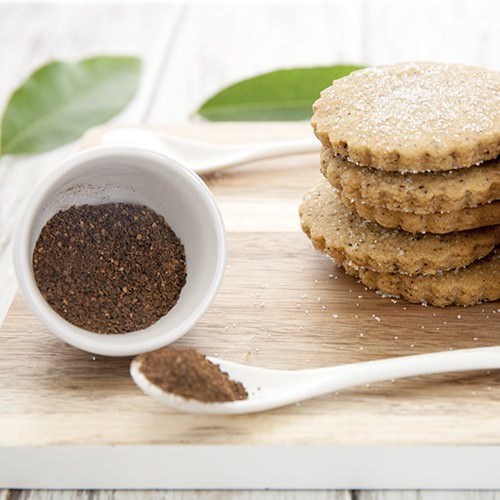 Have you ever stood in the bush when your hiking and taken a deep inward breath. You can smell the Eucalyptus trees and a distinctly Aussie combination of aromas. When I eat a Lilly Pilly, Midyim berry or other native fruit, it tastes like our Native Australian foods have absorbed these aromas and have incorporated into their flavour profile.
Wattleseed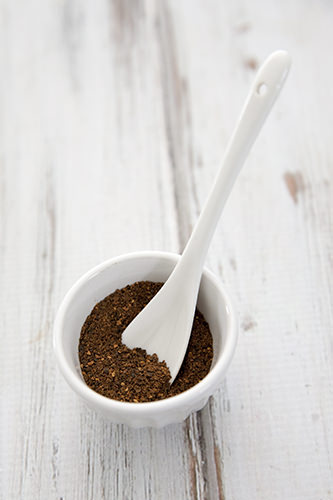 Wattleseed is the edible seeds from our native wattle trees. The seed has always been eaten by Aboriginals as it is a valuable source of protein, carbohydrate, and vitamins and minerals. Wattleseed has a low glycemic index and is about 30% fibre. The seeds is roasted and then milled, which releases the most amazing aroma.
If you can imagine a gorgeous combination of hazelnut, chocolate and coffee you will start to understand the value of this aromatic seed in cooking. I also like using wattleseed for the unique texture the ingredient provides to a recipe. The seed is milled, and usually purchased as ground wattleseed, but it still has quite a course texture. Wattleseed can be further milled into a flour for bread making.
Lemon Myrtle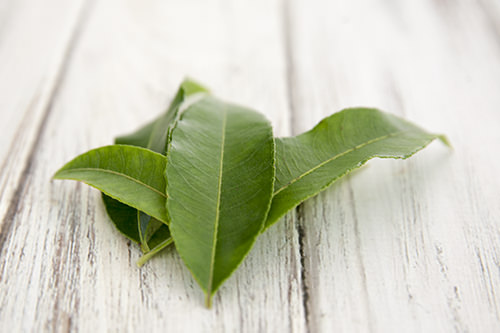 I love the Lemon Myrtle tree and it's native to the Coffs Harbour area! The tree grows up to three metres tall and when you break off the leaves and rub them in your hands, you will immediately notice the most intense lemon aroma.
I have had Lemon Myrtle growing in my garden since the day my dad first put a dried leaf in my cup of tea. This herb has many uses and imparts more than just the presumed lemon flavour.  It has the true Australian flavour with an unusual combination of lemon and Eucalyptus which works perfectly together. I use ground Lemon Myrtle with salt, pepper and garlic on fish for a lovely Australian fish recipe.
For this Lemon Myrtle & Wattleseed Shortbread, I picked 6 Lemon Myrtles leaves straight from the tree. It's easier to buy Lemon Myrtle dried and ground, so don't think you need a tree to make this recipe.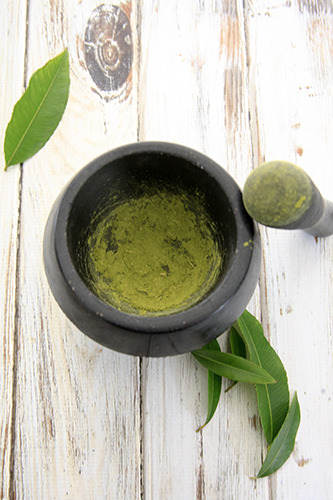 My process to get the leaves ready for use, was to put the leaves in the dehydrator for 3-4 hours until they were crisp. I then use a mortar and pestle to make a fine powder. If you could smell this process you would be in love with this tree too.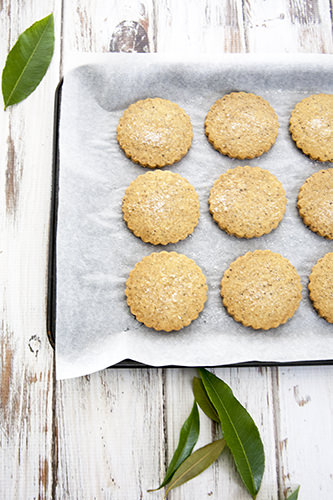 With out further adieu, I give you this unique Australian Bush Shortbread.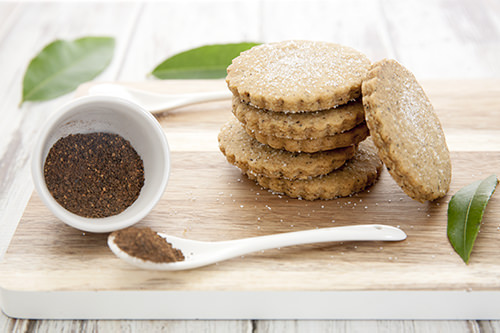 Ingredients
225

gm butter

115

gm caster sugar

6

leaves

ground lemon myrtle

1 tsp

3

tsp

ground wattleseed

340

gm plain flour

2

Tbs

caster sugar

to decorate tops of shortbread
Instructions
Place 1/2 the wattleseed in a mortar and pestle and give it an extra grinding to release aroma and reduce the coarseness of the product.

In an electric mixer cream the butter and sugar until pale and fluffy.

Add all the ground wattleseed and the ground lemon myrtle to the butter mixture. Mix until combined.

On a slow setting add the flour to the butter. Allow the flour to combine fully.

Wrap the cookie dough in plastic wrap and refrigerate until the dough is firm. Approximate 2-3 hours.

Line two cookie trays with baking paper.

Preheat the oven to 150 degrees celsius or 300 Fahrenheit This is a cool oven.

Place a piece of plastic film on the bench and lightly dust with flour.

Place the cookie dough on the plastic wrap and top with another layer of plastic.

Roll the cookie dough out to the desired thickness between the wrap.

Remove the top plastic wrap and cut cookies.

These are very delicate shortbread cookies to the bottom layer of wrap will help you to transfer each cookie one at a time to the baking tray.

Repeat the process until all the dough is finished.

Bake for 20 -25minutes or until golden.

Remove the cookies from the oven but allow them to cool on the tray.
Are you wondering what these delicious shortbread cookies taste like?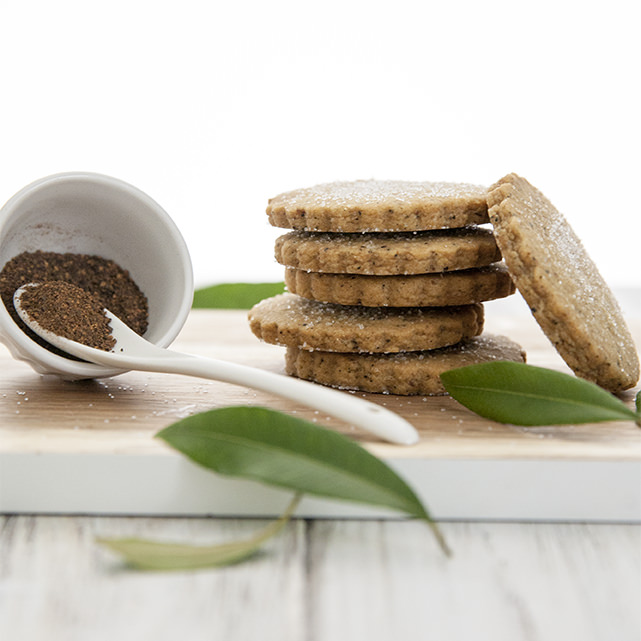 The texture is exactly the same as when you make your favourite buttery shortbread. The recipe produces a beautiful short cookie. The wattleseed provides the same texture as rice flour in the shortbread, which is the reason it isn't needed in the recipe, along with a slightly earthy flavour in the cookie. The lemon myrtle gives a refreshing lemon flavour to the cookie, with a very subtle Eucalyptus.
The total effect is very similar to a regular lemon shortbread but with a little taste of Australia.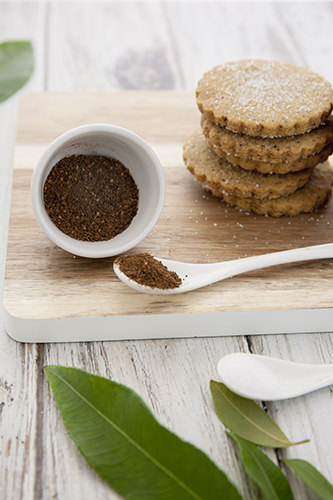 Do you have a favourite Native Australian product you like to use?