Deliciously simple Tuna Linguine! This dish is a favourite of mine and you can have it on the table in under 20 minutes! And the leftovers are ever better!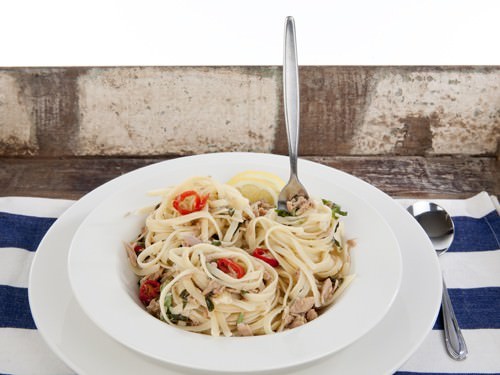 This is my first use of the new recipe layout, and I found it quicker and easier to get the recipe up on my site and formatted correctly.  I have noticed that the recipe is also presented more clearly.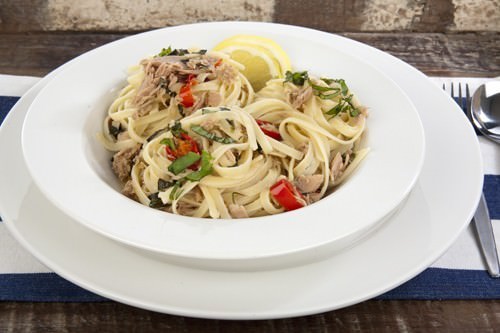 The recipe I have chosen to share today is a dish my husband makes for me regularly. It is his "signature dish" and seems to always be a hit with guests. Although I do have to remind him from time to time, that not everyone likes garlic and chilli as much as I do. He has been know to add a whole bulb of garlic to the dish and more than ten chillies. (Not recommended!)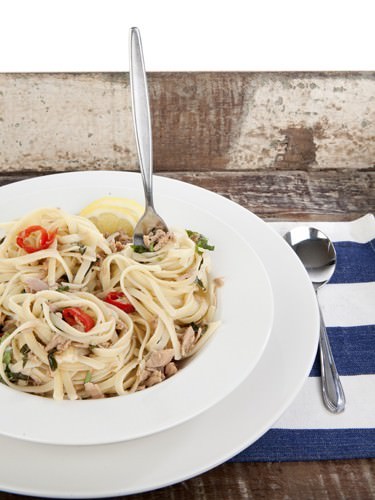 Nevertheless, it's one of our favourite easy weekday recipes, and it can be on the table in 15 minutes using nothing but a few key ingredients, most of which are always in our pantry anyway.
Tuna Linguine w Lemon & Chili
Author:
This is a quick and easy weeknight dish, and so tasty!! Make extra as it is great the next day for a packed lunch.
Ingredients
210gm tuna in brine
210gm tuna in olive oil
500gm linguine pasta
1 Tablespoon olive oil
6 cloves garlic (finely chopped)
3 medium red chillies (finely sliced)
80ml fresh lemon juice
100gm rocket or baby spinach
Instructions
Drain tuna over a small bowl and reserve the liquid. You will need at least 80mls or reserved liquid.
Cook pasta in a large saucepan of boiling water as per the manufacturers instructions.
Once the pasta is cooked, drain and return it to the pan.
Heat the tablespoon of oil in a saucepan and fry garlic and chilli until fragrant.
Add the 80mls of reserved liquid and the tuna. Stir until heated through.
Remove the tuna mixture from the heat and add the lemon
Add the tuna mixture and the rocket to the pasta.
Gently toss together and serve.
The flavour of the garlic, lemon and chilli is a magic combination, and the dish improves overnight.  Mr GG will usually make a double serving to ensure there are leftovers.
Do you have any favourite, easy recipes for weeknights? Oh, and who cooks in your family, does your partner have a signature dish?