I have a question… where did the term hand pie come from? Does anybody know? Just twelve months ago I had never seen these words before, and now my Pinterest feed is full of hand pies. I'm not complaining, I think these are a fabulous idea.  Making pies like this means there is no need for pie trays. I also find that making a Blueberry Hand Pie is far easier and quicker to make than regular individual pies.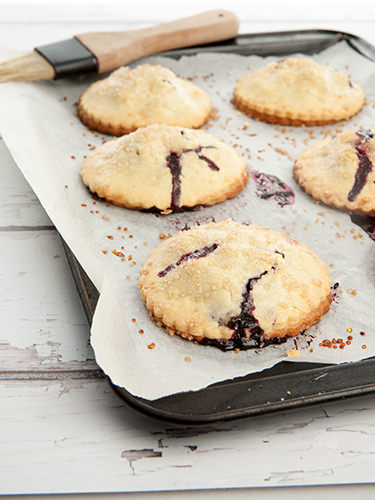 These simple blueberry hand pies were made for a family dinner. When our meal was finished I asked my father if he was ready for dessert. I told him we were having hand pies. He had no idea what I was talking about. At first he thought I said "Ham Pies."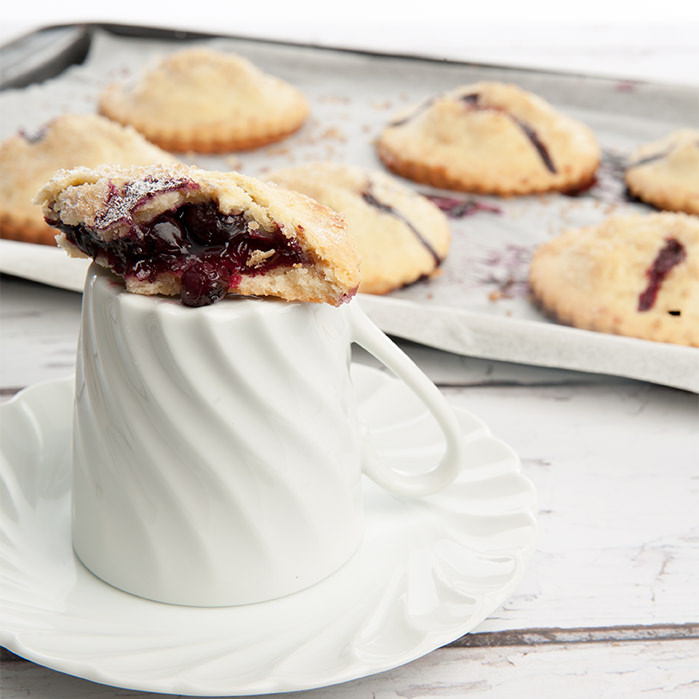 Once we established what we would be eating for dessert my dad said, "Aren't all pies hand pies?" I guess all pies could be hand pies, but I think what makes these particularly suitable is their palm size. These really could be eaten on the run.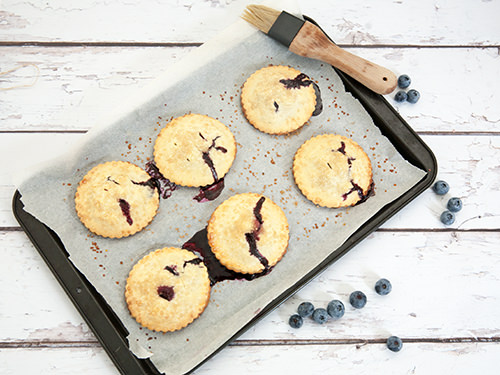 The deliciously gooey, sticky sweet filling was made from the blueberries we picked during our blueberry picking adventure. Sadly this is the end of our blueberry stash. Plus it's also the end of the local blueberry season. If you don't have fresh local blueberries, the frozen variety in your local supermarket are just as good in this recipe. There is no need to defrost them.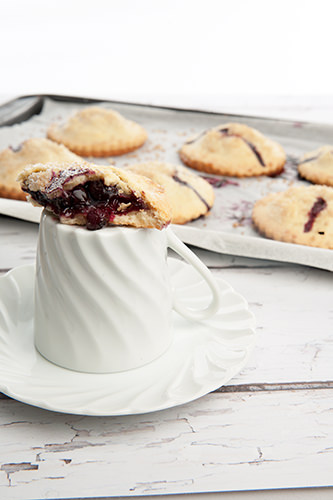 Ingredients
Pastry
500

gm flour

250

gm butter

130

gm icing sugar

iced water

Filling

375

gm blueberries

fresh or frozen

2

Tbs

caster sugar

zest from 1 lemon

1

Tbs

cornflour

1 1/2

Tbs

Raw sugar
Instructions
Pastry
Place the flour, butter and icing sugar in a food processor and pulse until it resembles breadcrumbs.

With the food processor running add the iced water slowly 10mls at a time until the mixture balls together. Stop immediately.

Remove pastry and divide in two and wrap in plastic.

Refrigerate for 20mins.

Preheat oven to 180 degrees.

Prepare two cookie slides with baking paper.

Roll the pastry out between two pieces of plastic film until the desired thickness is achieved.

Use a cookie cutter to cut 10 rounds from the pastry.

Place each pastry base on the prepared cookie slide.
Filling
In a mixing bowl combine all the blueberry filling ingredients.

Place a tablespoon of blueberry filling in the middle of each pastry base. Heap the filling in the middle of the pastry leaving a 1cm gap around the edge.

Once all the bases have filling roll the remaining pastry out to the desired thickness.

Use a larger cookie cutter to cut the pastry top.

Cut 10 pastry tops.

Use a pastry brush to brush around the pastry bases with water.

Gently place a top on each of the hand pies.

Press the edges lightly to seal the pie.

Brush the top of each pie with water and sprinkle raw sugar over the top.

Pierce each of the pies with a sharp knife to allow the pies to vent as they cook.

Cook for 15-20 minutes or until the pastry is golden.
Nutrition
The key to making a neat looking hand pie is using cookie cutters. I used a fluted cookie cutter in two different sizes. The base of the pie needs to be a smaller diameter than the top.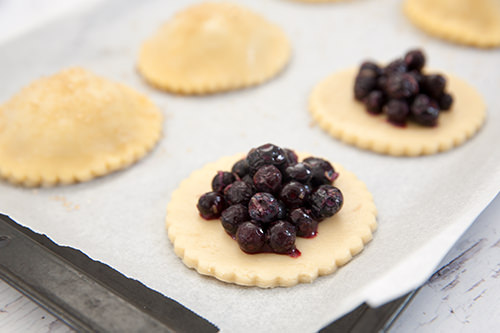 The pastry I've used is my favourite pastry recipe. It make a very buttery, short pastry. It can be a little hard to handle which is why I roll it out between two sheets of plastic film.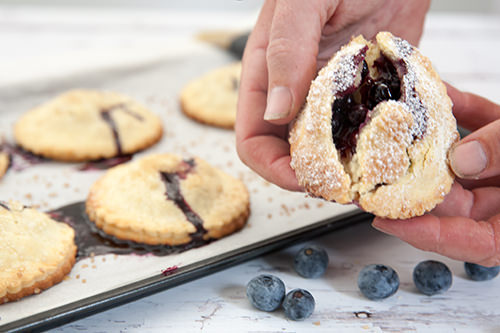 Once the pastry is at the desired thickness I remove the top sheet of plastic to cut the rounds. Because the pastry is sitting on the plastic it's much easier to lift off the circles and place them on the cookie slide.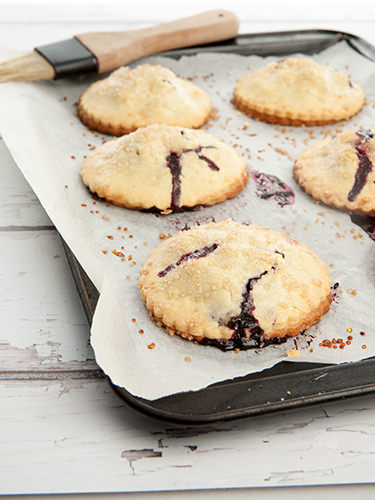 If you would like to Pin this recipe for later I have created a nice little pin for you.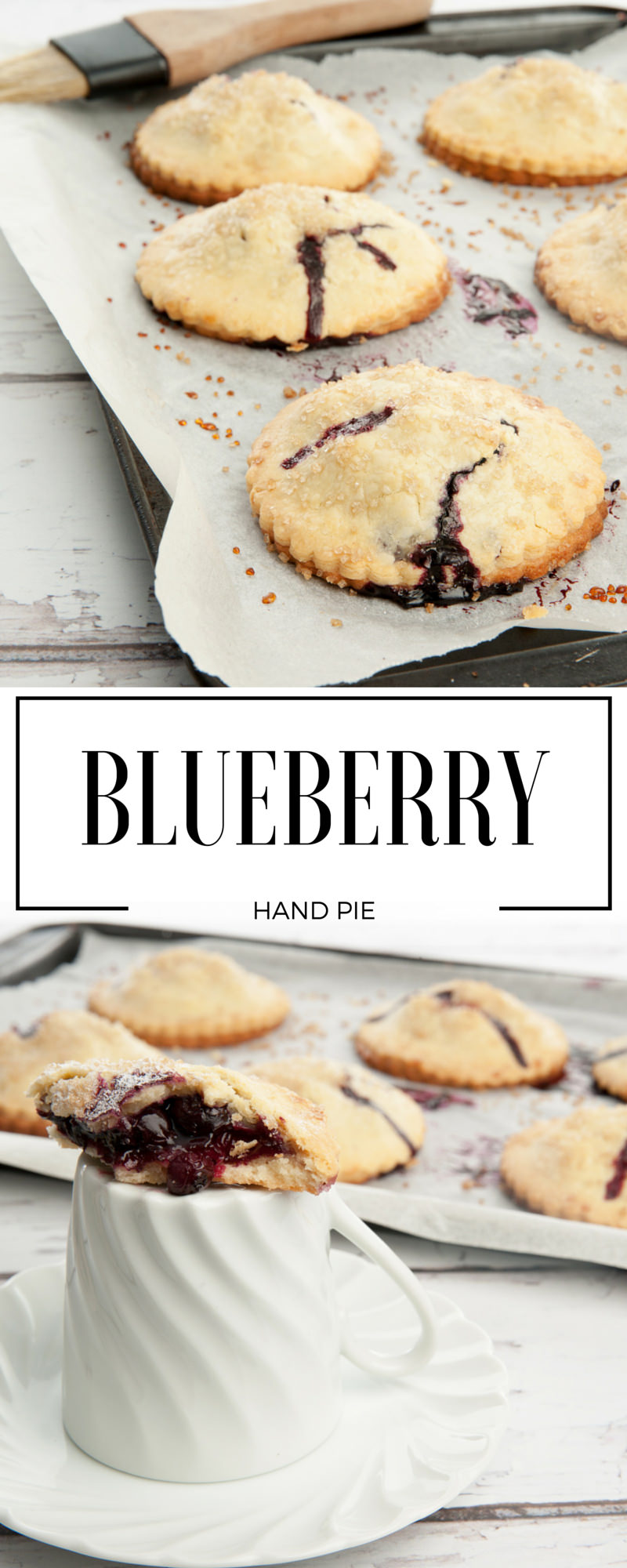 Tell me, when did you first come across this term Hand Pie? Perhaps you have always had this dessert in your life?