Welcome to my taste sensation, Chinese style pork brioche burger. I would love to make this for you myself, and sit, and watch as you take your first mouthful. It's so good! All the components come together to make a fabulous, soft burger that just melts in your mouth.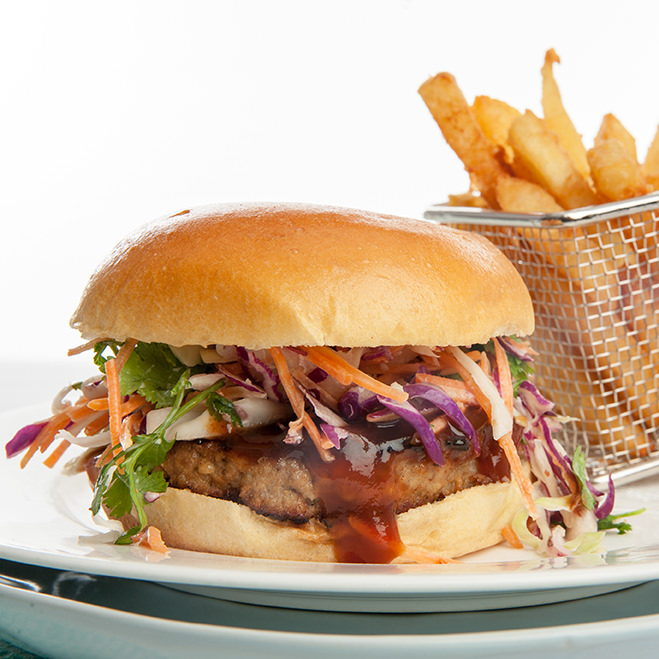 I served the burger on brioche buns because I am loving brioche burgers at the moment. The buns just disappear in your mouth leaving nothing to interfere with the full flavour of the burger patty. The burger patties are made really tasty by mincing garlic, ginger, chilli, onion and spring onion in a food processor and then mixing these flavours into the pork mince, with a bit of sweet soy sauces and Chinese five spice. The result is a flavour filled burger which is just magic in the mouth!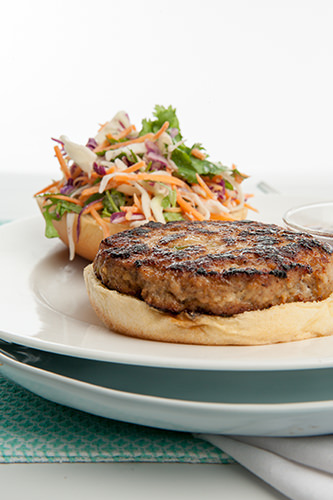 I promise this is not your average burger.  If you make this burger I'd love you to serve it with the same smoky BBQ sauce I've mentioned in the recipe. I really feel that it lifts the burger to another level.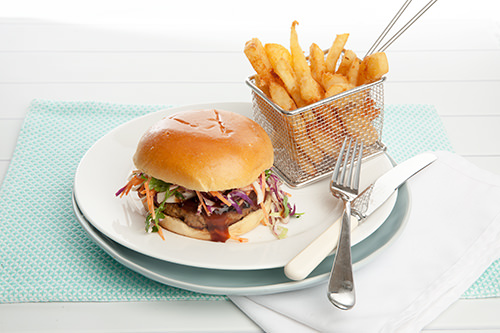 Something else very pleasing about this recipe is that it's quick to make! The meal comes together in well under 30 minutes, so it's actually quicker than running out to buy a takeaway burger.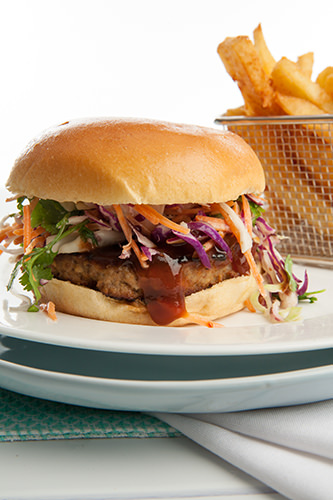 The final component of this burger is the slaw.  I've used a pre-packaged dry slaw and add half a bunch of fresh coriander (cilantro) to keep with the Asian flavour profile. I used a small amount of garlic aioli instead of coleslaw dressing. I didn't want a lot of dressing getting in the way of the pork burger's flavour.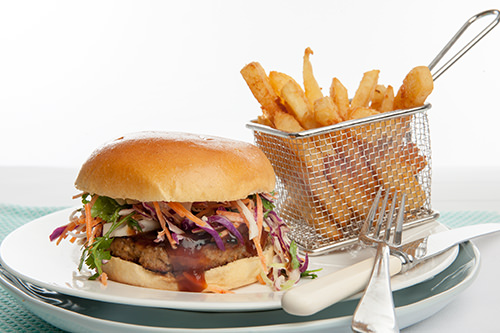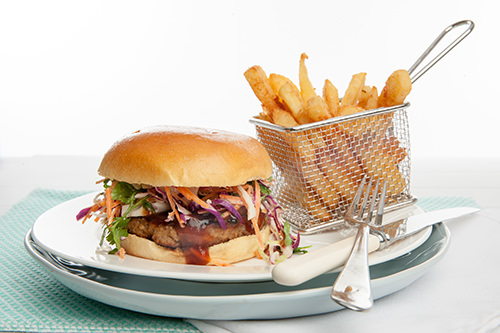 Ingredients
Burger Patty
1

kg

pork mince

not lean

1

medium onion

160gm

25

cloves

gm peeled garlic

2

shallots

spring onion roughly chopped

10

gm peeled ginger

2

red chillies

1/4

cup

Ketchup Manis

Sweet Soy Sauce

1/2

cup

breadcrumbs

1

egg

1

tsp

chinese five spice

salt and pepper to taste
Burger
Brioche Buns

enough for 1 each
Slaw
1

Pkg Dry Slaw

1/2

bunch fresh coriander

cilantro

1/2

cup

aioli

Fountain Hickory Smoked BBQ Sauce

to serve
Instructions
Add the ginger, garlic, onion and shallot and chilli to a food processor and process until finely chopped.

Transfer the processed onion mixture to a large bowl.

Add the mince, egg, bread crumbs, Chinese 5 spice, Ketchup Manis and salt and pepper to the onion mixture.

Combine all the burger ingredients by hand until fully incorporated.

Form the mince into 10 balls of equal size. Flatten them out onto a tray. I use a large cookie cutter the size of my bun as a size guide.

Refrigerate or freeze until you are ready to cook the burgers

Fry the burgers in oil. Once the burgers are cooked on both sides serve on the brioche bun with the coleslaw and some smokey BBQ Sauce.
There you have it, my Chinese Style Pork Burger. Great for a week night meal. Dinner on the table in no time by utilising convenience supermarket items.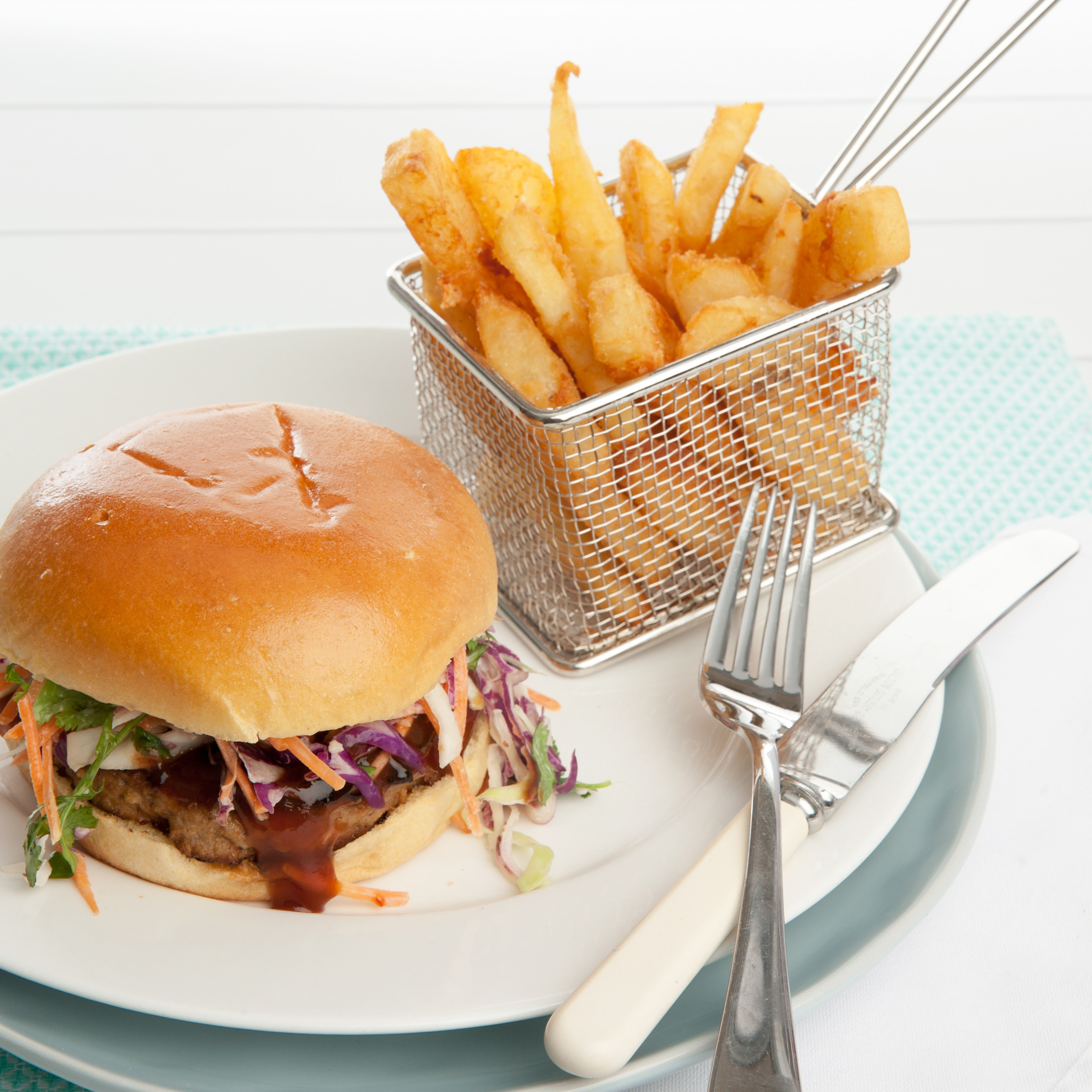 What are your thoughts on burgers as a weeknight meal. I love the convenience and I don't think they're too unhealthy… best of all my kids make them disappear in a second!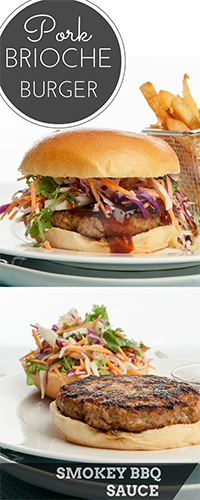 If you would like to try another great burger experiences check out my favourite Pulled Pork Burger.