It must be time for me to take a holiday. I can usually tell when I'm due to travel as I start cooking my favourite dishes from past trips. This Balinese Gado Gado is from a recipe I learnt on my last trip to Bali. It is super healthy and tastes absolutely delicious. Gado-Gado means "mix, mix" and refers to the vegetables that are mixed through the delicious peanut sauce.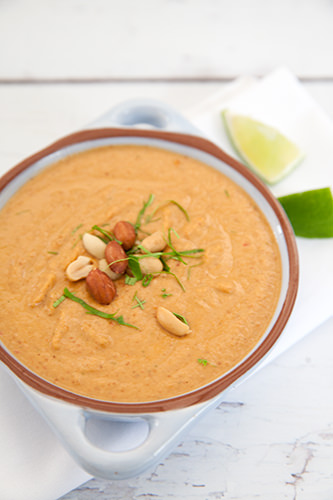 In Bali and Indonesia this dish is dressed quite heavily with the peanut sauce. I like to serve it on the side so you can control the level of spice and peanuts.
In Bali we were taught to make the (sate) Sauce using a large flat mortar and pestle. As a consequence I only made the recipe a few times before the recipe found it's way to the bottom of the kitchen drawer. The mortar and pestle method is fairly labour intense.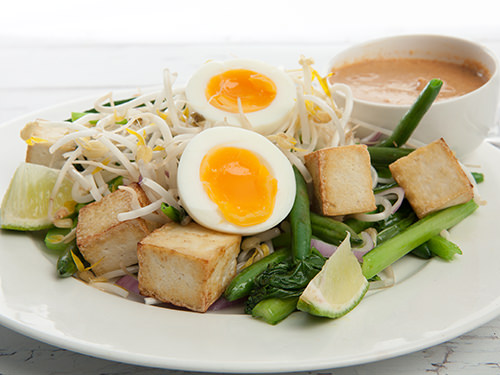 Thankfully in Oz we have some fabulous labour saving devices that make this delicious sauce a cinch. You could use a food processor but I'm using my thermomix.  I found that in the Thermomix, I actually managed to get the sauce to a light creamy texture.
For my first attempt at making this dish I had beer nuts from Bali that I roasted in oil as we were shown.  When I tried to make the dish again with nuts I purchased in Australia the consistency wasn't as light and smooth. Thankfully using the Thermomix you can even throw in any old salted beer nuts and get a fabulous result.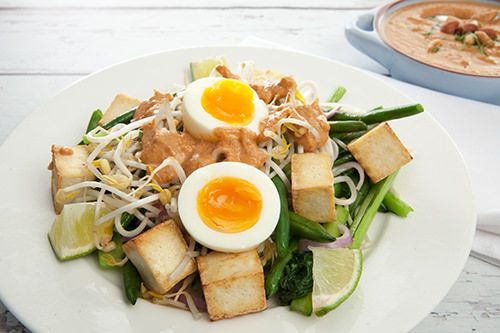 Gado Gado, and the sauce varies depending on the maker. Some places in Bali actually make the sauce from scratch to your preference! This is fabulous for our family, as I love my sauce hot, but the kids like theres sweeter. The perfect sate sauce is a balance of sweet, sour, salty and spicy.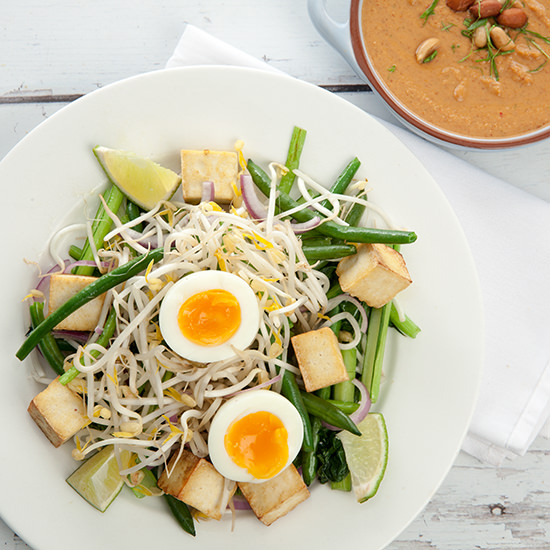 All this talking is actually taking longer than the sauce takes to make in the Thermomix. …but I'm going to chat a little longer, there are a few ingredients that need a little attention.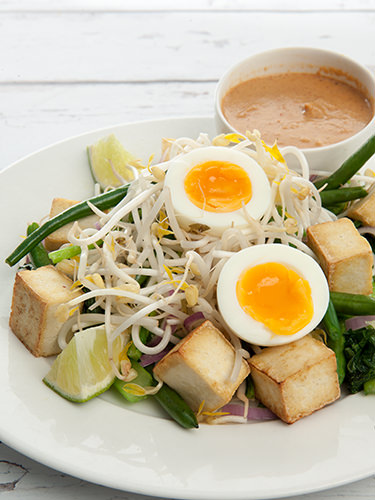 Traditional Gado Gado Sate Sauce Ingredients:
Beer Nuts -In Bali they use raw beer nuts for this sauce. First the nuts are deep fried in oil until golden. The nuts are then removed with a slotted spoon, sprinkled with salt and left to cool. The Australian short cut here is to use any Beer Nuts from the supermarket. If buying salted, just make sure to shake some of the salt off and keep all of the beer skins on to use in the sauce.
Dried Shrimp paste – This ingredient is often found as a hard paste. Before it can be used it is customary to heat it directly on the flame of a burner until it is particularly pungent.
Palm Sugar – The palm sugar I see in Australia is a pale beige colour. In Bali it is dark brown and rich looking. Usually a sauce is made from the sugar and spooned into sweet and savoury dishes. I found Coconut Palm sugar syrup to the most similar substitute.
Fried Shallot – These are purchased as a crisp chip like product in the supermarket. You can deep fry your own french eschallot until brown for a similar effect, but most places simply purchase the commercial variety. I used both methods at different cooking schools.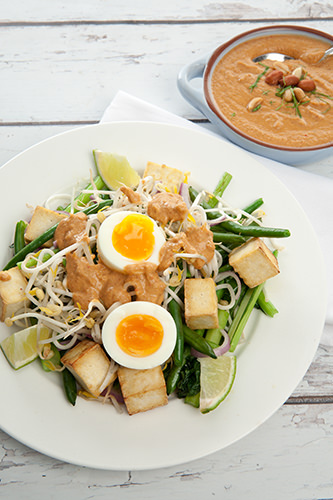 Like I said, if you weren't reading all these notes you would have been finished making dinner by now. There recipe is so simple and easy.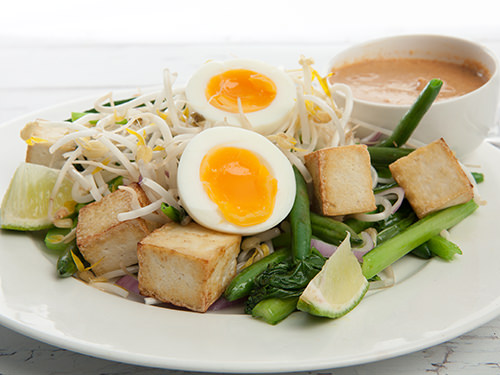 Ingredients
Gado Gado Salad
250

gm bean spouts

1

bunch bok choy

200

gm green beans

200

gm tofu cubed

1/2

red onion sliced

4

boiled eggs

1

Tbs

oil
Sate Sauce
1 1/2

cups

beer nuts

roast and salted

4

cloves

garlic

2

small chilli

3

Tbs

fried shallot

1/2

medium tomato

3

Tbs

Kecup Manis

1

cup

water

2

leaves

kaffir lime shredded

1

Tbs

palm sugar

2

Tbs

lime juice

1

tsp

roasted shrimp paste

roasted
Instructions
Sate Sauce
Place all the sauce ingredients in the Thermomix.

Blend on for 1 min at speed 9. You can stop and scrap the sides down if necessary.

There will be enough sauce to use for the Gado Gado and to reserve for another dish.
Gado Gado Salad
Steam the green beans and bok choy and set aside on a plate.

Fry off the cubes of tofu until golden.

Add the red onion and bean spouts to the green beans plate.

Toss the salad through one cup of the peanut sauce.

Serve the salad onto four plates and add a boiled egg and tofu cubes to each of the plates.

Serve with lime
Gado Gado with Tofu is a surprisingly filling dish. Hubby demolished the plate of food in these pictures and was complaining that he was "too full". He said he couldn't stop eating because it tasted so good. Not bad for a vegetarian dish!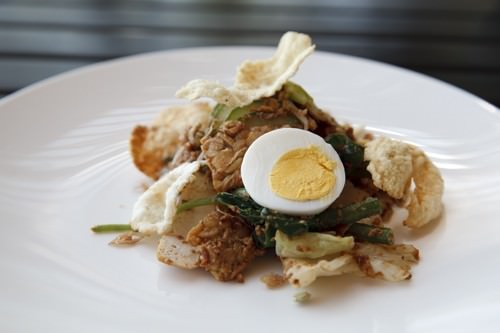 Take a look at this pic from my last cooking class in Bali. I had Anais helping me for this dish and we cooked out in the garden which was lovely.
This recipe will leave you with left over satay sauce. To keep the sauce add a thin layer of peanut oil to the top and seal in a jar. Refrigerate for later use. The sauce can be thinned with water and lime juice and used as a dipping sauce with chicken skewers or over any vegetable dish.