I have been making this delicious vanilla and roasted coconut granola recipe for quite a while now. Somehow, this amazing recipe and the beautiful granola pictures never seems to make it onto my website. I think because it's such an easy granola to make, I take it's deliciousness for granted.  Also, the family demolishes the batch so quickly I always think "Oh well, I'll photograph the next batch."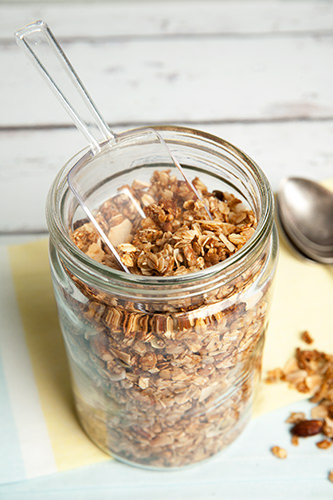 I guess I really shouldn't take this luscious breakfast combinations for granted. You see the other day I bought a very expensive, boutique granola mix from a trendy beachside town. It cost $16 for 500gm. Yep, I'm a sucker! I loved the idea that the granola had big clumps of goodness in it.  When I tried some of the mix I was really disappointed. It really didn't have very much flavour at all.  My homemade granola was so much better. Plus, being such a small pack it was all gone in the blink of an eye!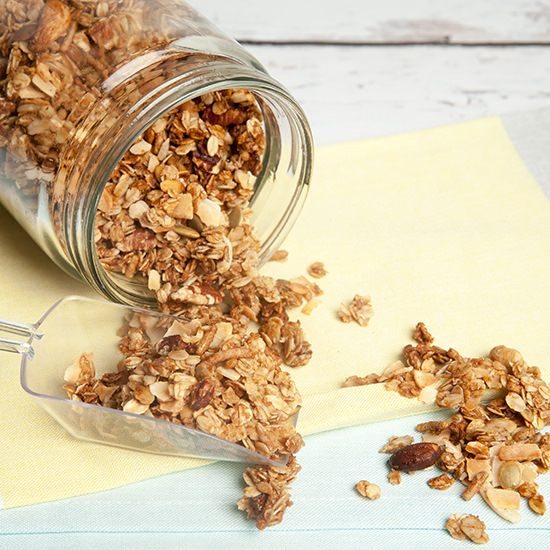 Naturally I went back to making my own granola.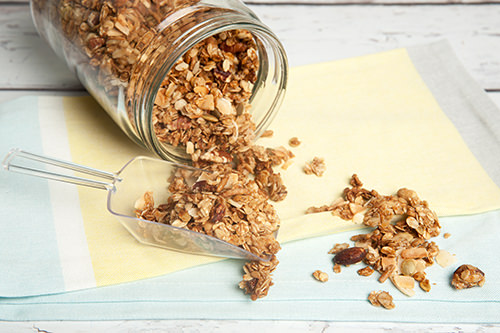 Mr GG is big granola fan. He likes to have some with his yoghurt in the morning. The kids on the other hand have it as an after school snack with yoghurt. Even though I make my granola recipe often, and it makes 1.1kgs we ran out again.  The next time we ran out it was Mr GG who bought a commercial granola. He bought a cheapie brand… as is his way. He thought all granola would taste like the one I make.  When I asked him why he bought a packaged version he said he thought it would be easier for me. The granola he bought is still sitting in the cupboard unloved. It was sampled by the family and now NOBODY wants to eat it. Needless to say it wasn't nice.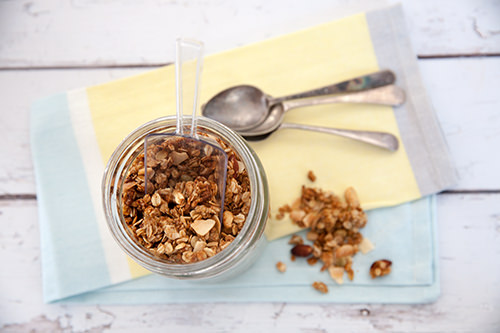 After all that I guess I started to realise that my granola recipe is rather special. Especially if it pleases everyone in the family!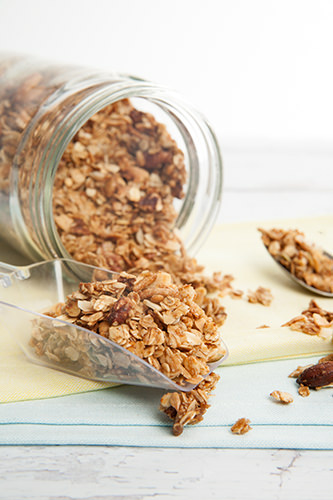 Therefore I think it's time to share it with my lovely readers. This is a no fuss recipe and you can swap the types of nuts or seeds you use to change the flavour, just keep the quantities the same as my recipe. I have a wide oven so I use the large grill tray to spread the granola out for baking. That way I only need one tray. If you have a regular size oven you should line two large baking trays with paper and rotated them during cooking.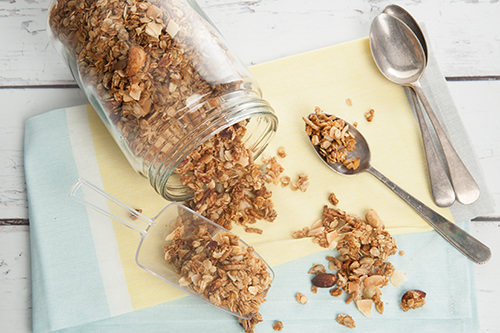 Ingredients
4 1/2

cups

rolled oats

not instant oats

4 1/2

Tbs

brown sugar

1 1/2

tsp

ground cinnamon

1

tsp

ground ginger

1/2

tsp

salt

1/2

cup

honey

1/3

cup

macadamia oil

2

tsp

vanilla extract

good quality

1/4

cup

pepita seeds

1/4

cup

sunflower seeds

1

cup

salted pecan or walnuts

1/2

cup

salted cashews

1/2

cup

roasted shaved coconut
Instructions
Heat oven to 300 degrees Fahrenheit or 160 degree Celsius.

Line baking trays with baking paper.

Add all the ingredients to a large mixing bowl except the roasted coconut.

Work the mixture with your hands ensuring all the oats are well covered with the over ingredients.

Spread the mixture out thinly over the baking trays.

Bake for 20 minutes checking it regularly.

As the mixture browns use an egg flip to turn the granola.

Cook for a further 10 - 20 minutes or until the mixture is golden all the way through. Continue to turn the granola more frequently during the second 20 minutes.

5 minutes before the end of cooking stir through the roasted coconut

Watch that the nuts very carefully so they don't burn.

Remove from the oven and allow to cool.

Store in an airtight container once cooled.
When you remove the granola from the oven you will find that it is soft.  Don't worry the mixture will crisp up as it cools. If you like clumps of granola squeeze together some sections of granola whilst it's still hot. I love these bits. I tend to squeeze quite a few clumps together.  I choose these bits to have if I get the munchies. Although I add my granola to ice-cream!! Shh, don't tell the kids!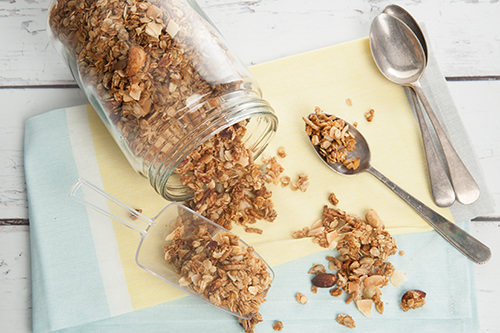 While I'm confessing, at the end of winter when we usually have a billion half eaten packets of rolled oats leftover. I make a mish-mash granola to use up all the bits of unused (unloved) muesli, minute oats and rolled oats. I find that as long as you use at least 1/2 steel cut oats (not minute oats) rolled oats. It turns out lush! I have even had success adding some shunned muesli which had bran and fruit in it. The kids were none the wiser 🙂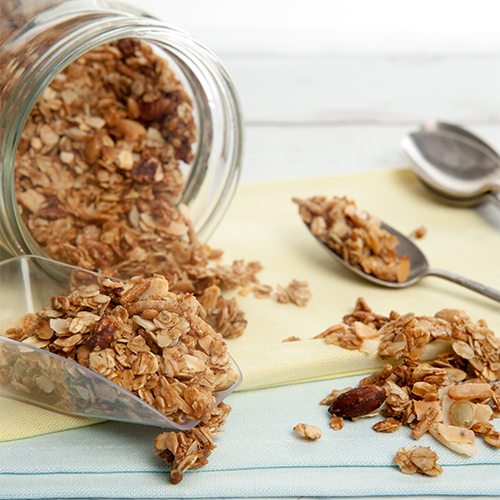 That's what I call a win for the good guys. Waste not, want not.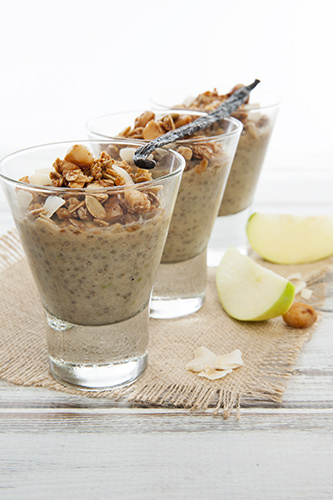 Take a look at the Vanilla & Macadamia Granola on top of these Apple Pie Chia Cups. It was the perfect topping to complete the crunchy pie flavour.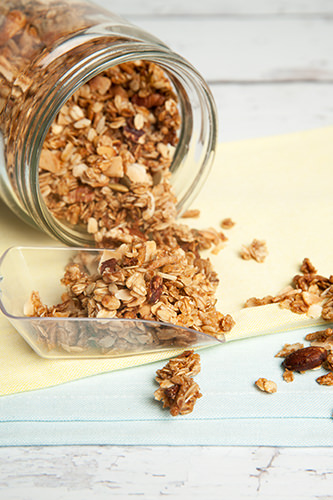 I hope you try my delicious granola recipe. let me know what you think.