I was feeling a little bit guilty for having enjoyed this beautiful Praline Chocolate Tart at "Cooking with Company" and not sharing it with my family. So when an opportunity came up to make one for a friend, I jumped at the chance. Naturally, I doubled the mixture and made a second one for us.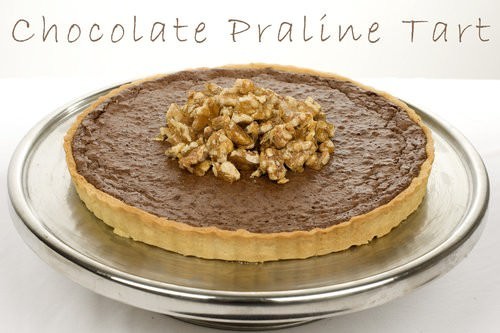 If you wanted to make this dessert but are short on time, you could use a ready-made pastry shell.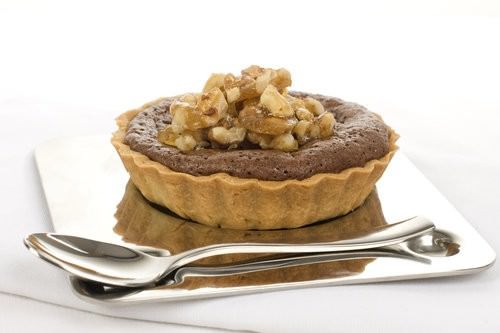 Praline Chocolate Tart
Pastry
Ingredients
500gm flour
250gm butter
130gm icing sugar
iced water
Method
In a food processor pulse the flour, butter and icing sugar until it resembles breadcrumbs.
With the food processor running add the water slowly 10mls at a time until the mix balls together.
Stop immediately. Remove pastry and wrap in glad wrap.
Refrigerate for 20mins.
Preheat oven to 160C/320F.
Roll pastry to fit a large quiche dish with removable base.
Line the pastry with baking paper and fill with baking beads. Bake for 20mins.
Remove the beads and cook for a further 5 minutes, or until pastry base is cooked through.
Cool pastry shell.
Filling
Ingredients
300gm dark chocolate
100ml cream
125gm butter
4 eggs
110gm caster sugar
Method
Reduce the oven temperature to 150C/300F.
In a microwave safe bowl combine cream, butter and chocolate. Microwave on high for 1 minute. Stir the mixture and microwave for 1 minute further.
Stir mixture and leave for 2 minutes for the residual heat to finish melting the chocolate.
Whisk eggs and sugar in a stand mixer until pale, light and fluffy.
Ensure the chocolate mixture is fully melted and combined. Add the chocolate into the egg mixture and fold gently until mixed through.
Pour the filling into the tart shell and bake for 35 minutes.
Cool the tart to room temperature topping with Praline and serving.
Praline Topping
Ingredients
130gm walnuts
110gm sugar
35ml water
40ml corn syrup
Method
With the oven still at 150C/300F.
Put nuts on a baking tray a roast in the oven for 5-10 minutes, so they are lightly roasted.
Remove nuts from oven and cool.
Put a saucepan on a low heat and add the sugar and water, stir until dissolved. Increase the heat and add the corn syrup.
Cook until the mixture turns caramel. Add the nuts and then quickly pour onto a cookie sheet lined with baking paper.
When the mixture is cooled, break up the pieces and add to the tart for decoration.
Let me know what you think of this Divine Praline Chocolate Tart. Is this the sort of dessert you like to make? Would you use a praline topping or would you prefer fruit and cream or some other topping?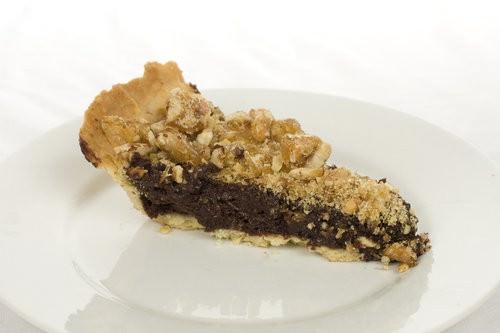 The pie above has the praline broken up a lot finer than in the first image. It was also cooked a little less to keep the chocolate soft & gooey, although it does making slicing more difficult.