I have been experimenting with macaron flavours recently and came across a post by another blogger who had been busy trying to create a creaming soda macaron.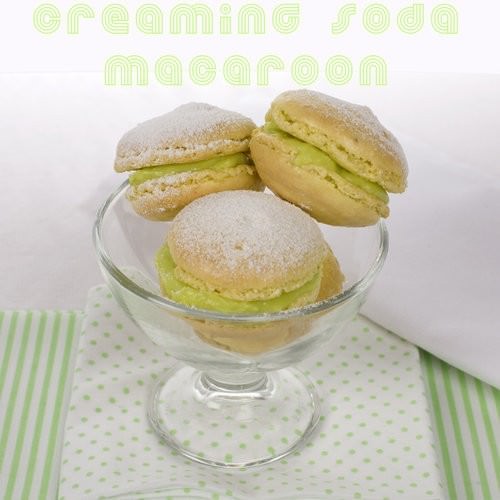 Her attempt did not end up in a successful macaroon but instead she decided to make the most awesome looking ice-cream soda cupcake. Her post got me thinking of how I would go about producing a creaming soda macaron.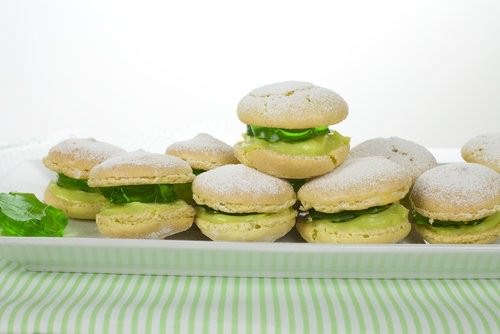 She had said in her post that she was having difficulty in getting the flavour of creaming soda into the macaron or the filling, as creaming soda has quite a mild flavour. I remembered having a "soda stream" when I was a kid, and mum buying a creaming soda concentrate. I went in search of the creaming soda syrup mixer and then set about making a macaron with the syrup.
I was really hoping the syrup would be the candy pink colour I remembered as a child but it seems the mixer is an iridescent green so my styling didn't go according to the initial plan.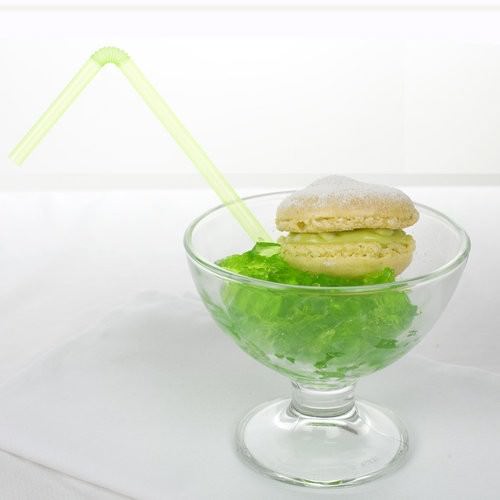 Anyway, here is my experiment in creating a creaming soda macaron. I hope everyone else enjoys the recipe. The macarons are very sweet, but they all disappeared in one sitting, so I am taking that as a success. I have included three alternate fillings for the macaroon so if the creaming soda jelly is too much of a sugar hit, you could use a vanilla cream instead.
The dusting of Wizz Fizz is another leftover from my childhood. It just felt like the appropriate finishing touch to this sweet treat.
Creaming Soda Macaron
Ingredients:
Macaron
3 egg whites
¼ cup caster sugar
1 ¼ cup sifted pure icing sugar
120gm ground almond meal
1 T/s creaming soda concentrate syrup
6- 8 drops yellow food colouring 
Creaming Soda Jelly Filling
120ml boiled water
1 T/s Unflavoured Gelatin Powder
80ml creaming soda concentrate
150ml cold water 
Ganache Filling
360gm white chocolate
120ml heavy cream
2 T/s creaming soda concentrate
10 drops yellow colouring
Vanilla Cream
300ml cream
1 t/s vanilla bean paste
2 T/s icing sugar
Wizz Fizz for dusting
Method:
Creaming Soda Jelly Filling
Boil water and measure 120mls into a glass bowl. Sprinkle gelatin powder over the hot water and combine so that there are no lumps, and the liquid is smooth.
Add the creaming soda concentrate and cold water and stir until combined.
Pour jelly into a square or rectangle vessel at about ½ – 1cm thickness, refrigerate to set.
Ganache Filling
Melt white chocolate and cream in a glass bowl in the microwave on high for 2 minutes. Stir until vigorously until smooth.
Add food colouring and creaming soda concentrate until the desired colour and taste is achieved. Refrigerate until needed.
Vanilla Cream Filling
Combine the cream, vanilla and icing sugar in a bowl.
Use a stick blender to whip the cream until stiff, refrigerate.
Macaron
Beat egg whites in a small bowl with a hand mixer until soft peaks form. Slowly add the caster sugar and a few drops of colouring. Beat until the sugar dissolves.
Transfer the mixture to a large bowl and gently fold through the almond, sifted icing sugar and creaming soda concentrate in batches.
Once combined fill a piping bag with the mixture and pipe onto a cookie sheet lined with baking paper.
Preheat oven to 140C/285F.
After the macarons have been standing for 20-30 mins bake in the oven for 15 -20mins, cool on the tray.
Using a circular implement the same size as your macaron cut circles from the jelly and use an egg flip or cake slide to place on one-half of the macaron.
The macarons can be filled with ganache, jelly, cream or a combination of all three.
Once the base macaron has been filled, use a second macaron to sandwich together.
Dust with wizz fizz for a final sugar hit.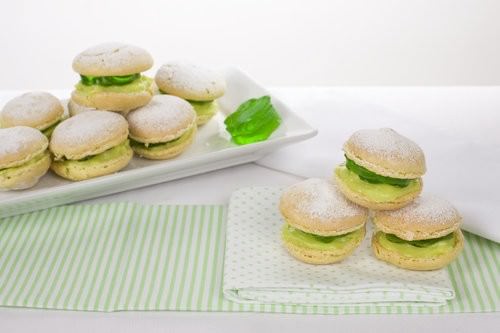 So tell me, what flavour macaroon would you like to try?