I hope you enjoyed a virtual tour of the Mediterranean Food Tour in my previous travel feature.Today I wanted to share my recipe for Vegetarian Moussaka. Regular readers may remember that I spent more than ten years as a vegetarian.  During this time I accumulated some delicious recipes which mimicked traditional meat dish but with substitution that made them healthy and meat free.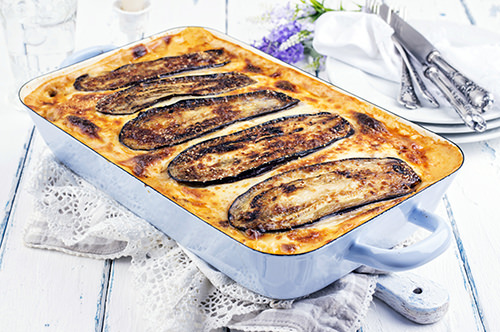 One of my favourite dishes was this lentil Moussaka. This dish isn't as rich as a traditional lamb moussaka but it's definitely full of flavour. It may be missing the high fat count of a lamb moussaka but my vegetarian Moussaka is high in fibre, low in calories and full of healthy goodness.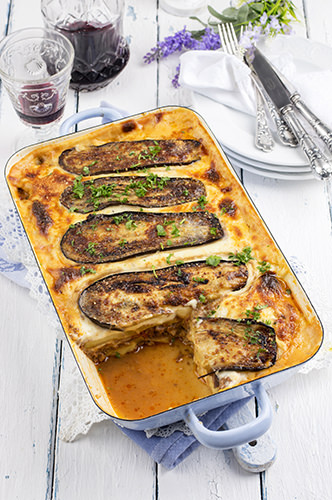 I made this dish most often when I was a student living by myself in Sydney. Rather than cook it in a baking tray as shown above and eat the same dish every night for two weeks, I would make the moussaka in about 6 tin foil takeaway containers. Then I could freeze all but one serve and have emergency meals ready in the freezer. The foil dishes were great as they allows the meal to go straight from the freezer to the oven. No fuss cooking!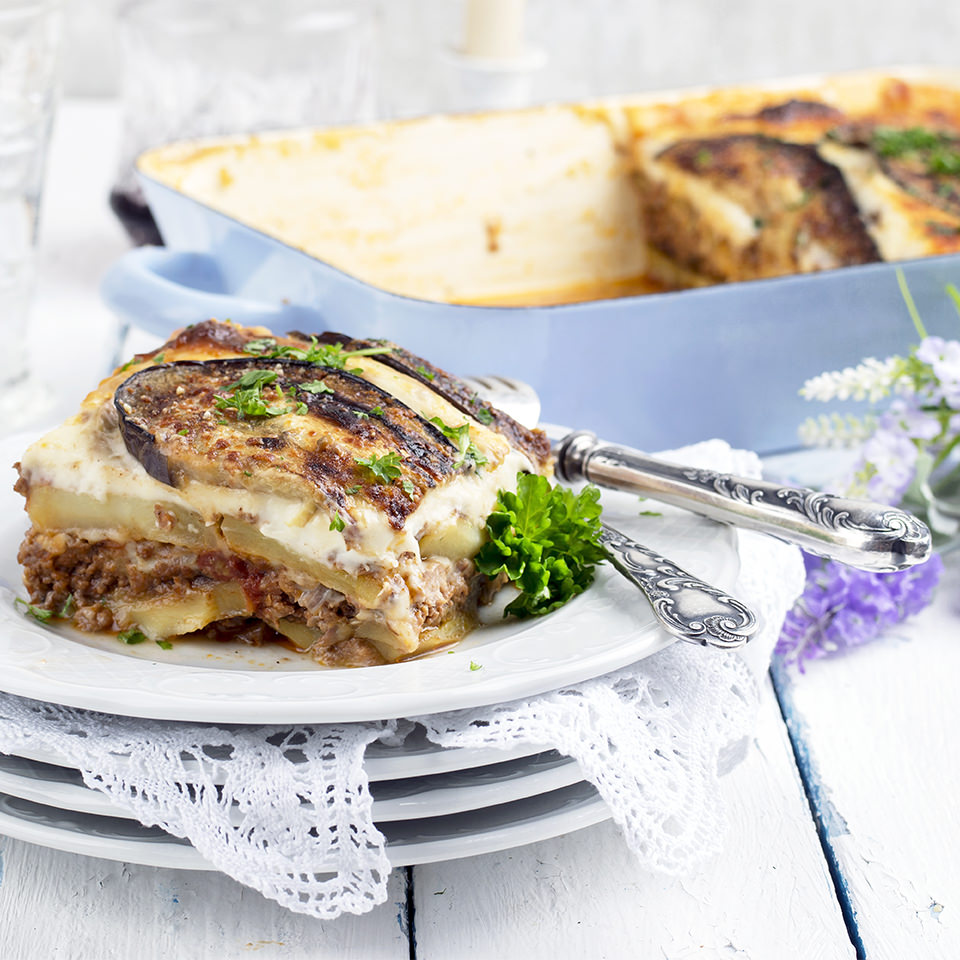 I have made the Lentil Moussaka with both red lentils and brown lentils. I have given you the recipe which uses red lentils as this takes the most cooking. Previously in making this dish I have used my "cheats method" and use canned brown lentils. Using canned brown lentils gives a different texture but it allows the dish to be on the table super quick.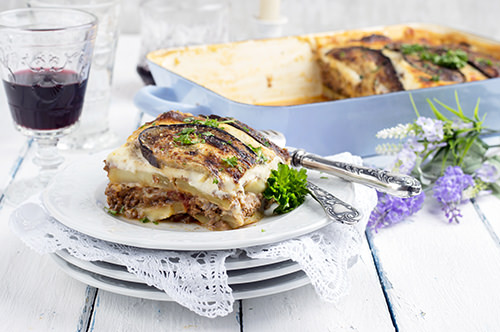 Healthy Eating Vegetarian Moussaka
A delicious alternative to a meat moussaka, this Vegetarian Moussaka has all the flavour and none of the fat.
Print
Pin
Rate
Ingredients
Base (Optional)
3

Potatoes -thinly sliced with a mandolin
Moussaka
100

gm dry red lentils

400

gm canned tomato

2

cloves

garlic crushed

1

tsp

oregano

150

ml

vegetable stock

225

gm eggplant -sliced with a mandolin

aubergine

1

onion chopped

1

tsp

smoked paprika

salt to taste
Topping
1

egg

200

gm Philadelphia Cream Cheese

5% fat

1/8

tsp

smoky

paprika
Instructions
Preheat the oven 200 C or 400 F.

Add the thinly sliced potato to the base of a baking tray.

Put lentils in a large saucepan with tomato, stock, oregano, salt, smoked paprika and onion. Simmer the lentils gently for 20 minutes or until the lentils are soft and most of the liquid has been taken up.

Pour half the lentil mixture over the potato.

Layer the eggplant over the lentils and reserve 3 slices.

Pour the remainder of the lentils over the eggplant.

Beat the egg and cream mixture and pour over the lentils carefully.

Add the reserved eggplant to decorate the Moussaka.

Spray the eggplant with olive oil to stop it drying out during cooking.

Sprinkle the dish with smoky paprika.

Cook the Moussaka covered for 15 minutes and remove the foil for the final 5-10 minutes.

Before serving check with a knife that the potato is cooked through.
Nutrition
Serving:
5
g
|
Calories:
210
kcal
Regardless of the type lentil you use my Vegetarian Moussaka is one of those real "comfort dishes". It's like giving your self a big hug from the tummy out. A warming and hearty dish, but one that tastes like you are doing something really good for your body. Hopefully I have given you an alternative dish when you're feel like a Moussaka but want something a littleless meaty.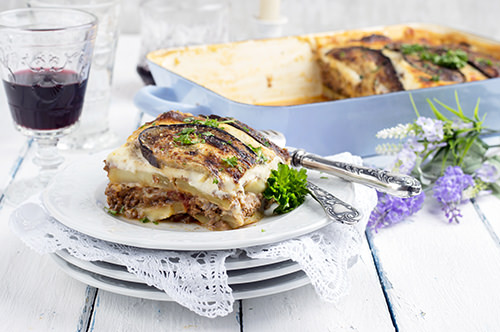 Although if I were on tour in the Mediterranean and smelled the delicious aroma of Moussaka cooking, I would run down anyone that got between me and the real thing… just a warning!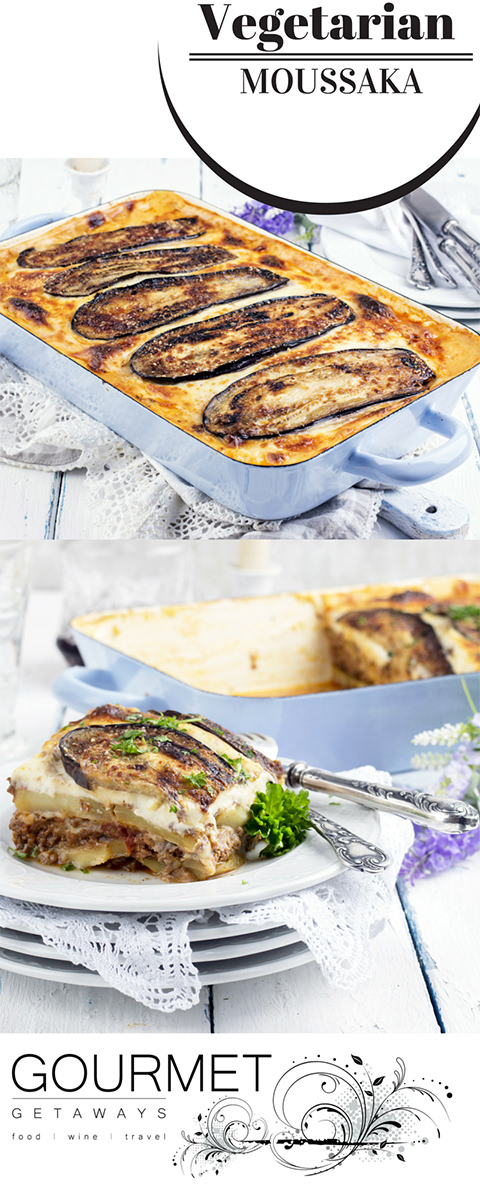 Enjoy!