I have a confession, I'm having a love affair with the Mojito at the moment.  This isn't just any old fling, it's a full blown affair and it's been going on for some time now.  As we make our way into the warmer weather I know my infatuation is only going to get worse and with bikini season approaching this affair had to become a Skinny Mojito.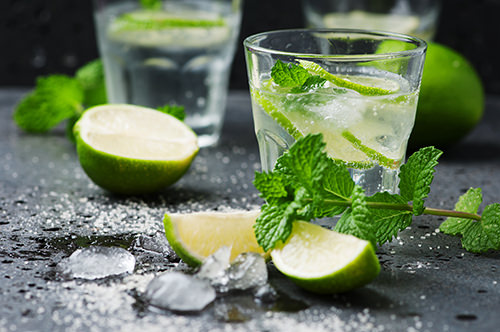 The only way I was going to stop this obsession from getting the better of me, was to set up some boundaries. First of all, my Mojito and I could only get together once all the days work was done! No sneaking off together, and ditching work.
Secondly I had to find a way to reduce the calories of my nearest and dearest.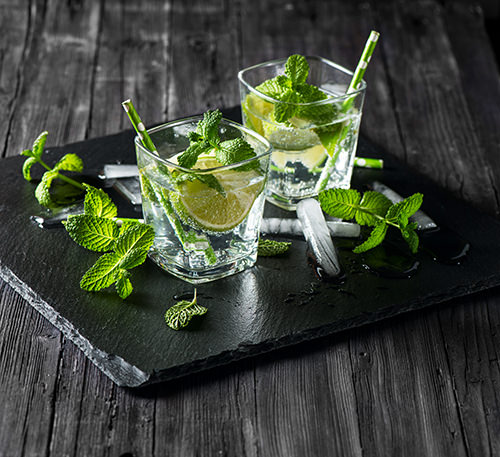 Mojitos are not as bad as some cocktails when it comes to empty calories. When you compare the Mojito to a pina colada or any other milk or syrup based cocktail it actually looks quite good. But at a whopping 350 calories per cocktail, we were never going to get too serious.
If our love was to continue, I would need to indulge with the minimum of guilt. I needed a way to take the drink from 350 calories down to about 150. Otherwise the Mojito and I would have a giant falling out once bikini season started.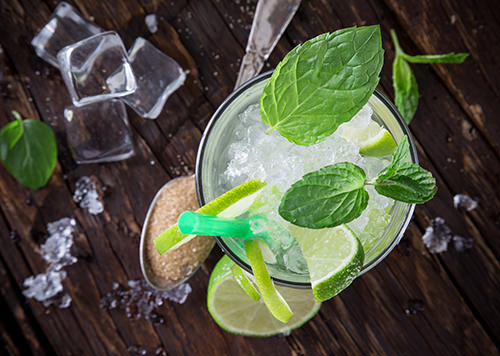 I needed to devise a recipe for the skinny Mojito! I took a look at the ingredients of a standard lime mojito and found that the one unchangeable component was the white rum. 45mls of white rum is needed in a Mojito and is equal to 150 calories. Wow! Well you can't do without the booze in a cocktail so that had to stay.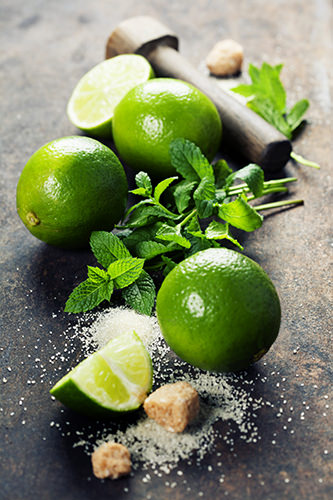 Lime and mint makes up the flavour combination I love, and at a tiny 5 calories combined they were definitely going to be a part of my Skinny Mojito make over. My problem was with the two tablespoons of sugar. That isn't a lot of sugar when you're trying to sweeten lime and Bacardi (white rum), but at 193 calories it had to go.
Take a look at my skinny Mojito! It has just 157 calories, give or take 1 or 2 calories and it tastes every bit as good as the original. Better when you consider you could drink two for less than the calorie load of one regular Mojito.
Skinny Mojito Cocktail Recipe
The classic Mojito cocktail is delcious and refreshing but you need to watch your waist. Anytime is skinny Mojiti time
Print
Pin
Rate
Ingredients
45

mls

white rum

bacardi

1/2

lime

cut into 4 segments

10

leaves

mint

125

ml

sugar free lemonade

1

cup

ice
Instructions
Place the white rum, and two of the lime segments with the mint into a cocktail shaker.

Muddle the ingredients ensuring you bruise the lime and mint to release the flavours.

Add one more lime segment and the rum and bruise a little more.

Add the ice and shake in the cocktail shaker.

Pour the mixture into the serving glass and top with the diet lemonade.

Garnish with mint and the remaining segment of lime!

Enjoy!
Nutrition
Serving:
0
g
|
Calories:
150
kcal
To make a jug of the skinny mojito just multiply the recipe by four.  I shared my love affair of Mojito's in case you wanted to take my skinny Mojito for a spin this weekend. I strongly suggest making a jug for your next BBQ or picnic.
…but be careful, you just might fall in love.