The Ultimate Cheese Board Guide
I have a challenge for my lovely gourmet getaways readers. I would like you to think back to the last cheese platter you served your guests, or took to a party. Thinking about what items you used on the platter I am curious to know, do you create interesting seasonal cheese and fruit platters, or do you stick with the same ingredients each time?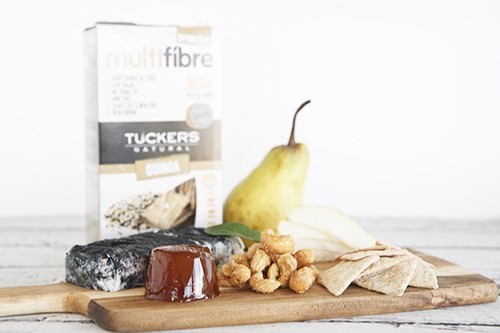 I didn't realise I had been stuck in a serious "cheese board rut" until last week.
Each time I prepared a platter it would contain two cheeses, water crackers, cabanossi, olives and sundried tomato. I might mix it up a little with the cheeses or add in salami, but I have been throwing this basic combination together since the early 1990's. Shameful…and I call myself a foodie!
Do you think it might be time for a change? I certainly did! With the warmer weather on the way, I knew picnics and barbeques would start to feature on our weekend agenda. I decided it was time to reconsider my cheeseboard construction and try some new ingredients and combinations.
The Ultimate Cheese Board Guide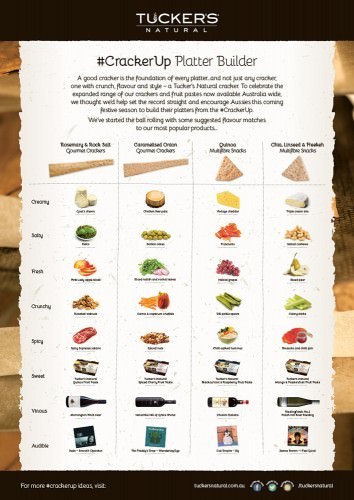 Here is a really useful chart from Tucker's Natural that is full of great paring ideas. If you click on the image, you will be able to enlarge the selection.
As I looked through the suggestions I was really excited, I was sure the flavours would bring my cheese platter to life again. So I decided to put the products and a combination to the test. My "older style" heavy antipasto platter was full of calorie dense items and cured meats, whilst all the suggested combinations contained a nice balance of delicious fresh ingredients that would lift the cheese and add a seasonal fresh feel to the board.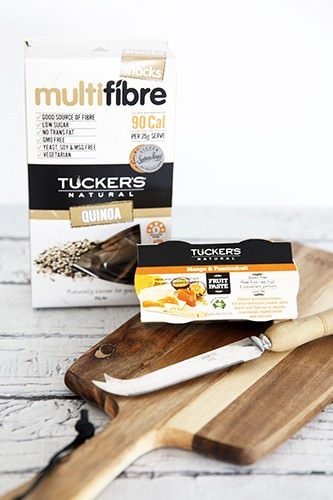 After taking some time to look through the cheeseboard guide I settled on a combination I wanted to try. I had two birthday parties scheduled for the weekend. Given they were on the same day I decided to produce the same cheeseboard twice, for simplicity.
I selected the Tuckers Natural Multigrain Crackers that are made with Quinoa and paired them with an ash coated goat's cheese. Keeping with a light Spring theme, I used the Tuckers Natural Passionfruit and Mango fruit paste and sliced some fresh pear to go with the other elements. Finally I added some rocket and a nice handful of honey-roasted cashews.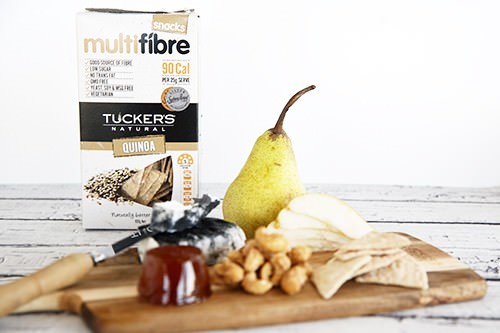 When I looked at the platter I was truly pleased with the change in style and flavour. The platter looked elegant and I was excited by the thought of presenting and eating something a little different to the old familiar items.
I had a quick read of the packaging so I would know if I should be limiting my consumption. I was pleased to find that the crackers were packed with natural soluble and insoluble fibre. Fibre is fantastic for all sorts of health reasons, but for me it means I know I will feel full longer, which is important when you're trying not to over indulge. The calorie count on the crackers was also very surprising, 90 calories for 1/4 of the box!! I was very happy with that!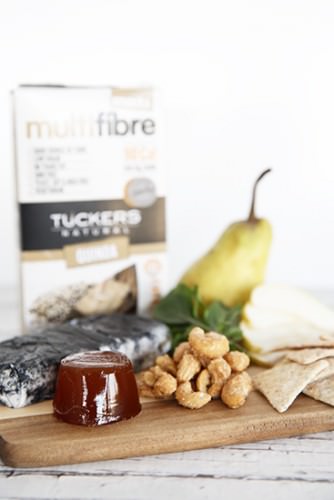 It's not often I find guilt free nibbles that provide valuable nutrients so I decided to have a very generous "taste test".  The passionfruit and mango fruit paste was completely different to any other cheese platter paste I've tried.  Other paste brands tend to be very firm and difficult to spread but Tuckers Naturals had a smooth jam like consistency. The flavour matched the pear and goats cheese I had chosen beautifully and was perfect for a spring platter. I was equally pleased to note that the fruit pastes are vegan friendly and Gluten Free so they can be enjoyed by a larger range of food loving individuals.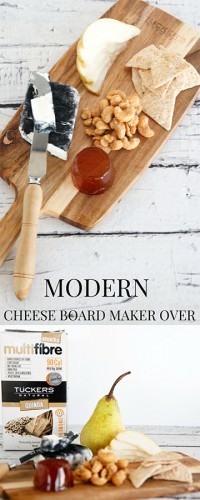 The Quinoa crackers had a lovely, earthy, grainy texture and taste which was great for the platter also.  All the flavours were very complimentary.  I can't believe it has taken me this long to try a more modern version of a cheese platter.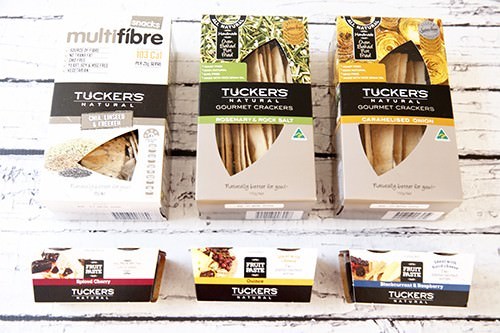 The Tuckers Naturals products are available in any good supermarket or online at Tuckers Natural. I'm now looking forward to trying the spiced cherry paste, with blue cheese on my next platter. Have I convinced you to try some interesting flavour combinations?