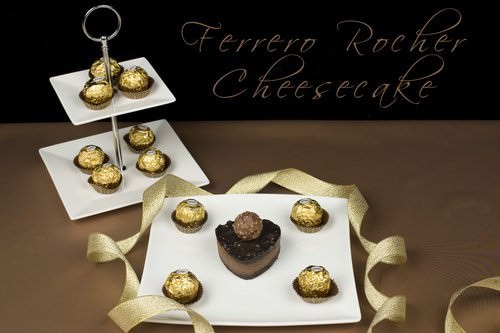 Do these sweet little cheesecakes remind you of anything in particular? I decided to create a Ferrero Rocher inspired baked cheesecake to celebrate the launch of the new Ferrero Boutique Website.  (To view the website, just click on the lovely chocolate image to the right.)
Chocolate and hazelnut are a winning combination so I have been experimenting to create a triple layered chocolate indulgence which has the same flavours as the delicious Ferrero Rocher Chocolates.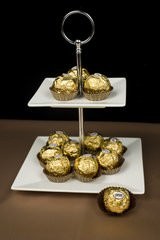 The delicious journey begins with a chocolatey biscuit base.  We then move on to a decadent creamy chocolate and hazelnut cheesecake filling, and finish with a nutty ganache layer reminiscent of its name sake.
I hope you enjoy my re creation of a chocolate icon.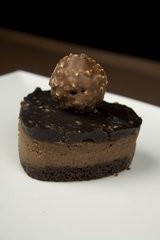 Cheesecake Filling:
500gm cream cheese
250gm mascarpone
300gm Nutella
200g caster sugar
4 eggs
160gm melted dark chocolate
Biscuit Base:
1 pkt of chocolate ripple biscuits
100g melted butter
Ganache Topping:
200gm dark chocolate
160ml cream
¾ cup chopped unsalted nuts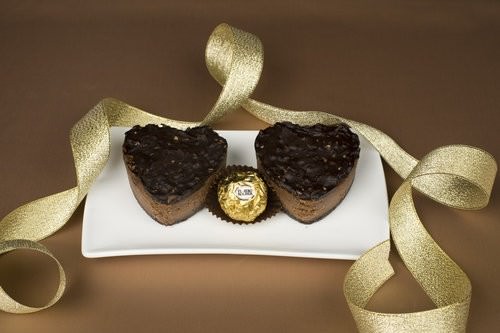 Method:
Preheat oven to 160 degrees.
Mixture requires 24 muffin silicone moulds, sitting on a baking tray for stability.  Fill the tray with one cup of water to make a water bath.
Process biscuits to crumb add melted butter and continue to process until well combined.
Place one T/s of biscuit mix in the base of each of the 24 silicone muffin holes.
Use the bottom of a glass to press the base firmly into place.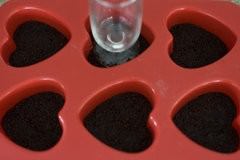 Process all filling ingredients in the food processor until smooth.
Fill the muffins with the cheesecake mixture.
Bake for approx 20 mins until the cheesecakes appears firm.
Leave the cheesecake to cool while making the ganache topping.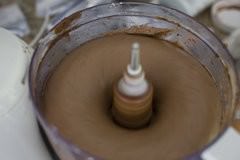 Place cream and chocolate in a microwave safe bowl and microwave for 1 ½ minutes. Stir and microwave again for 30 seconds.  Remove the ganache from the microwave and continue to stir until the chocolate is completely melted.
Add the chopped nuts and stir. Allow to cool until the mixture is spreadable.
Put an equal amount of ganache on each cheesecake.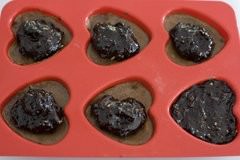 Smooth ganache over each of the cheesecakes.  Leave the ganache to cool at room temperature and then refrigerate the cheesecake whilst still in the moulds overnight or until needed.
Removing silicone bakeware prior to serving.