I really need to share this recipe! Everyone needs a giant caramel Rolo cookie in their life. Especially this one which is also studded with Banana M&M's.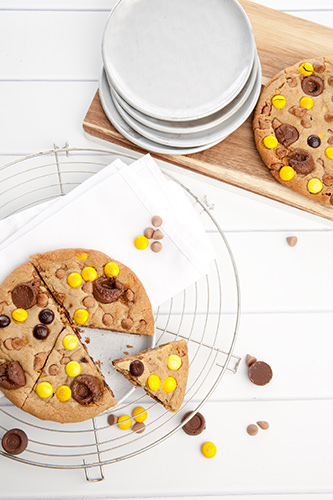 If you follow me on Facebook you would know I was looking for a name of this amalgamation of candy. I got some awesome name such as:
Olga Marie – Sumptuous! How about Chocolate Pan Cookie?
Matthew Hayward – Caroloms wink emoticon
Carly Cucco – Call them R&B Pizza Cookies. Stands for Rolo and Banana Pizza cookies
Joel McCulla – Joel-Cookies. … and if I got to taste them…. I'd endorse the name…. mainly… I just want to taste them!!
Sharma Devries – Banana rollow pizza cookies
Ange Lawther – Call them Getinmybelly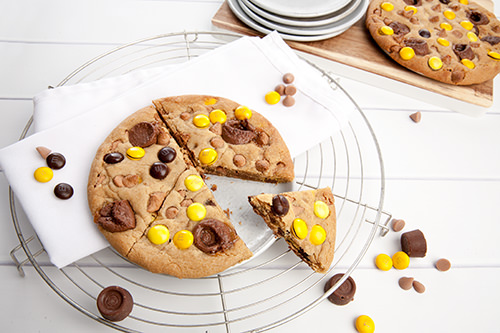 I love all the names! Thanks everyone for the fabulous suggestions.
It's funny, I always complain that baked goods don't get enough love in my house. My family aren't sweet eaters. This certainly wasn't the case with these cookies. The Giant Caramel Rolo Cookies had been completely consumed within 4 hours of coming out of the oven.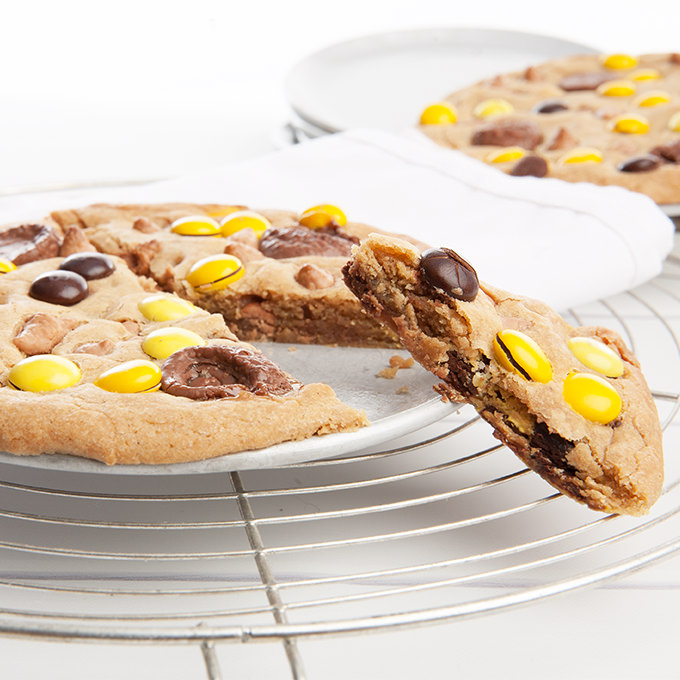 Amazing really since no one was home whilst they baked, and then the cookies had to be photographed.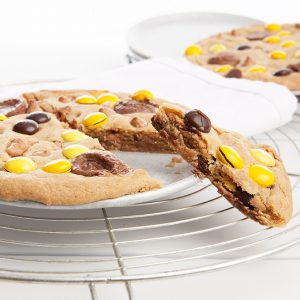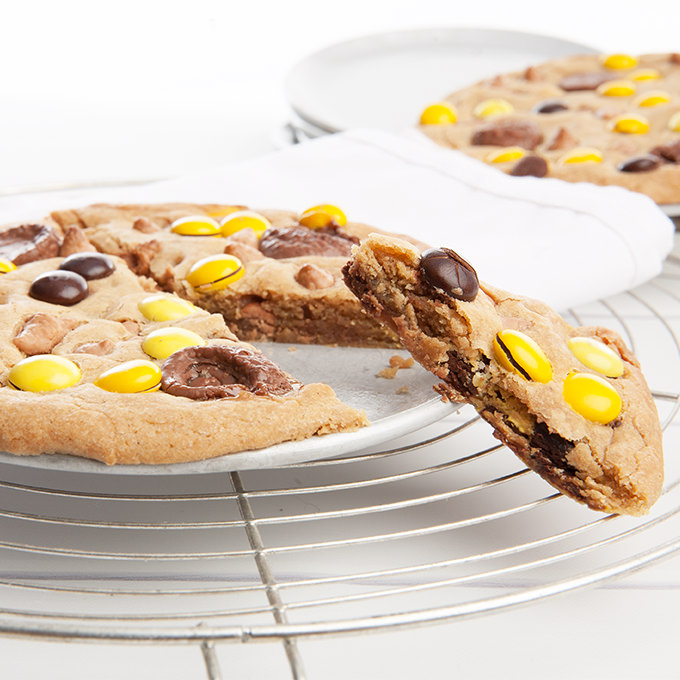 Ingredients
1/2

cup

unsalted butter

melted, 125gm 1 stick

1

large egg

3/4

cup

light brown sugar

packed

1/4

cup

granulated sugar

1

tablespoon

vanilla extract

1 1/3

cups

all-purpose flour

1/2

cup

caramel chocolate chips

1/2

cup

M&Ms

divided (I used Banana M&Ms but you can choose the flavour and colour you prefer)

20

Chocolate Rolos
Instructions
Preheat oven to 350F or 180 degrees celcious.

Grease 4 or 5 mini pizza trays with butter. (The number of trays will depend on the size)

Melt the butter, in a saucepan or microwave.

Add the sugar and vanilla and stir just until combined.

Add the flour, chocolate chips and a 1/4 cup M&Ms and egg, stir to combine.

Press the batter into the four of 5 mini pizza trays.

Add the remaining M&M's evenly to the top of the cookie dough.

Evenly add the chocolate Rolos pressing them into the batter as much as possible.

Bake for 15 - 20 minutes or until golden.

Allow the pizza cookie to cool in the tins for 5 minutes before slicing, The pizza cookies will firm up on cooling so it's best to slice them into pizza wedges whilst they are still warm.
These really are a tasty treat.  The cookie is lovely and buttery. The texture is crunchy on the edges but more soft and chewy in the middle.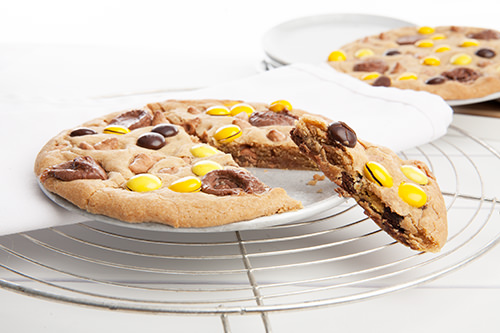 You could bake the cookies individually as normal sized cookies but as I have said previously, I am a lazy cookie. I was tempted to make one Giant Caramel Rolo Cookie in a huge pizza pan but decided I should go to the trouble of at least splitting the dough into smaller serving sizes.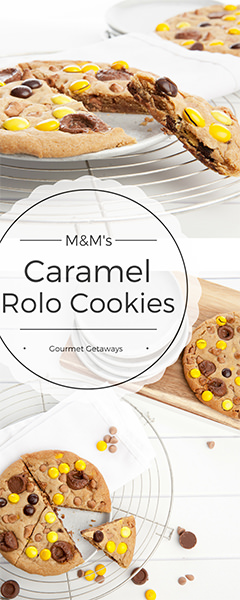 Would your family like these cookies? I was worried they would be too sweet for my lot but it seems they hit the spot.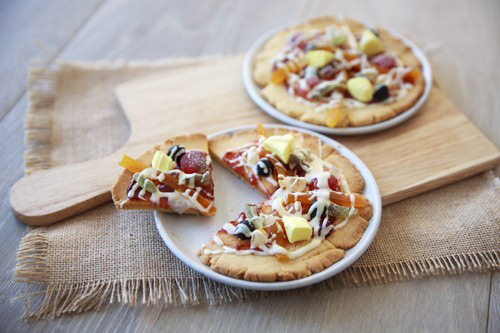 If you like pizza cookies take a look at these ones I've made previously.