I know I am posting this recipe for ANZAC Biscuits a little out of season. I was surprised to find that I hadn't uploaded it in April as I intended, hmmm nevermind. This is one of the easiest cookies to make and it is always well received in our house.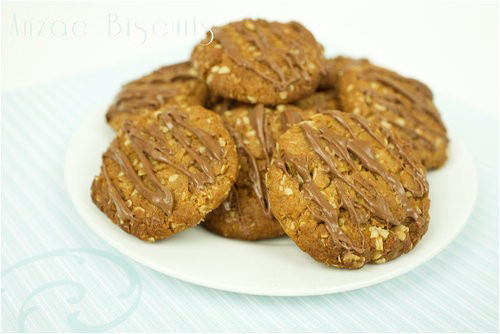 I make the ANZAC biscuits or cookies, quite regularly so I try to make some sort of variation each time. This time I have drizzled them with a little bit of chocolate.
I like the fact that the ANZAC cookie has rolled oats in the ingredients. This means I can justify a "health benefit" to myself.  After all the ANZAC cookie isn't that much different to the muesli bar.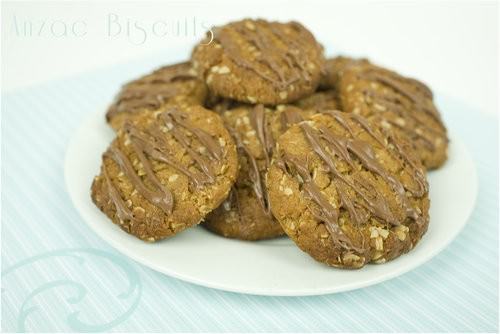 Ingredients
1

Cup

Flour

1

Cup

Quick Oats

1

Cup

Brown Sugar

½

Cup

Coconut

125

gm Butter

3

T

/s Golden Syrup

1

T

/s Water

½

t

/s Bicarbonate Soda

1/4

Cup

Melted Milk Chocolate
Instructions
Method:

Preheat oven to 175 degrees.

Mix the first four dry ingredients in a bowl and set aside.

Melt butter and golden syrup in a saucepan until melted and combined.

Add the bicarbonate soda and water and stir.

Once the mixture froths add it to the dry ingredients and combine.

Form the mixture into twelve balls and flatten onto a biscuit slide.

Bake biscuits for 15 mins.

Leave on the tray to cool and they will become crunchy.

Drizzle melted chocolate over biscuits.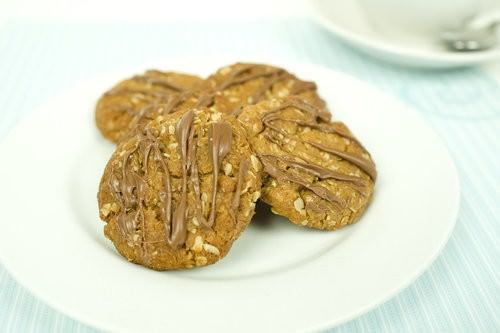 Whenever I make these cookies I think of my Nan. Nan is 97 and still going strong. She was the person who taught me to cook as a girl. One of the recipes we used to make when I visited her house was Anzac cookies. Don't tell nan, but I haven't given you her recipe. Unfortunately, Nan's recipe didn't work very well. It always overflowed all over the oven and the cookies were soft and chewy and I like crunchy!
I promise it's a no brainer. Just 2 minutes to mix up the ingredients and then into the oven. It's guaranteed to work every time and not to spill all over the oven!

Tell me readers, do you make ANZAC cookies in the lead up to ANZAC day? Did you grow up with this iconic biscuit?