As a measure of my love, I have chosen my hubby's favourite Chinese dishes to prepare. Hubby loves steamed Char Siu Pork buns but we can only get them when we go to Sydney, so they are a bit of a treat.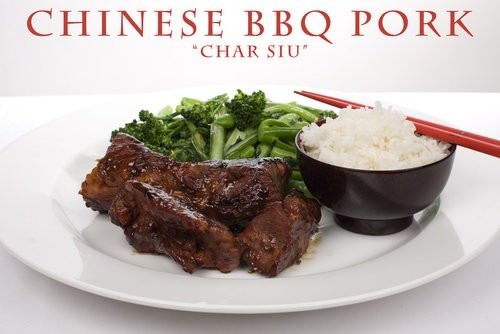 Whilst researching on the internet I have discovered these will be a labour of love as the first step to making the steamed buns is preparing Chinese Char Siu Pork. I have to make it from scratch because we can't buy it ready made in this little town.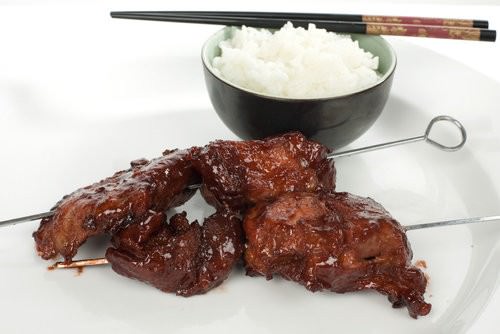 After flicking through a stack of recipes I settled on a combination of a few, with a couple of modifications to allow for the fact that I can't cook the meat over charcoals.
I made double the quantity of the recipe given below so we can have the Char Siu Pork as a meal and still have enough BBQ Pork left over to make the Steamed Buns. Here is the first of my Chinese Banquet.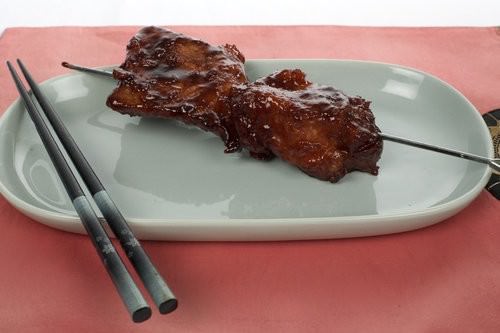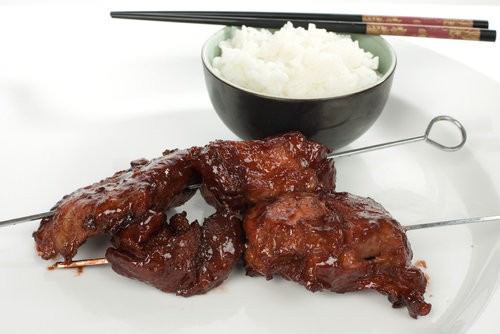 Ingredients
1

kg

pork

loin cut into large pieces

6

clove

garlic 1 1/2 tablespoons cooking oil

finely chopped
Char Siu Sauce
3

tablespoons

sugar

3

tablespoons

honey

3

tablespoons

hoisin sauce

3

tablespoons

soy sauce

2

tablespoon

Chinese Shaoxing

5

dashes white pepper powder

6

drops red coloring

optional

1

teaspoon

five-spice powder

1

teaspoon

sesame oil
Instructions
Combine all of the char siu sauce ingredients in a sauce pan, heat and stir until blended and becomes slightly thickened and sticky.

Cut pork into about 6 to 8 large peices. Use 2/3 of the sauce to marinade the pork. Add the chopped garlic to the pork, ensure the meat is well covered in marinade and refrigerate overnight.

Put remaining marinade in the fridge in a separate container.

Next day, heat the oven to 160 degree.

Put the pork into an oven bag and cook for 20 minutes.

Check to see if the pork is cooked by slicing the meat.

When the meat is just cooked, remove from the oven bag and drain any juices.

Heat a wok or frying pan with sesame oil and add the cooked pork.

Pour the remaining marinade over the pork and continue to turn until the pork is well coated and the sauce is lovely and sticky.

Serve with rice. Yum.
This was the most delicious dish I have ever cooked. The house smelt like a Chinese Restaurant. The meat was tender and juicy and the sauce was sweet, salty, sticky mouthwateringly amazing. It is definitely worth the effort.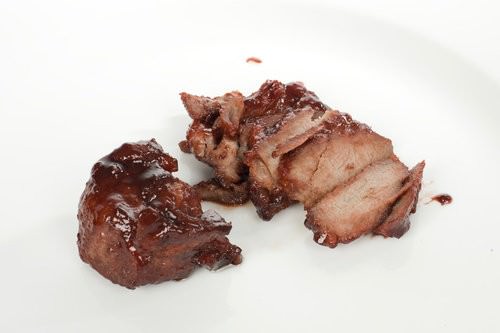 Give it a go and let me know what you think.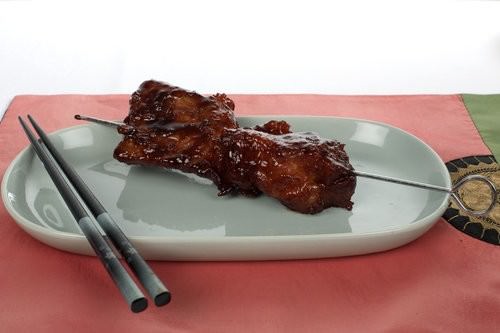 Oh, and take a look at these delicious Steamed Pork Buns I made with the leftover Chinese Char Sui Pork meat.