Today I bought my smallest pizza pan yet it has a diameter of merely 15cm. This purchase came about because of a wonderful pizza experience I had yesterday with a dessert pizza. It was a Mixed Berry and Mascarpone Calzone and it was sublime.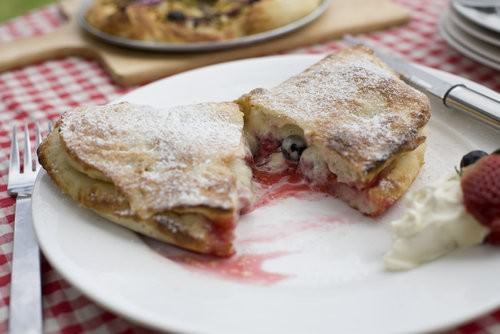 I have been slowly and quietly collecting pizza pans of all sizes. I started with the typical larger pans and over time my pans are getting smaller and smaller. The reason for the change is "The Gourmet Pizza."  With individual pizza pans we can all make a pizza to suit our tastes.
I know I will be exploring the world of dessert pizzas, and the only problem with the one I made yesterday was that it was too big for one person, I cut it into four serves but I think it would be far nicer as a petite, sweet individual calzone.The recipe below is for a 20cm pan as I am yet to make it in the smaller size.
I have to say a big thank you to my mother for keeping me with a regular supply of berries.
Mixed Berry & Mascarpone Calzone
Pizza Dough
500gm Bakers Flour
10gm yeast
5gm sugar
5gm salt
310 ml warm water
20ml oil
Method:
Throw all the ingredients into a bread maker put it on the dough setting and come back to it when the machine finishes. Too easy!
Lightly oil 5 x 20cm diameter pizza trays. Divide the dough into five evenly sized balls.
Flatten the dough ball into the pizza trays and allow them to proof again. Once they have proofed as desired they can be refrigerated for later use or topped with fillings immediately.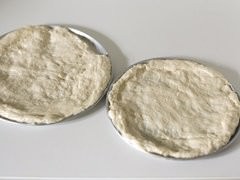 Mixed Berry & Mascarpone Calzone Filling
250gm mascarpone
3 T/s icing sugar
40 gm melted butter
1 t/s vanilla bean paste
150gm raspberry
150gm chopped strawberry
150gm blueberry
10 t/s sugar
icing sugar to dust
Method:
Preheat oven to 230C/445F with a pizza stone in place.
Combine the mascarpone with vanilla and icing sugar. Set aside for later use.
Brush the proofed dough with melted butter.
Place the mixture of the three types of berries onto 1 half of the pizza dough and sprinkle 2 t/s of sugar over each calzone.
Add the mascarpone in dollops evenly over the fruit on each of the calzones.
Fold the Calzone over and seal the join by pressing edges firmly together. Press around the edges with a fork.
Use the remaining ½ t/s sugar to dust over the finished calzone.
Bake in the oven for 10 minutes, checking regularly.
Remove the calzone from the oven and dust with generous amounts of icing sugar.