Is there anything else as alluring as the aroma of pastry baking in the oven. It's such a deliciously comforting and warming smell. If you add some apples and caramel to your crisp buttery pastry suddenly you have a delicious and sophisticated dessert, Tarte Tatin. The classic French version of an Apple Pie.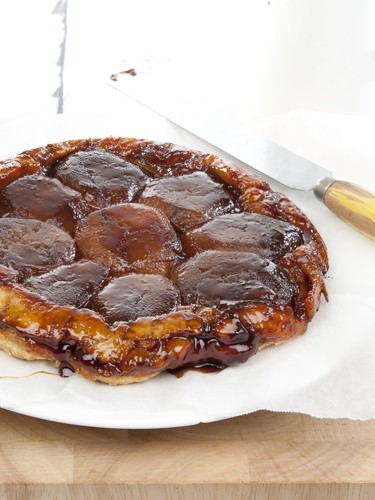 Each winter I intend to make the dessert, but before I do the weather turns warm and the allure diminishes. This winter the recipe has been open on my bedside table since the first chill hit the air. I am not sure why I procrastinated so long. I think in part it was because I feared a disaster.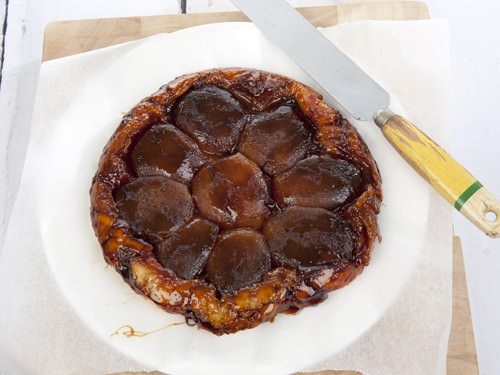 There is an inherent risk involved in any dessert that requires cooking and then flipping over to serve. Coupled with the fact that there are photo's to be taken and shared with readers, I guess I was feeling a little performance anxiety. I wasn't sure if I would be able to produce a pretty and sophisticated dessert and image!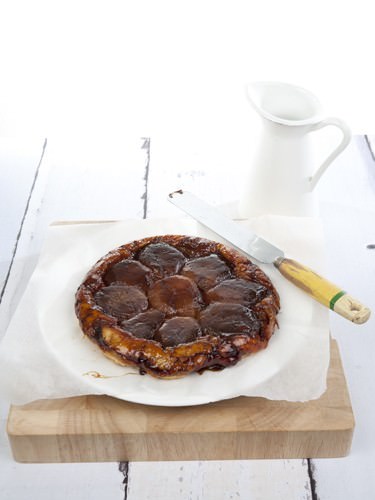 I needn't have been concerned, the Tarte Tatin was so simple to make and turnout.
You will notice I did take some pics prior to turning it over. I had to make sure I had something to show you if it all went pear-shaped. The dessert is a classic skillet recipe, it starts on the stove and is then topped with pastry and baked in the oven. If you do not have a frying pan which is able to go into the oven you can use an enamel plate or glass dish.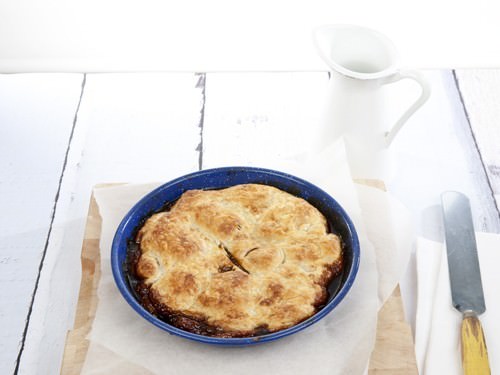 Tarte Tatin
Author:
Prep time: 10 mins
Cook time: 40 mins
Total time: 50 mins
A delicious and sophisticated French dessert that is easy to make and gorgeous to eat.
Ingredients
2 sheets ready rolled puff pastry
4 Granny Smith Apples (peeled & quartered)
3/4 cup caster sugar
1/4 cup water
50gm butter
zest from 1 lemon
more butter for brushing
Instructions
Preheat the oven to 190 degrees.
Brush the first puff pastry sheet with a generous amount of the butter and sandwich the second piece of pastry on top so that the pastry has double the thickness.
Use the skillet to trace a circle in the pastry. Cut the pastry with a knife and reserve the circle for later use.
Add the sugar and water to the skillet and stir over a low heat until dissolved.
Increase the heat and cook without stirring for about 5 minutes or until golden.
Turn off the heat and add the 50gm of butter and stir until combined.
Place the apples rounded side down in a pattern in the skillet.
Add the lemon zest evenly to the apples.
Cover the apples with the pastry circle, and tuck the edges in to form a lip.
Cut two slits in the pastry and bake for 35-45 minutes or until golden.
Serve with cream.
Do you ever put things off, only to find they are not as much of a chore as you imagined? I find that I am doing this so often lately, and when I finally do take the bull by the horns it rarely warrants any concern at all. I have just been guilty of "over thinking it." I am so pleased I tried this dessert it was delicious and didn't turn out ugly at all.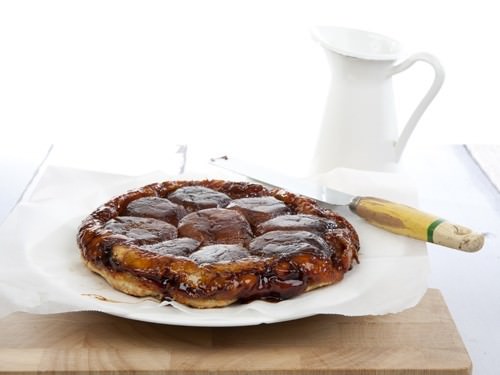 The piece de resistance was the luscious cream on top of the sweet apple pie, heavenly. I will be making this again very soon.