"What should we have for dinner tonight" is a reoccurring question in the Gourmet Getaways household. The children always name the same two dishes, and husband will come up with something as equally unexciting. Really I don't know why I continue to ask the question.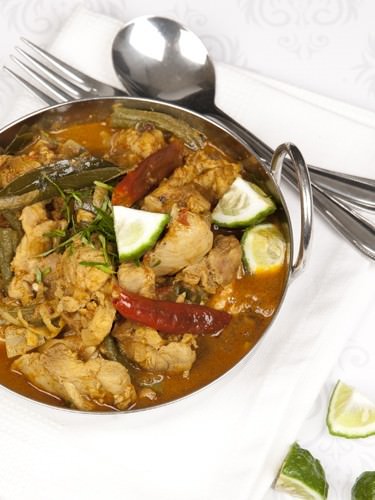 Tonight, there was no need to go through the usual spiel; I knew exactly what I would be serving. I was using the SpiceZ Curry Kits which arrived in my Little Box of Yum to make a Sri Lankan Chicken Curry. If you're in the US [easyazon_link identifier="B01FWNXHJ0″ locale="US" tag="gourmetgetaways1-20″]this Sri Lankan Curry Kit[/easyazon_link] is great.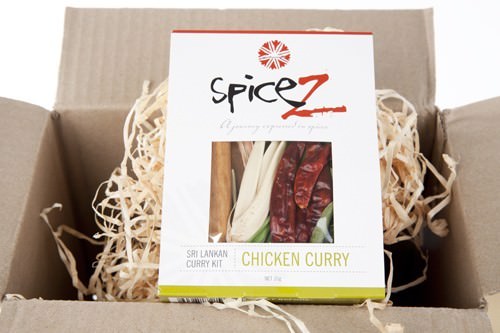 When Mr GG arrived home the aroma greeted him at the front door. I was greeted with "Yum, What smells so good?" Success! Dinner did smell amazing.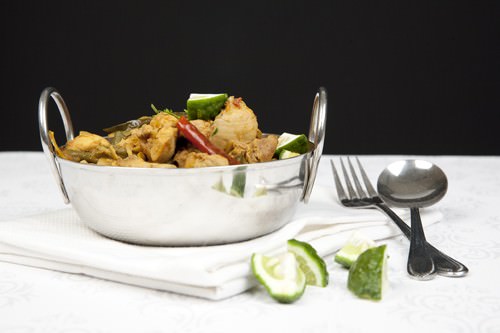 The Spicez curry kit made it easy to prepare a delicious curry from scratch. The kit contained 2 individual sachets. The first with dry whole herbs and spices, and the second with enough of the measured ground spice blend to create authentic Sri Lankan Curries. The kit also included a step by step recipe, although I liked that there was scope for variations, as I always "play" a little with recipes.
I made the curry as directed. The steps were simple to follow and I had everything needed for the curry in my fridge. There were no difficult-to-source ingredients. The first variation I made to the dish was to add a bunch of chopped snake beans. I felt I needed to feed the family at least one vegetable.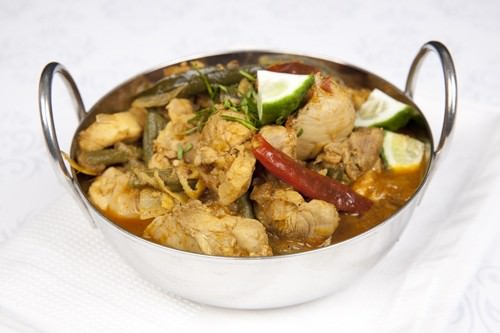 Once the curry was cooked I split the dish in two, half for the children and half for Mr GG and I.
To finish the children's curry, I added 250ml of coconut cream to make the dish milder and creamier.
Mr GG and I like our curries hot, so I took the manufacturers advice and added an extra two chillies. To balance the heat I also used the juice of a lime and I shredded an additional kaffir lime leaf.
The result was amazing!
The curry was so aromatic and rich. It was so full of flavour that I know it will be a favourite.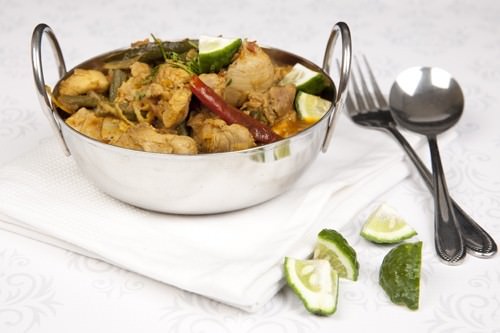 How do you make your own Sri Lankan Chicken Curry?
You can either get hold of the June "Little Box of Yum" or you can order the Chicken Curry Spice Kit directly with Spicez, or get [easyazon_link identifier="B01FWNXHJ0″ locale="US" tag="gourmetgetaways1-20″]this one from Amazon.[/easyazon_link]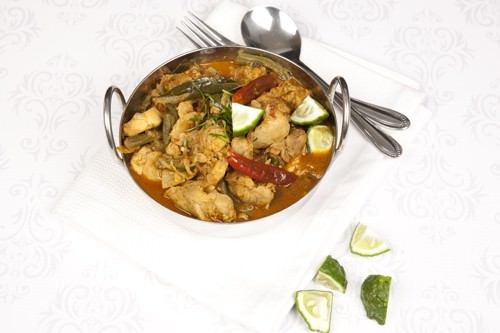 Sri Lankan Chicken Curry
Author:
Prep time: 15 mins
Cook time: 35 mins
Total time: 50 mins
A deliciously rich curry made with traditional herbs and spices. Add coconut milk for a milder version.
Ingredients
1 Spicez Chicken Curry Kit
800gm chicken thigh fillets
2 Tbs oil or ghee
2 medium onions finely chopped
4 cloves garlic grated
1 Tbs grated fresh ginger
2 chillies chopped
2 TBS white vinegar
2 tomatoes finely diced
1 bunch snake beans chopped in lengths
1/2 cup chicken stock
1 tsp salt
juice from 1 lime
2 kaffir lime leaves finely shredded to garnish
Instructions
Fry the onion in oil or ghee until golden brown.
Add the garlic, ginger and sachet containing wholes herbs and spices, and fry for 1-2 minutes.
Add the gound spices sachet, vinegar, salt and chicken. Fry for 2 minutes stirring.
Mix through the tomato, green beans and stock. stir to combine.
Cover and simmer on a low heat for 35-40mins.
Once cooked remove the whole herbs. Stir through the lime juice and add shredded kaffir lime leaves to served.
How do you decide what to cook for dinner?