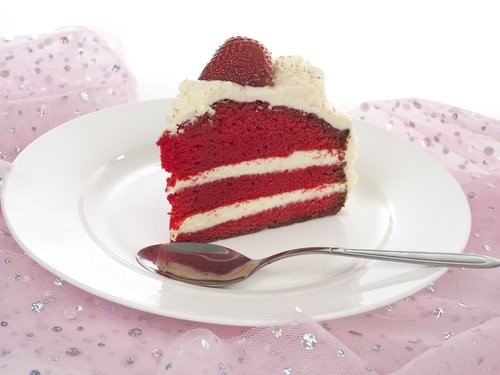 Pictured above is the last remaining piece of Red Velvet Cake from my dear hubbys birthday dinner. I should add… my belly hurts; I have eaten way too much cake. I even skipped dinner because I was writing this story and needed more cake to keep me going.  Each time I have edited a photo or written a paragraph I have sliced another sliver from the wedge.
So I guess what I am trying to say is that, the cake is good… really, really good. I am not meaning to pat myself on the back but this was a truly delicious recipe adaptation.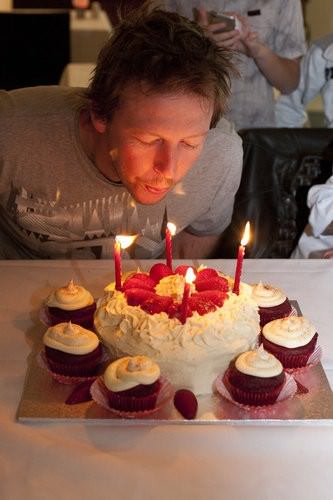 So where does the story start… Mr GG doesn't like chocolate cake very much. This is a strange but true fact.  So I was trying to come up with an idea for a birthday cake. Nothing really seemed special enough, carrot cake, lemon poppy seed etc are just to pedestrian for a birthday.  I thought about making a Red Velvet but the base of this cake is a Devils Food Chocolate Cake, so no good.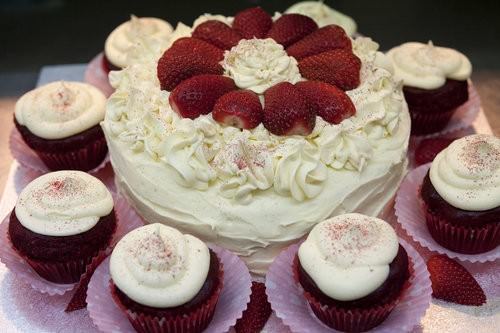 Then I had my light bulb moment. I could use my favourite white chocolate mud cake and add the Red Velvet to that. Hubby loves white chocolate, and Red Velvet is definitely special enough for a birthday so I had a winner!  I decided to go with the traditional cream cheese frosting although I always add a little lemon juice to mine to give a slight tart, "cheesecakey" flavour. I used whipped white chocolate ganache to do the piping on the top.  I like the idea of keeping the "red" colour going so I used chopped strawberries to decorate and red edible glitter for a little extra "bling"
It may not have been the most elegant cake but mmm m it was delicious!
Ingredients:
White Chocolate Mud Cake
250gm butter
150gm white chocolate
2 cups caster sugar
2 t/s powdered red food colouring
1 cup milk
1 ½ cups plain flour
½ cup SR flour
1 t/s vanilla Essence
2 Eggs
Cream Cheese Frosting
375gm Philadelphia cream cheese
135gm butter
7 cups pure icing sugar
3 Tbs lemon juice
White Chocolate Ganache
½ cup cream
300gm white chocolate
Method:
Spray a 20cm spring form tin with oil.
In a large saucepan combine butter, chocolate and sugar over the heat until melted and combined. Ensure the sugar is dissolved.
Remove from the heat. Add the red food colouring and the milk, stir and allow to cool for 15mins.
Preheat the oven to 155 degrees.
Stir through the flours, add the eggs and vanilla essence. Mix until combined.
Pour the mixture into the cake tin and bake for one hour.
Cover the cake tin with foil and then bake for a further 45mins.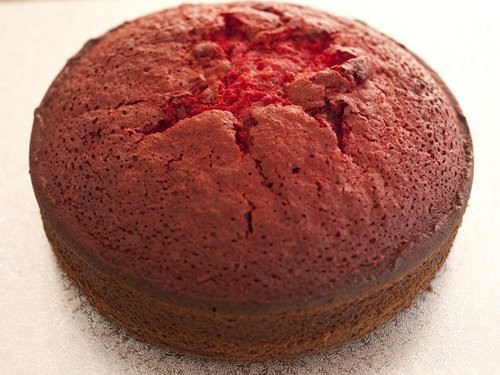 Allow the cake to cool in the tin for 30 mins then turn it on to a wire rack. You will notice my cake is very ugly at this point. I left the wire rack in the oven above the cake and it rose into it…hence the unsightly scar on the top of my cake.
Anyway, back to the recipe, beat all the cream cheese frosting ingredients together in a large bowl and reserve until the cake is cooled.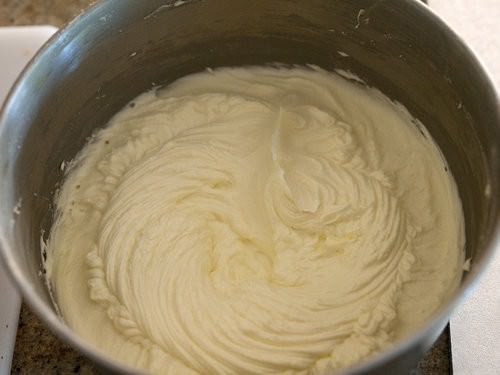 In a small saucepan bring the cream for the ganache to just below boiling point. Remove from the heat. Break the white chocolate into pieces and continue to stir until the chocolate has melted. Allow the ganache to come back to room temperature.
Once the ganache has cooled and thickened put is into the small bowl of an electric mixer and whip it until it is pale and stiff.
Once the cake has cooled cut it into three or four equal layers. My layers aren't so equal or straight, I am obviously not going to be a MasterChef contender anytime soon.
The cream cheese goes between each layer and covers the top and sides. Layer the cream cheese frosting between each layer taking care that the cake does not develop a lean. I then cover the top in frosting and move onto the sides. Refrigerate the cake until the frosting has set.
Put the prepared ganache into a piping bag and add swirls to the cake. Finish with chopped strawberries and red glitter. Refrigerate until ready to serve.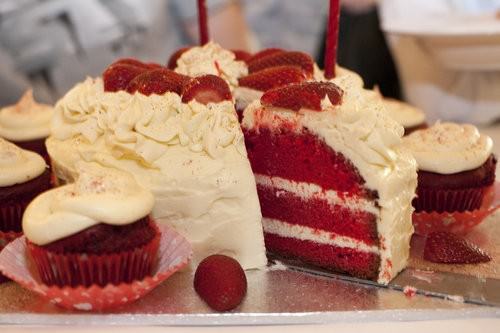 Happy Birthday to my dear husband, and thank you to all our wonderful friends who helped us celebrate.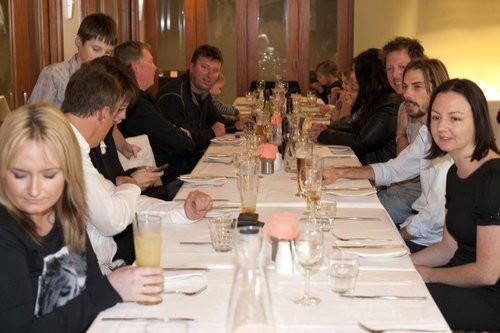 …Jesse, Carlie told me she was bringing a piece of cake home for you so I cut you a nice big slice… I hope it made to you in one piece…
So tell me readers, what cake do you think makes a good birthday cake?