July Theme
Sichuan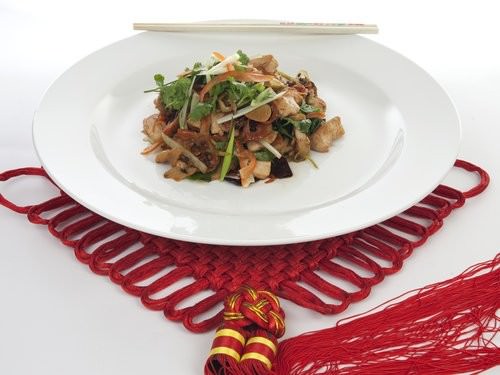 The theme for this months international incident party is Sichuan cuisine, please excuse my ignorance, but before I could commence this month's challenge I needed to consult Wikipedia.  I discovered that Sichuan cuisine is a style of Chinese cuisine which originated in southwestern China. It is known for bold flavors and in particular the spicy nature of the food.
The unique flavour of the food comes, in part from the Sichuan Peppercorn, as well as the liberal use of garlic and chilli.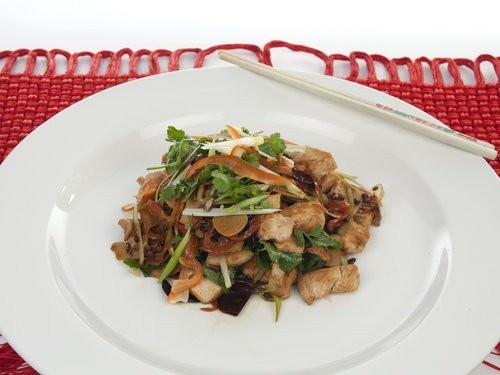 I like a decent amount of chili so I was looking forward to giving the Sichuan peppercorn a try.  The peppercorn has a reputation for being mouth numbingly hot. I have to say, I didn't find this to be true, although it did have a lovely distinctive flavour, and the pop in the mouth was delicious and added to the overall texture of the dish.
Like any Chinese dish the art is in the preparation. It is important to have the ingredients prepared before you heat the wok. Vegetables are cut in a very fine Julienne and the ginger and garlic a prepared using a mandolin for extra thin slivers.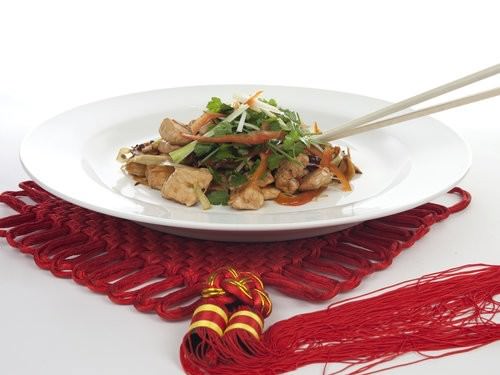 Once again the International Incident Party has seen me venturing into an unknown cuisine and coming up with a delicious meal to add to my repertoire.  This has been a great learning experience and I will definitely be delving into the cuisine further in the future.

Thank you Penny from Addictive & Consuming for suggesting the Sichuan Cuisine as this month's theme, for some more delicious Sichuan recipes please check out what the other International Incident Party contributors have made, or you could join us on the forum. Thanks again for hosting Jeroxie
Ingredients:
880gm boneless, skinless chicken breast cut into cubes
4 large dried red chilies
1 tablespoon of Sichuan peppercorn
8-10 slices of peeled ginger
3 large cloves of garlic thinly sliced
1 large stalk of scallion, leek or shallot (julienned for garnishing)
4 sprigs of coriander (for garnishing)
½  red capsicumi (julienned for garnishing)
3 tablespoons of soy sauce
1 tablespoon Shaoxing wine
Method: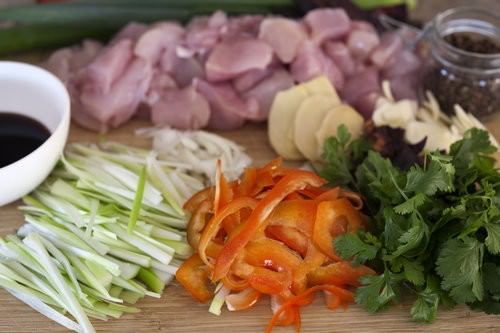 In a hot wok add one tablespoon of oil and fry off the chicken breast in batches until cooked through. Set aside. Bring the wok up to heat, and another tablespoon of  oil add the sliced ginger, garlic, and Sichuan peppercorn, stir fry until they turn light brown. Add in the dried chilies, soy sauce, Shaoxing wine and return the chicken to the wok.
Stir through the mixture and add half of the capsicum, coriander and shallot to the wok. Quickly toss the vegetables through the meat and turn off. Serve hot and garnish with remaining shallot, coriander, and red capsicum.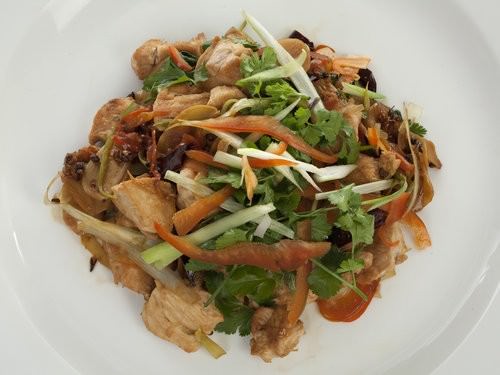 This recipe is an adaptation from the Rasa Malaysia site, the place I always go to for authentic delicious Asian recipes.
Once again, my food horizons have been stretched. Try this recipe for a delicious healthy meal.
Serves 5
Approx 280 calories per serve.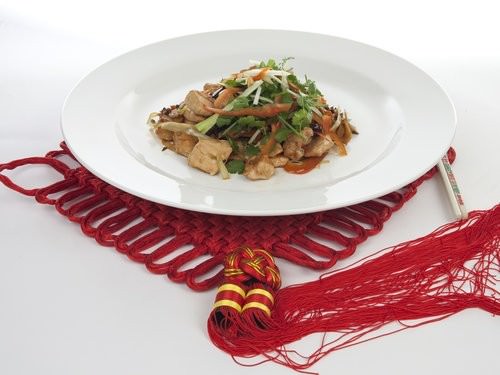 Now off and visit these lovely bloggers and see how they have interpreted the theme of Sichuan cuisine.