The weather has been quite cool recently, and at the local markets, we found some fabulous Ciabatta Bread. Once we had done the rounds of the stalls I decided to come home and make something quick and warm to serve with the beautiful loaf of bread. What could be better than my "Easy Pesto Pea Soup".  Minimum effort, and maximum taste.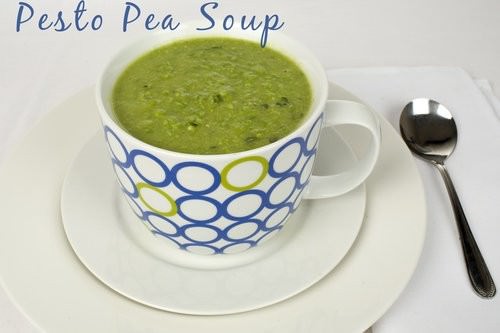 Unlike traditional "pea" soups, this recipe uses frozen peas, rather than split peas. This keeps the soup quite light, while it is filling, it doesn't weigh heavily on your stomach.
For an extra pesto taste, and if you enjoy dairy, I highly recommend topping your soup with a few tablespoons of Parmesan cheese. It gives the soup another level of flavour, a delicious sharpness.
If you own a Thermomix, be sure to check out the even easier Thermomix Pesto Pea Soup.
Easy Pesto Pea Soup
Ingredients:
1kg Frozen Peas
1 litre Vegetable Stock
2 large potatoes
5 cloves garlic
Lrg bunch Basil
600ml water
Ground Pepper to taste
Method:
Boil the diced potato in the vegetable stock and water until soft.
Chop the garlic and add to the broth. Roughly chop the basil.
Add the frozen peas and basil to the broth and bring back to boil quickly. Once the soup has boiled it doesn't need any further cooking as this will destroy the beautiful green colour.
Use a stick blender to liquidise the soup, add any salt or pepper to taste.  Add a swirl of cream to each bowl for serving and dinner is done!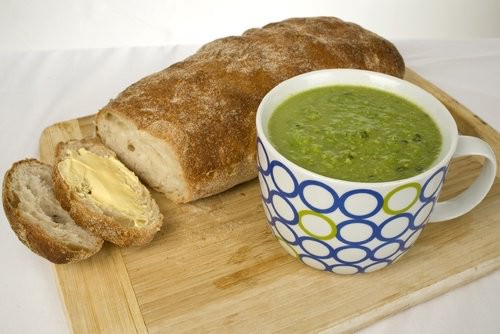 With winter always in full swing somewhere in the world, soups are a popular topic. Why not immerse yourself in a bowl of Thai Pumpkin Soup, or tasty Minestrone.
What is your favourite winter warming soup flavour? Do you like to enjoy a bowl with fresh bread, or something else?