This is the second time I have made this Caramel Mud Cake in the last two weeks. The first cake disappeared before I could photograph it! I would like to be able to blame the kids, but I have to admit that I had my fair share, (okay, maybe a little more than my share).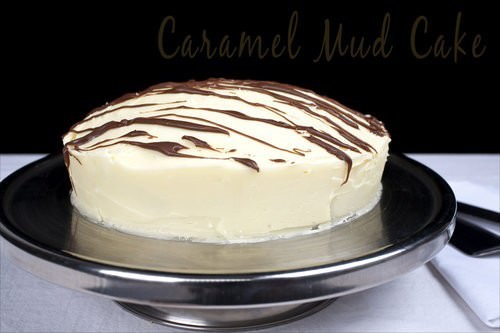 The most divine thing about this cake is after one minute in the microwave, the white chocolate ganache becomes a syrupy sauce for the warm Caramel Mud Pudding.  Whether you eat it as a pudding or cake it is amazing.
Caramel Mud Cake
Ingredients:
185gm Butter
150gm White Chocolate
200gm Brown Sugar
1/3 Cup Golden Syrup
1 Cup Milk
2 Cups Plain Flour
1 t/s Baking Powder
2 Eggs
White Chocolate Ganache:
¾ Cup Cream
450gm White Chocolate
Method:
Pre-heat the oven to 160C/320F.
Grease and line a 23cm round spring form tin.
In a saucepan add butter, brown sugar and golden syrup. Stir until melted.
Remove from heat and add white chocolate, continue stirring until the chocolate is dissolved (you may need to turn the heat on for 1 minute).
Once the chocolate is dissolved add the milk and stir until combined. Cool the mix in the saucepan for 5 minutes.
To the saucepan add the flour, baking powder and eggs, mix until smooth.
Pour mixture into your lined springform tin.
Bake for 1 ½ hours, the cake is cooked when an inserted skewer come out clean.
Cool cake on a wire rack.
Ganache:
Heat cream in a saucepan, remove from heat. Add the chocolate and stir until smooth.
Put the ganache in the fridge to cool until it is able to be spread.
Once cool spread ganache over the top and sides.
Return the cake to the fridge in between layers if the ganache is too liquid.
Let me know what you think!