This week I have a cold, (like just about everyone else it seems) and I could really go for a comfort food.  Being unwell though I just don't have the energy to make anything on my usual list, and I don't really have the appetite to consume them either.  What I settled for was a warming, hearty Thai Pumpkin Soup.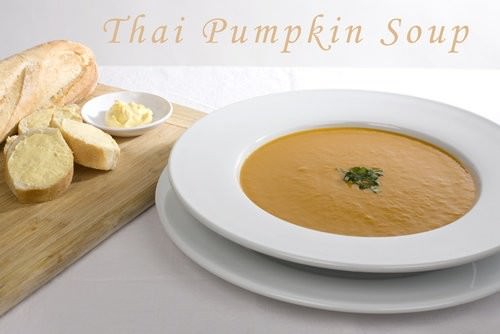 The topic for the week is "Hearty" to me this topic goes hand in hand with the previous ones; "Comfort Food." The terms are almost interchangeable for me.
This recipe is great as it makes vast quantities of soup with very little effort. You don't even have to battle with chopping up the pumpkin as it is roasted whole for 1 ½ hours.
I have now retired to bed, with a full tummy, where I would like to stay for the next week (But in reality I hope to get an hours rest before the kids find me!).
Thai Pumpkin Soup
Ingredients:
1 medium to large Pumpkin
1 litre Vegetable Stock
2 ½ T/s Laksa Curry Paste
1 x 440ml canned Coconut Milk
Chopped Coriander
Method:
Preheat oven to 160C/320F.
Put pumpkin on a baking tray in the oven at 160 degrees for 1 ½ hours.
Periodically pierce the skin with a knife to assess the softness of the flesh and to allow an outlet for any steam (I only did this twice).
Once the pumpkin is very soft remove the baking tray from the oven and cut the pumpkin into wedges.
Peel the skin from the pumpkin and scoop out and seeds and discard these.
Place the pumpkin flesh in a large saucepan with vegetable stock and laksa paste.
Bring the mixture to the boil.  Turn off the heat and add the coconut milk.
Blend the soup with a stick blender.
Garnish with Coriander and serve with crusty bread and butter.