Can you feel the restless energy of little kiddies everywhere as they count down the days until the school holidays? My children conveniently mark off two days at a time thinking the holidays will come quicker, but alas, you can never speed up, or slow down time.
Today I wanted to share with you a children's paradise which is right on our door step.  My family and I road tested this resort a little while back, and the kids are still asking to return!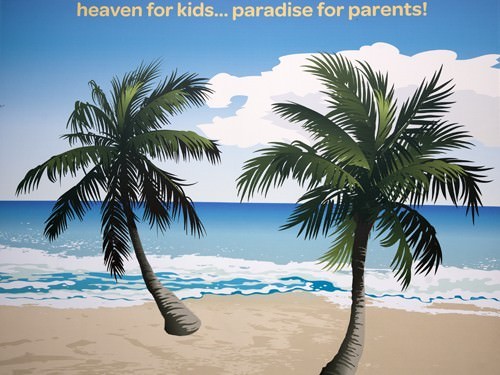 Aptly named Paradise Resort, this Gold Coast hotel complex is billed as "Heaven for kids… Paradise for Parents."  The resort operates on the philosophy that if kids are happy parents can relax and enjoy their holiday too.
Now please don't be mistaken… I thoroughly enjoy my Gourmet Getaways! Holidays which include opulent five star accommodation, luscious food, a secluded romantic niche where I can enjoy a quiet glass of wine.  I might even look for somewhere with a day spa or a cooking class… but sometimes I have to face facts, I'm part of a family, and the holiday can't always be about me.
So what make this resort heaven on earth for children?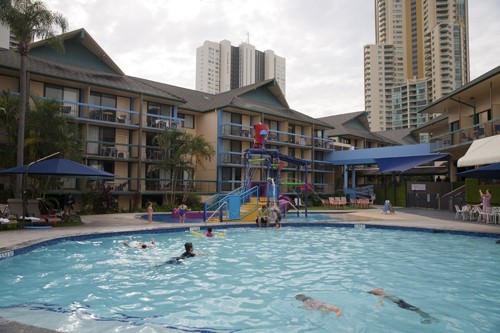 Firstly all the rooms face out onto the pool and activities area. There is a small waterslide, play structure and a shallow pool which would be suitable for the under two age group. Then there is a much larger water playground that would keep the under tens amused for a considerable amount of time.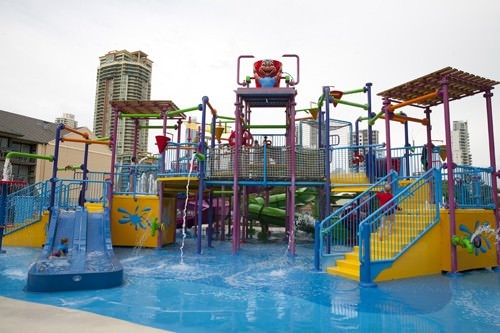 Then there's the entertainment.  Friendly staff walk around the pool area gathering the children for dancing, games, and regular shows with the mascot "The Captain."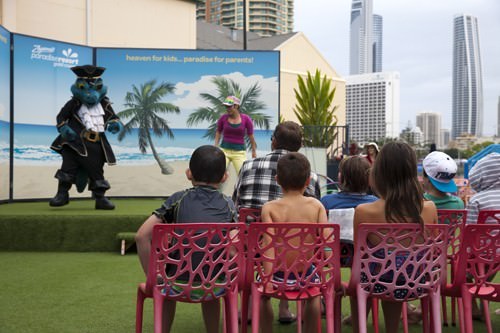 Here the kids are taking part in a Gangnam stye dance off.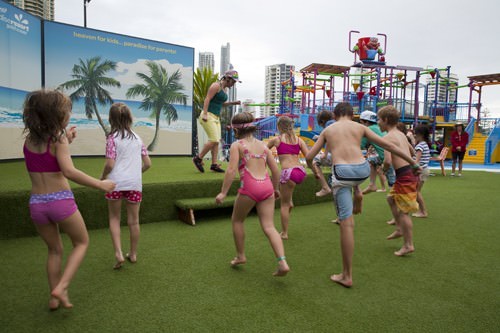 Also in the same area is a heated circular pool that ranges in depth from 90cm to about 1.5metre and a sizeable spa.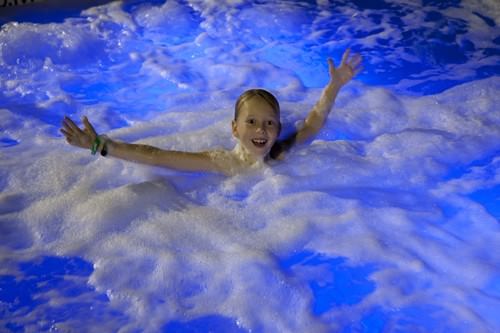 My children are water babies so despite it being quite cool and dark when we arrived the first stop was the pool and spa.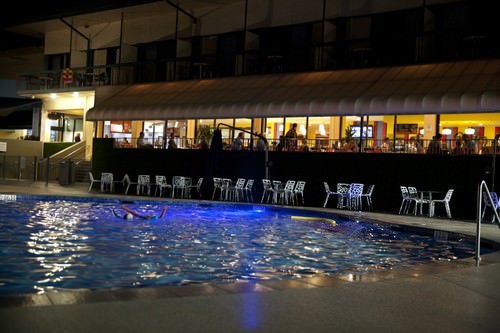 Mr GG and I decided to test the theory that if the children are happy the adults get a break too so we bought a bottle of wine from the onsite mini market and used the plastic cups from our room to enjoy a glass of red wine whilst watching the children swim.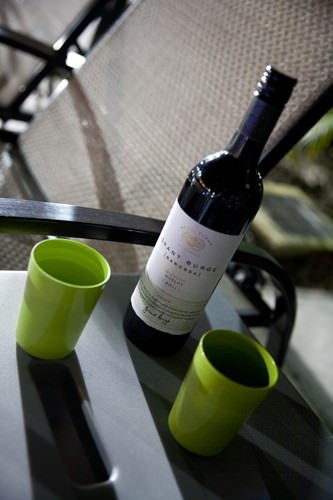 After all, a holiday is what you make of it. The water was warm enough to allow the children to play for more than an hour before we decided it was time to start thinking about dinner.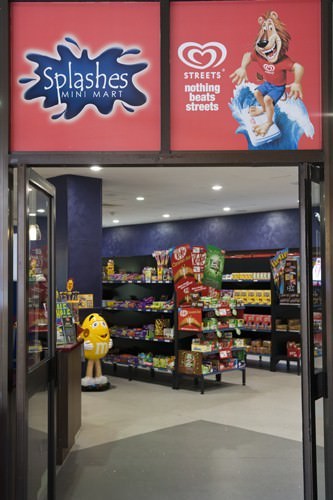 Next day we found that there are a number of onsite dining options. Firstly there is a well stocked grocery store which has all the necessary items for a family to be fully self catered.  The pricing is comparable to large chain stores.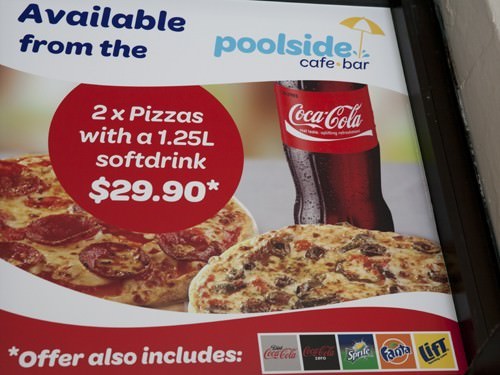 The second option is the poolside cafe which sold a typical cafe style menu either dine in or takeaway. It also had some fast food options like the special shown above.
Thirdly there was a restaurant which served a buffet breakfast in the morning and a la carte dining of an evening.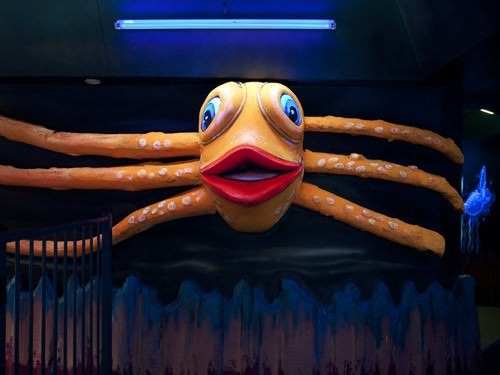 Best of all, we are at the Gold Coast and there are loads of great dining choices everywhere. So you could do what we did and book the kiddies into the evening kids club session and go out on a date with your hubby!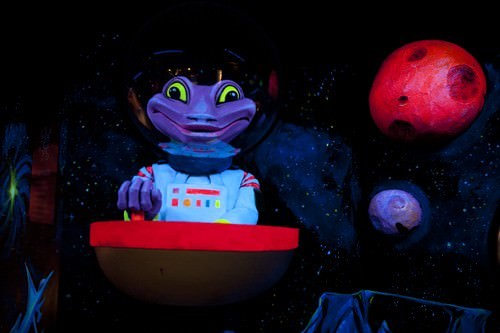 When we booked our accommodation at Paradise Resort there was a complimentary  kids club session included in the rate for each child.  We rarely use kids clubs so I had no real intention of utilising the service until I saw the amazing facilities!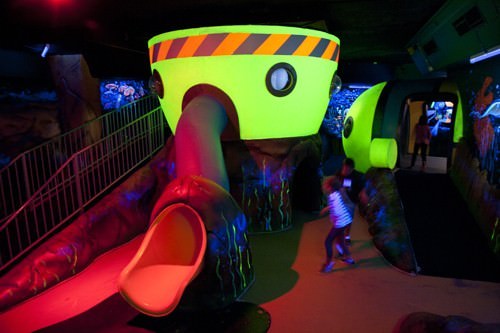 With seven individually themed rooms including the "Space Room", "Captain's Underwater Room", "Leonardo's Painting Room," and an "Astro Space Station" I really wondered if I would ever be able to convince the children to return home!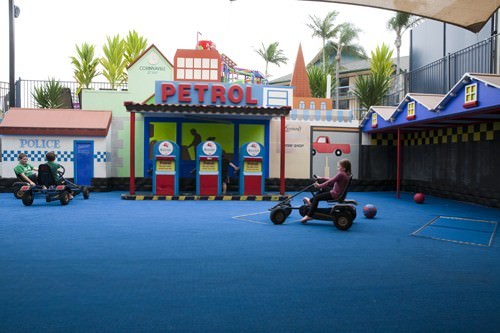 Children are divided into different age groups over the seven themed play spaces, this ensure that each child is given age appropriate activities and access to equipment.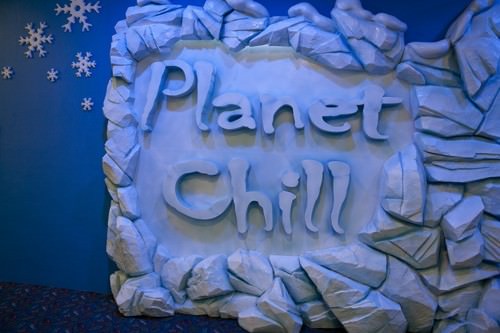 If this is all looking a little "young" for your family, never fear there are teen options too. Evening dance parties, a games room and "Planet Chill." Planet Chill is the onsite ice skating rink which is aimed at family fun.  Each session is for two hours and an on Friday and Saturday nights there is an evening disco session.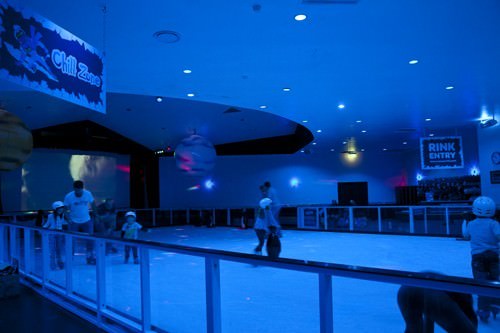 This won't be a destination for everyone.  The rooms are very basic although there is room for a family of four in suites it is not luxurious or spacious.  When we visited there were room renovations in progress, so it is safe to say the facilities are being improved.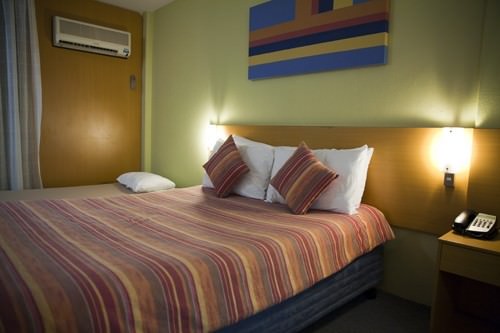 Paradise Resort would ideally suit families with multiple young children. The facility is designed to make it easy for parents to stay on the premises. There is no need to leave for incidental items or entertainment.  This resort would be a "dream sent" when you are in that stage of life, when you have little kids, and just getting them all in the car at once is a major achievement.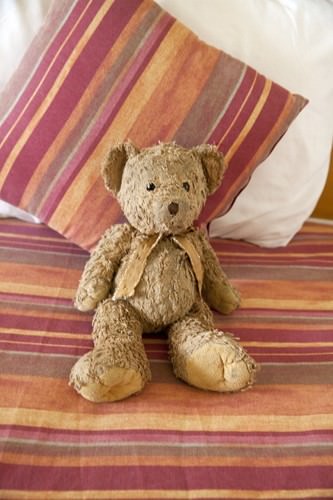 So if you are a tired parent, and you need some chill out time Paradise Resort is the answer.  The pricing is surprisingly reasonable too. While the children played we enjoyed this cheese and wine platter I put together.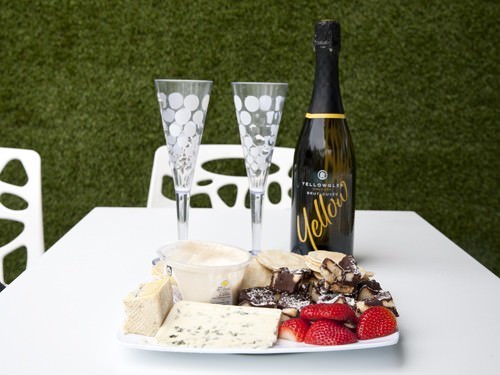 So yes, surprisingly it was "Heaven for kids… and Paradise for Parents."