Is there a sweet slice, cookie or cake that you used to devour as a child? For me it was my mother's chocolate caramel slice. I loved it! I just couldn't get enough! Lucky for me it was the treat my mum most often made when we had to "bring a plate", so I had plenty of opportunities to indulge my sweet tooth.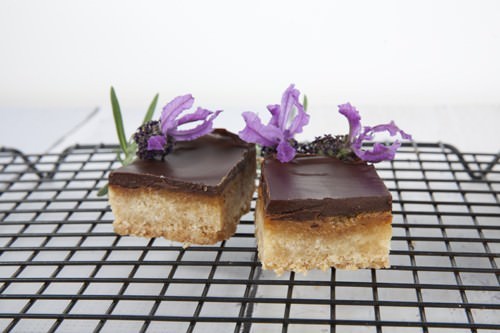 When I grew up and left home I noticed the slice in cafes and bakeries from time to time. Craving the treat of my youth I would buy a slice only to be disappointed that the flavour was never the same. The chocolate layer was always "waxy" and not melty and lush, the caramel would be grainy and the biscuit base just plain.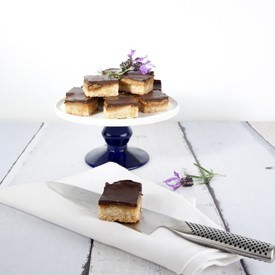 Mum always told everyone how easy the slice was to make, but I never quite believed her. After all, anything with three layers of cooking requires some sort of attention span and a bit of time surely?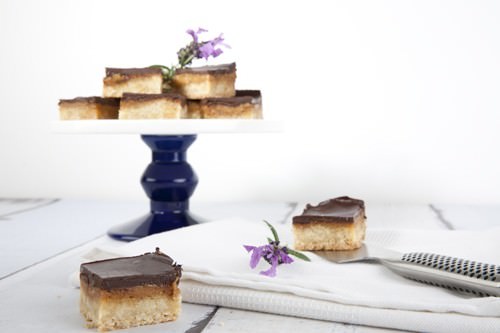 Turns out mothers do know best. The slice is so easy and quick to make. The longest time is in waiting for the caramel layer to cool so the final layer of chocolate can be poured over.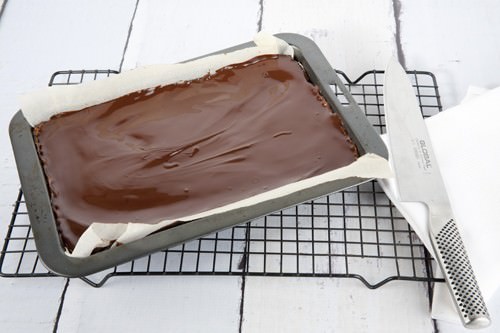 I have one little confession, just to make it even quicker I have altered the recipe slightly and used Nestle Caramel Topper.  This alteration means that we save the step of cooking a caramel with condensed milk. I do like shortcuts and I think mum would approve.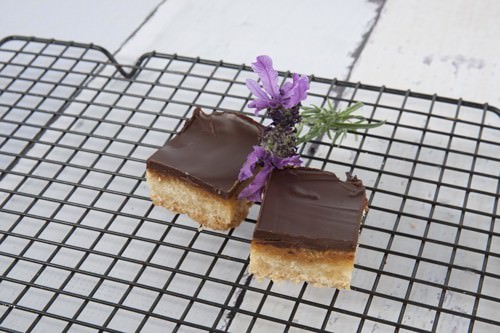 Caramel Chocolate Slice
Recipe Type
:
Slice, Dessert, Sweet
Author:
Prep time:
Cook time:
Total time:
This is one of those great "retro" slices that I grew up with, I hope you enjoy it as much as I do.
Ingredients
Base
1 cup SR Flour
1 cup dessicated coconut
1 cup brown sugar firmly packed
125gm butter (melted)
Caramel Layer
400gm Nestles Caramel Topper
2 Tbs Golden Syrup
30gm butter (melted)
Chocolate Layer
200gm Dark Chocolate 70% cocoa
30gm butter
Instructions
Base
Preheat oven to 180 degrees.
Line a 20cm fudge tray with baking paper.
Place dry ingredients into a bowl.
Melt butter and add to the dry ingredients mixing well by hand.
Press the base into the prepared tin and bake for 10mins or until golden.
Caramel Layer
Add all the ingredients to a jug and process briefly with a stick blender until just combined.
Pour the caramel filing over the hot biscuit base and return to the oven.
Cook for 15 minutes or until bubbly and golden.
Remove from the oven and allow to cool. (Can be placed in the fridge)
Chocolate Layer
Melt the chocolate and butter together and mix until smooth.
Pour chocolate over the cool slice.
Cool to set the slice.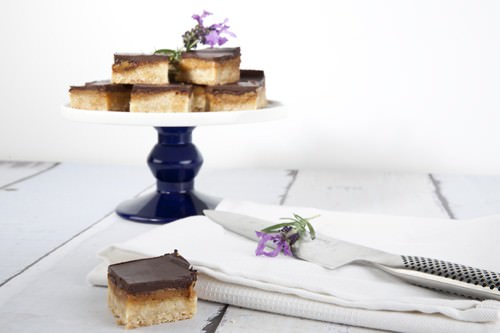 The only problem with having this recipe "on file" is that I have reverted to my childhood ways of "sneaking" pieces of the slice periodically through out the day.
I would love to know what childhood treat your mother made for you. Do you have a picture?