Today I am sharing a deliciously simple Orange Macaron recipe.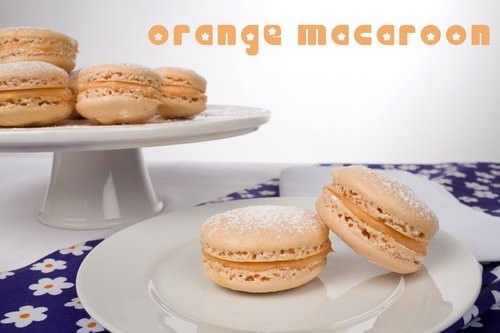 The recipe is far simpler than the candy thermometer method and works every time!
I have a great love for Macarons and have made many varieties! Try some of these tasty flavours – Chocolate Hazelnut, Turkish Delight, Chocolate Mint, and the truly Aussie – Lamington.
Orange Macaron
Recipe Type
:
Snack, Dessert
Author:
Prep time:
Cook time:
Total time:
A deliciously simple recipe for orange macarons
Ingredients
Orange Macaroon
3 egg whites (at room temp)
¼ cup caster sugar
4 drops yellow food colouring
2 drops red food colouring
1 ¼ cups pure icing sugar (sifted)
1 cup almond meal
1 T/s orange juice
Finely grated rind of 1 orange
Orange Ganache
¼ cup cream
160gm white choc
8 drops yellow food colouring
3 drops red food colouring
1 T/s orange juice
Finely grated rind of 2 oranges
Instructions
Line 2 cookie sheets with baking paper.
Warm the mixing bowl and beaters. Starting with eggs at room temperature separate the whites and beat in a small bowl with an electric mixer. Beat until soft peaks form and then add the caster sugar slowly, beat until the sugar is dissolved. Add the drops of colouring and mix briefly until combined.
Transfer the mixture to a bigger bowl and add ½ of the sifted icing sugar, ½ of the almond meal, orange juice and grated rind. Fold gently through the mix until combined. Add the remaining ingredients folding gently.
Spoon the mixture into a piping bag with a 1cm plain tube. Pipe 4cm round macaroons onto tray leaving 1 inch for spreading.
Leave the tray to stand for 30mins.
Preheat the oven to 130 degrees.
Bake macaroons for 20mins, when cooked leave on the tray to cool.
While the macaroons are cooking heat the cream to boiling.
Pour the cream over the white chocolate and stir through until the mix is smooth. Add the colouring, orange juice and rind. Mix well, stand to cool.
Once the macaroons are cooled and the ganache has cooled to a spreadable consistency sandwich the macaroons together and dust with icing sugar.
This was actually my first ever attempt at making macarons. I have since used this recipe over and over again and it works without fail!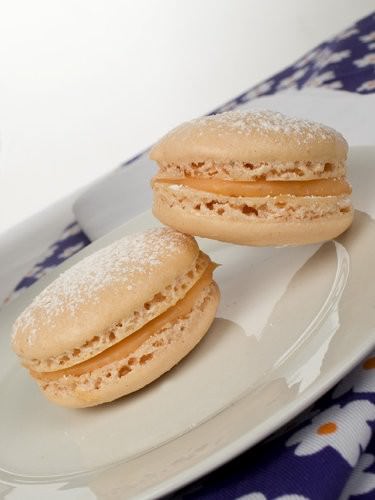 Please enjoy!
I would love to hear from you if you make this recipe.