Ho Ho Ho, Merry Christmas!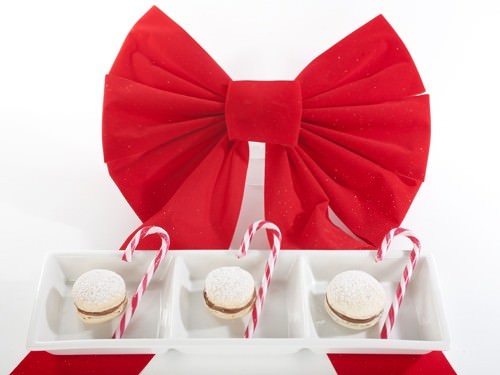 I feel a little like Santa because at the end of the story I will be announcing the 5 winners of the Philadelphia Cream Cheese scrumptious "Simply Heaven Vol 3" dessert cookbook.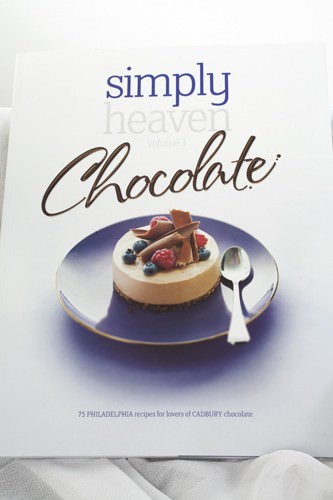 Yes I am more than a little early for Christmas, but in my defense, I have been receiving all these lovely gifts from sponsors so it's feeling like Christmas in the Gourmet Getaways household. One such gift was a Christmas package filled with nine different packs of "Lucky" nuts and a Christmas recipe book.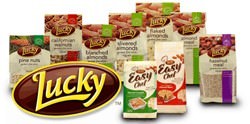 Christmas is such a busy baking time for me, and I always buying truck load of "Lucky Nuts" so I was over joyed to receive  this package. I mentally tagged each packet with a recipe that I could make.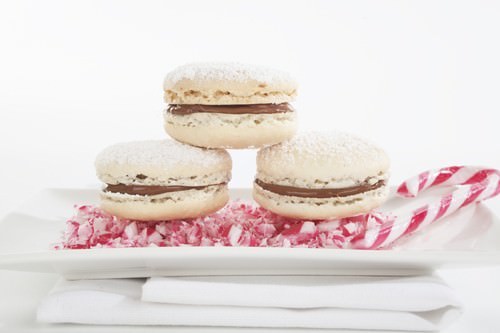 When I see ground almond I immediately think of macarons so there was no question what I would make with the almond meal. It had to be a Christmas Macaron.
Macarons are one of those temperamental treats that are quite simple to make if you have good quality ingredients at the right temperature.  The main ingredient is ground almond, so I only ever use Lucky Nuts.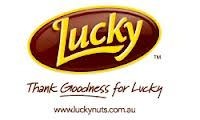 I have heard about to many macaron disasters to try any other brand.  The nuts need to be fresh from the pantry as refrigerated nuts will stop the macarons from rising and getting their cute little "feet".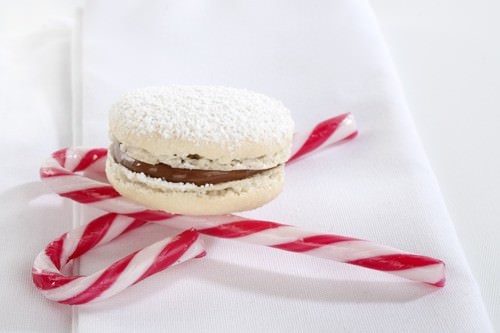 If you are a regular reader you would know that I recently had the opportunity to try the new Philadelphia Cadbury's Frosting. It is a little embarrassing, but I have been lovingly spooning my way through copious amounts of the Cadbury chocolate frosting since then.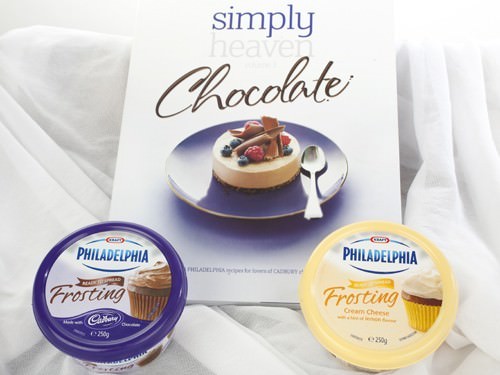 I guess it is no big leap to see how I came to realise the Philadelphia Cadburys Frosting would make the ideal, no fuss filling for my Lucky Nuts Mint Macaron.
So there you have it, Christmas Chocolate Mint Macarons! A collaboration of some of the amazing food packages I have been sent this week.
Christmas Macaron Recipe
Ingredients:
3 egg whites (at room temp)
¼ cup caster sugar
1 t/s peppermint essence
1 ¼ cup pure caster sugar
1 cup Lucky Nuts ground almond meal (at room temp)
Filling:
1 pkt Philadelphia Cadbury Frosting
Method:
Beat egg whites in an electric mixer until soft peaks form.
Gradually add the sugar bit by bit. Each addition of sugar should be fully dissolved before more is added. Increase the speed of the mixer with each addition of sugar until it is on full speed.
Scrape the sides down and beat the egg whites until glossy and all the sugar has dissolved.
Mix in the peppermint essence.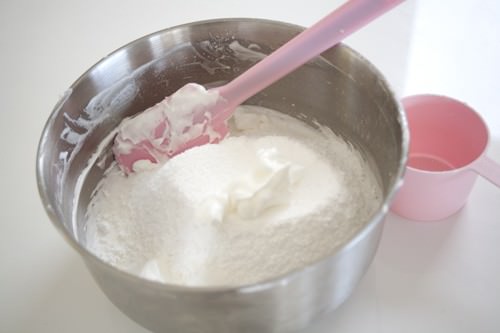 Remove the beaters and add sifted icing sugar and the almond meal.
Fold through the egg white mixture carefully.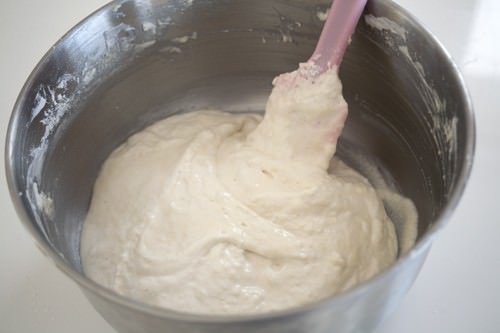 Once fully combined pipe the macarons onto the prepared baking tray.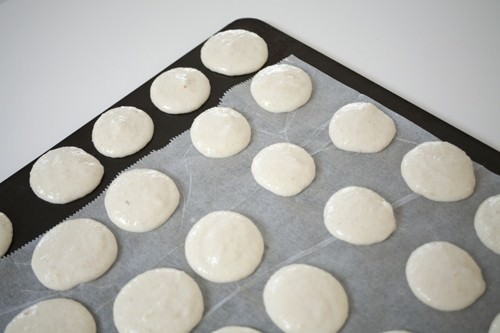 Allow the tray to stand for 20minutes on the bench whilst the oven heats. This allows the outer shell
to form.
Heat the oven to 130 degrees.
Cook the macarons for 20 mins or until hollow when tapped.
Allow the macarons to cool in the oven with the door ajar.
Store the macaron shells in an airtight container until ready to serve.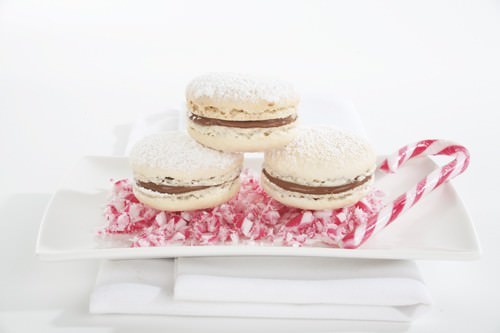 When you are ready to serve pipe or spoon the Cadbury frosting onto one side of the macaron and sandwich it together with a similar sized pair. This should only be completed at the time of serving. The piping bag can be filled and refrigerated ready for use.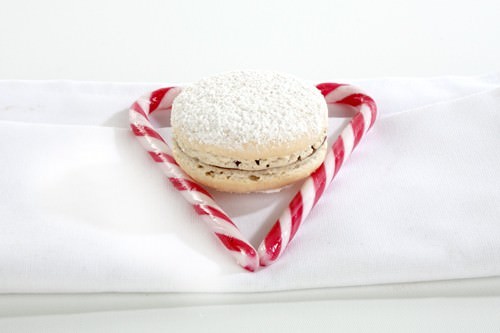 If you like a stronger peppermint flavour, add crumbled candy cane to the centre of the macaron.
Dust with icing sugar.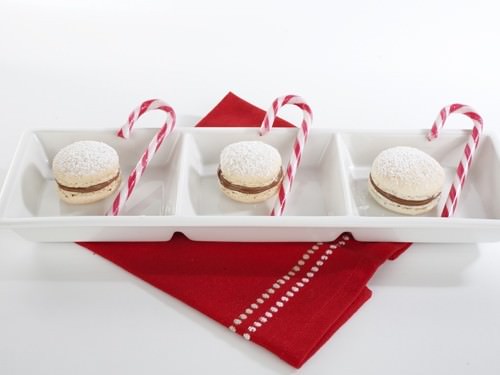 Now I have a question, when you think of Lucky Nuts, what is the first recipe that comes to mind? I read this story to Mr GG and his first response was Baklava.  I have to admit, I went through a time of baking and eating whole slabs of this nutty dessert. Perhaps that will be the next "Lucky Nuts" dessert I share with readers.
If you have a favourite lucky nuts dish why not let me know…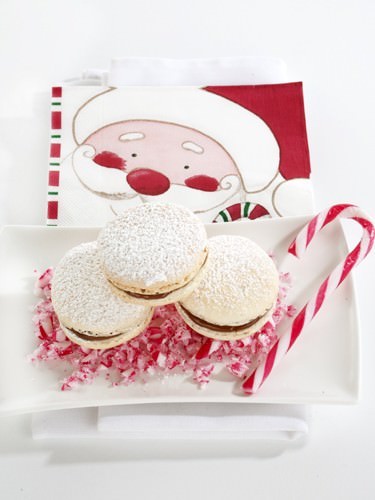 …and now to the 5 lucky "Simply Heaven Vol 3" Prize Winners!
Paula F
Chocolate Frosting is Simply Heaven,
Dripping from my lips,
I'm pretty sure,
It's not going to my hips!
Sharon Fawcett
I love cream cheese frosting because its less sweet tasting so I can fool myself into thinking it is good for me!
MissT
Both are really yummy but I do tend to side more with the chocolate

what a fantastic giveaway so close to Christmas. Nanna and I always cook up a storm for Christmas, so this would give us more ideas and variety!
These are simply one of the most gorgeous pushcakes I have ever seen my friend, absolutely stunning

Cristina
Hi Julie: Thanks for sharing about these cream cheese flavors and those adorable cake push ups! I don't think I've seen those cream cheese frostings in our stores yet – I'll be on the look-out for them. I luv, luv those push up desserts and will have to try those for sure.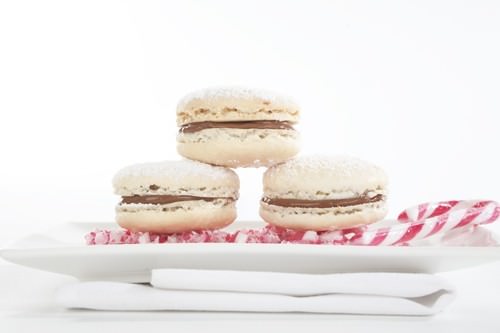 I am sure there is going to be a lot of baking going on over the Christmas period in these households. Remember in your cooking adventures to support our lovely sponsers, Lucky Nuts and Kraft Philladelphia Cream Cheese.
If you are one of the lucky prize winners could you please email your postal address to [email protected]
The Lucky Nuts component of this story is a "Product Talk by Nuffnang"  Whilst this is not a paid sponsored post, Gourmet Getaways has received product in exchange for writing a review. All opinions in this story are honest, and accurately reflect the writer's opinion.
Gourmet Getaways would also like to thank Kraft Philadelphia for the Simply Heaven Baking Pack. The opinion expressed in this article is my honest and considered personal opinion.  I trust readers will sample the Cadbury Philadelphia Frosting and enjoy the product as I have.