One of the most lovely things about being a girl is having gorgeous girlfriends. I think the ability to chat about anything over cup of coffee and a sweet treat is a very female trait. After all when your eating something deliciously sweet, like a Pink Macaron, you can say almost anything.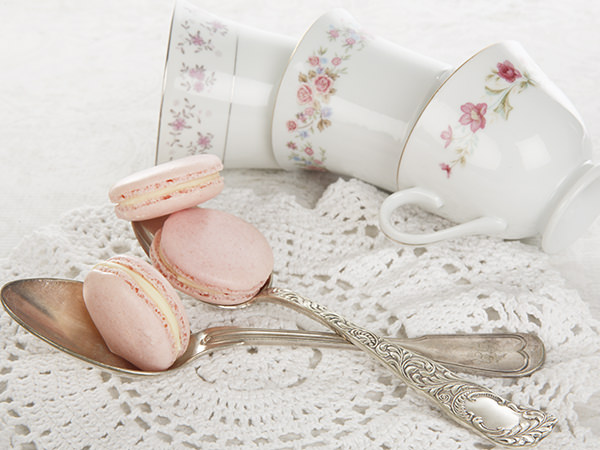 The other day I had morning tea planned with friends and I wanted to bring a sweet bite to eat.  A few options went through my mind, but the night before I still had not decided on a dish to bring. I usually bring one of my "signature dishes," but this time I wanted to make something different.
I actually wanted to bring my pizza cookies, but I was told that they were more suitable for a kids party treat, not morning tea with the girls.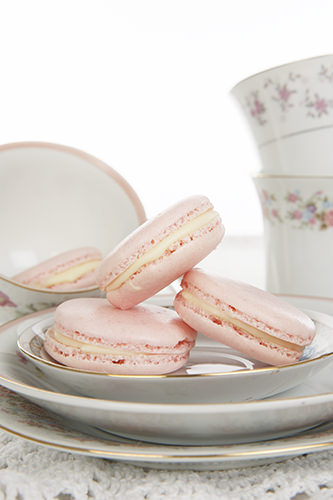 The suggestion was to make macarons.
"Does anyone still make macarons." I wondered?
It seemed kind of retro…. but not in the cool way. Macarons have been done to death I thought. Also all the shops sell macarons now so I wondered if they even seem special any more.
I'm never even tempted to buy macarons here because we don't have a proper patisserie making them in Coffs Harbour. Commercially made macarons are so dry and tasteless.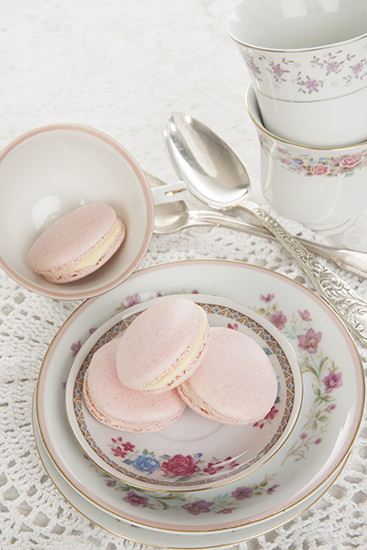 I had all but discounted the suggestion: Although I had a moment of longing for a rich chocolate macaron.
Then something happened through the night. My subconscious brain kicked in.  I think I must have done a mental inventory of my pantry and realised I had all the ingredients to make pretty pink macarons. While I slept I organised the presentation in my mind.  Somewhere around 3.00am my subconscious mind reminded me I had rosewater to give my pink macarons a lovely turkish delight flavour.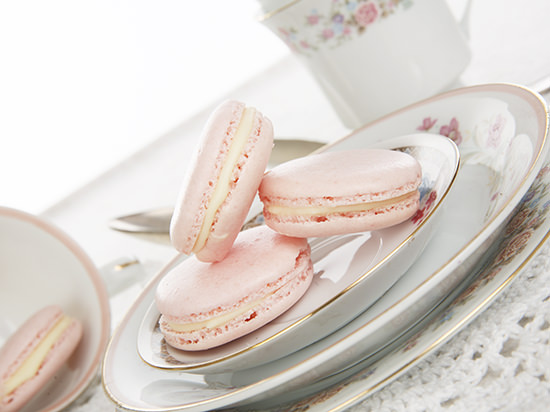 By the time I was in my 5.00am twilight sleep I was sold on the idea and I knew my time plan.
Wake at 6.00am
Make the macaron shell and put them on to bake.
Make the kids school lunch and wake them up at 7.00am.
Concentrate on getting the kids ready for school
8.00am – walk the kids to the bus.
Once the children were on the school bus make a white chocolate ganache, sandwich the macarons, photograph and go visit the girls.
Simple!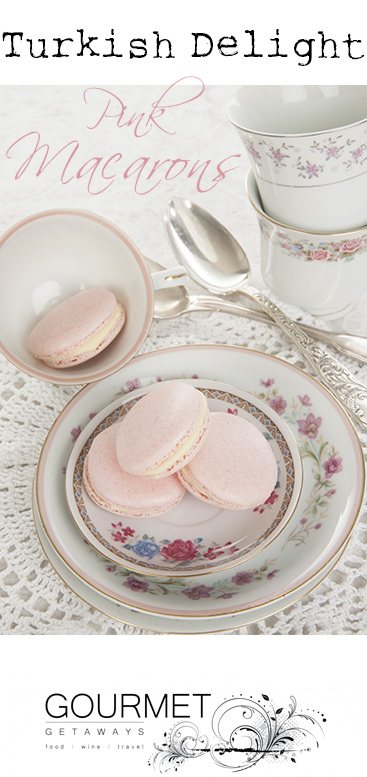 My subconscious had sold me on the idea. At 6.00am I jumped out of bed excited to be making macarons again.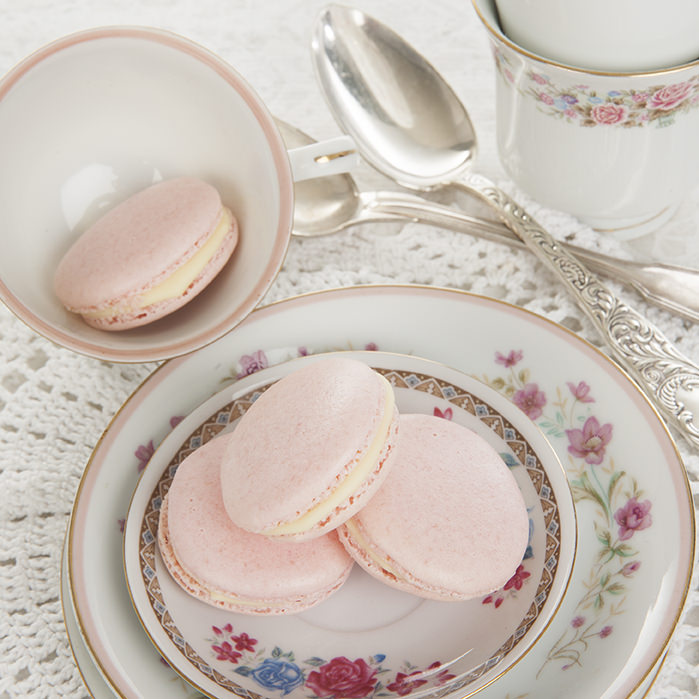 My macaron recipe is incredibly easy. If you can make pavlova or meringue you can make my pink macarons. A macaron is just a meringue with almond meal folded through the mixture and flavour added.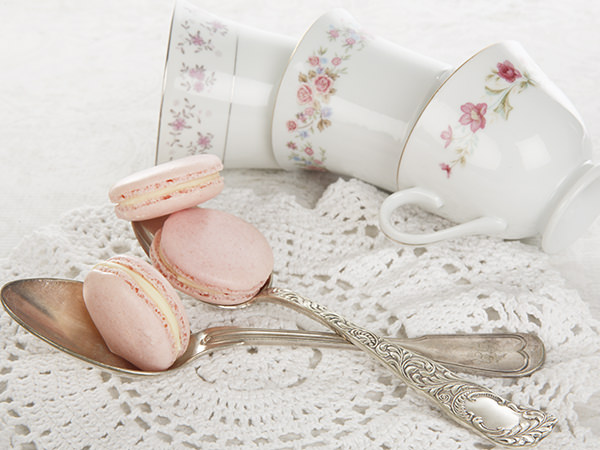 A Girly Pink Macaron Coffee Date
A deliciously girly treat for a coffee date or party.
Print
Pin
Rate
Ingredients
3

egg whites

at room temp

¼

cup

caster sugar

4

drops pink food colouring

1

tsp

rosewater

1 ¼

cups

pure icing sugar

sifted

1

cup

almond meal
White Chocolate Ganache
¼

cup

cream

160

gm white chocolate
Instructions
Line 2 biscuit slides with baking paper.

Warm a small mixing bowl and beaters.

Starting with eggs at room temperature separate the whites and beat in a small bowl with an electric mixer until you reach the soft peaks stage.

Add the caster sugar slowly, beat until the sugar is dissolved.

Add the drops of colouring and mix briefly until combined.

Transfer the mixture to a bigger bowl and add ½ of the sifted icing sugar, ½ of the almond meal. Gently fold the dry ingredients through the meringue.

Add the remaining ingredients folding gently.

Spoon the mixture into a piping bag with a 1cm plain tube. Pipe 4cm round macaroons onto tray leaving 1 inch for spreading.

Leave the tray to stand for 30mins. Preheat the oven to 130 degrees.

Bake macaroons for 20mins, leave them macaron on the tray to cool.
Ganache
While the macaroons are cooling heat the cream to boiling.

Pour the cream over the white chocolate and stir through until the mix is smooth.

Mix well, then allow the ganache to stand and cool.

Once the macaroons are cooled and is a spreadable consistency, sandwich the macaroons together and dust with icing sugar.
Everything went perfectly to plan. Making the shell mixture is a simple and quick process.  My piping skills aren't the best, and at 7.00am with children getting out of bed and a serious lack of coffee in my system some of my little babies were a little bit wobbly.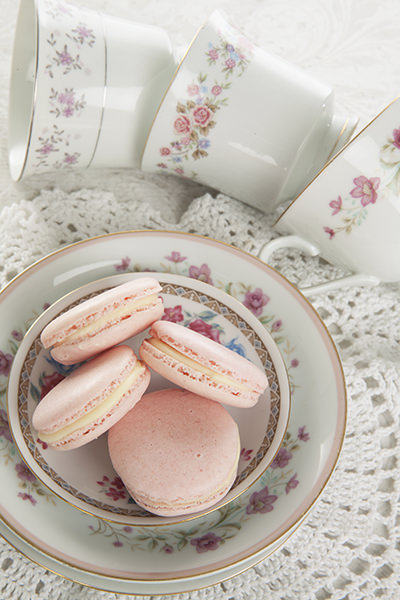 But what I love about macarons is they are very forgiving, they seem to want to form nice little circles in the oven. The only one that looked really terrible, was one I piped as I looked around to talk. My macarons aren't as perfect looking as the ones in the shop, but I think they taste better!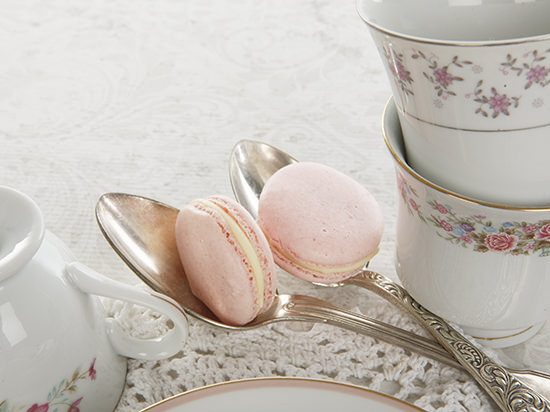 It's a good day when you can enjoy a coffee, some sweets and a catch up with friends. While we were chatting it surprised me how many people believe macarons are difficult to make.
I'm curious readers, have you made macarons before? Is my recipe the same as they one you use or do you make a sugar syrup first? Let me know in the comments.