I've been feeling a little ho-hum about my cookie options. Lately, you could say I've been in a "cookie rut". So I decided to mix things up a little with these Malted Milo Cookies and add Choc Chips. I love crunchy cookies that have too much flavour!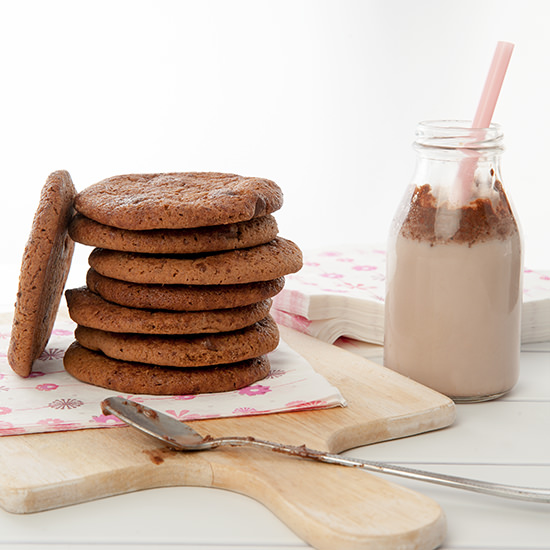 With those factors in mind, I've created these double chocolate cookies. The first chocolate flavour comes from our famous Aussie icon, Nestle Milo.
if you're outside of Australia and can't get Milo on the shelves, Amazon sells Milo it here, try it you'll fall in love.
The second level of chocolate is introduced in the form of dark chocolate chips.
Add a little extra malt to your Malted Milo Cookies
I've also used Nestle Malt powder to intensify the maltiness of these cookies. Finally, the top of the flattened cookie is pressed into more delicious Milo powder.
So we are talking about Milo on Milo with choice bits!
With all this deliciousness in a cookie, there is no reason to fiddle with icings or additional toppings. These are a fuss-free cookie, perfect for school or work lunch boxes.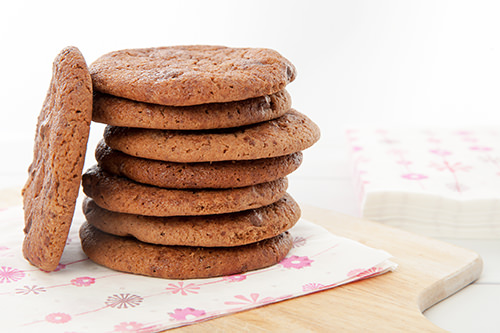 With this in mind, I give you the Malted Milo Cookie! A cookie that every Aussie kids will love!
Serve it with a Milo milk for strong, healthy bones. If you don't have malt powder, you can just add a little more Milo powder, but I do recommend trying the cookies with an extra kick of malt. They are out of this world!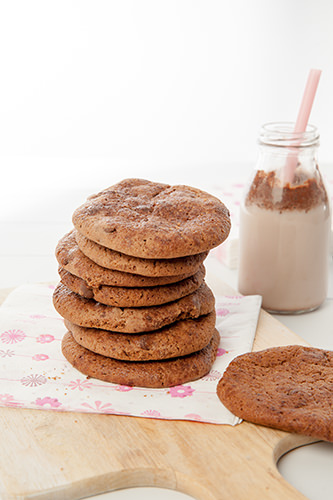 I've given these cookies as a Thermomix recipe, but if you don't have a Thermomix simply do the regular cookie routine.
Just cream the butter and sugar, add an egg, then mix through the chocolate chips and flour.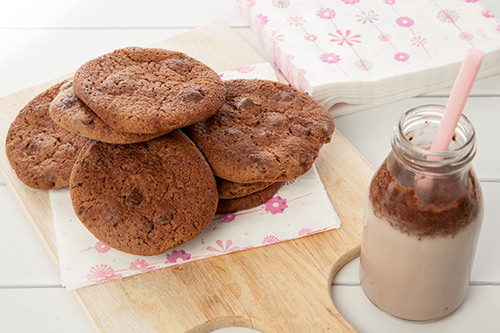 Remember the cookies will be extremely soft when they come out of the oven. However once cooled they become deliciously crisp.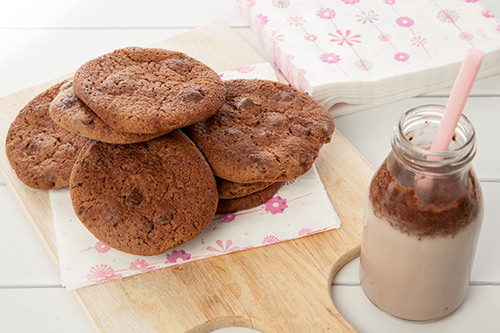 Ingredients
160

gm butter

at room temp

230

gm sugar

1

egg

100

gm Nestle Milo

35

gm Nestle Malted Powder

120

gm Nestles dark chocolate chips

240

gm plain flour

3

tsp

baking powder
Instructions
Preheat the oven to 160 degrees (fan forced) or 350 F (USA)

Line three baking trays with baking paper.

Add the butter, sugar and egg to the TM bowl. 30sec/speed 7.

Scrape down the bowl. 1 min/speed 4.

Add the milo, malt powder and chic bits to the TM bowl. 2min/Reverse blade/Speed 1.

Add the flour and baking powder to the TM bowl. 1.2min/Reverse Blade/ Speed 1.5

Form small balls of the cookie dough in your hand. It will be sticky.

Flatten the cookie ball and press one side into the milo powder.

Place the flattened cookie (milo side up) on the baking sheet.

Continue this process leaving at least two cm (1 inch) between each cookie.

Bake for 20 minutes or until the cookies have darkened.

Leave the cookies on the tray to cool.

*The cookies will be extremely soft when removed from the oven. They harden on cooling.
If you're looking for more Thermomix recipes, you'll love my new Indian Thermokitchen Cookbook