The flavours and aromas of this low-carb, guilt free Indian Boiled Egg Curry will not only fit in with any low carb diet but it's also vegetarian.
Loaded with healthy fats and protein this delicious Indian Egg Curry is enough for the most stringent of healthy eaters as well as everyone else at the Dinner Table.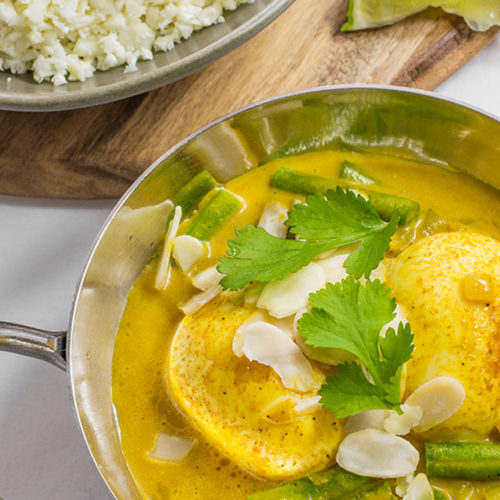 Ingredients
3

tbsp

Ghee

1

Small

Onion

Diced

2

Cloves

Garlic

Roughly Chopped

1

Serano Chilli Pepper

Roughly Chopped

1

tsp

Turmeric

1

tsp

Garam Masala

1/2

tsp

Ginger

Ground

1/2

tsp

Cumin

Ground

1/2

tsp

Coriander

1/4

Cup

Tomato Puree

1/2

tsp

Pepper

1

tsp

Salt

8

Boiled Eggs

peeled

2

Cups

Green Beans

400

grams

Coconut Cream

1

tsp

Almond flakes

1

tsp

Cilantro
Instructions
Place a mid-sized saucepan on the stove over medium heat.

Melt two tablespoons of ghee in your saucepan. Add the garlic, chilli and diced onion then saute until the onion becomes clear (loses its colour).

Turn the stove down to low and add the ginger, coriander, turmeric, cumin and garam masala. Gently cook until fragrant (around five mins).

Mix in tomato puree, pepper and salt and cook for a further two mins.

Pour in the coconut cream then simmer for 10 minutes.

While the curry simmers put the rest of the ghee in a frying pan over medium heat.

When the ghee is hot add the boiled eggs and gently fry until the outsides of the eggs are crisp and golden.

Put the crispy eggs into the curry with green beans and simmer low for 10 minutes.

Serve the curry over a cauliflower rice to keep the dish low-carb and garnish with almond flakes and cilantro.