Chocolate Mint Brownie with Peppermint Crisp, I finally made a dessert my family love!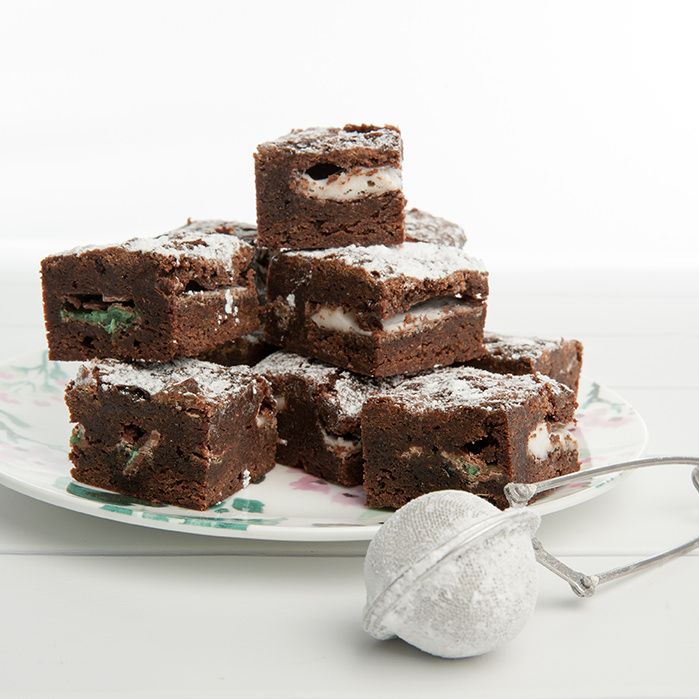 My family doesn't really like sweets. I know I have mentioned this before but it's the source of disappointment for me because I love making desserts and feeding them to people. I have noticed though, the family will eat my brownies.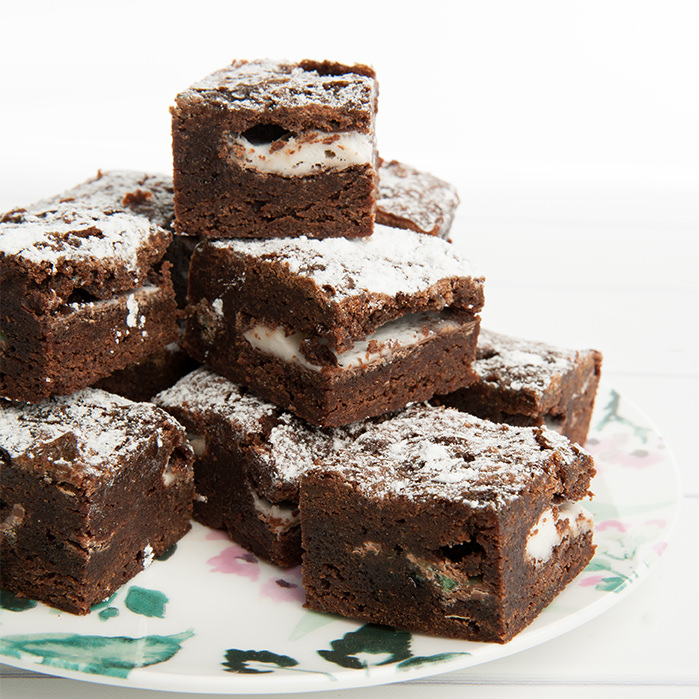 As a consequence I tend to make brownies quite a lot. I was trying to come up with a new way to make brownies interesting when I had a stroke of genius.  Chocolate Mint Brownie with Peppermint Crisp Bar topping! YUM!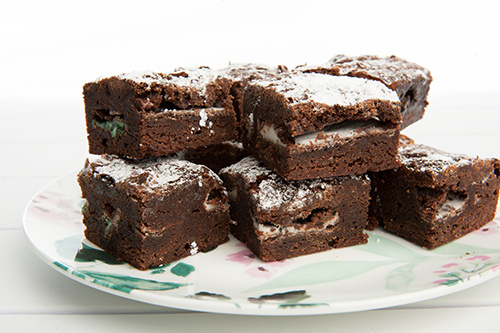 It sounded delicious to me! Plus I know Brett loves peppermint crisp bars so I thought I would have a better chance of convincing him to try this dessert. I wasn't sure how the kids would react but I was hopeful.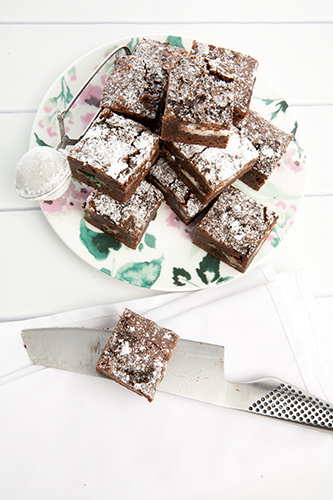 As it turns out the Chocolate Mint Brownie exceeded all my expectations! I would even go so far to say this is my best brownie ever!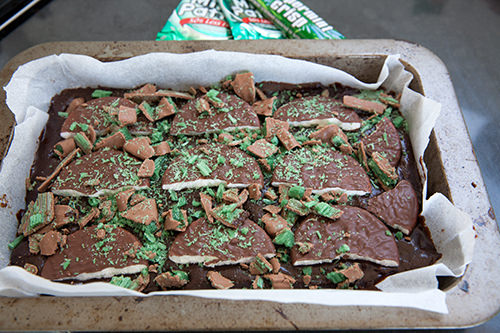 I used my usual base chocolate brownie recipe and made a layer of mint patties and peppermint crisps. Then I added the remaining chocolate brownie batter and baked.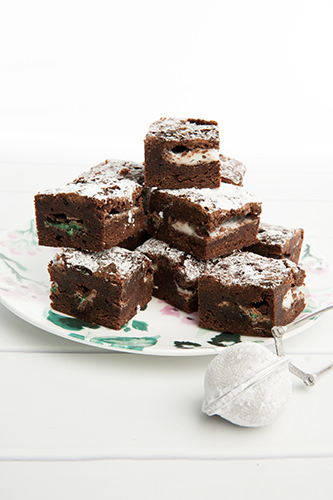 Once the Chocolate Mint Brownie came out of the oven I knew it was an unmitigated success. It was irresistible! The minty aroma throughout the house was amazing. The smell literally drew all the kids into the kitchen.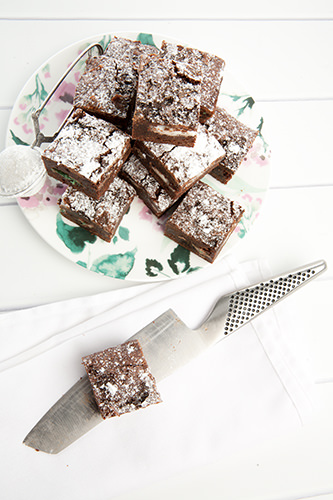 In order to cut nice neat squares I refrigerated the brownie prior to slicing.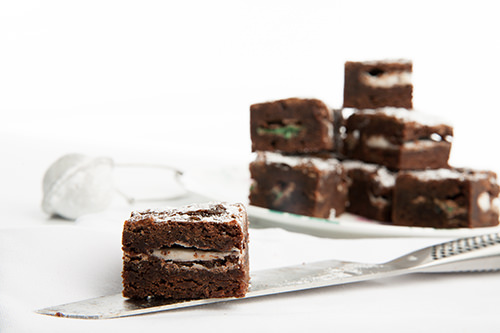 Ingredients
120

gm Butter

200

gm bittersweet chocolate

¼

cup

Dutch process cocoa powder

3

lg eggs

1

cup

sugar

1

tsp

vanilla

1

cup

flour

3

Peppermint Crisp Bars

5

Mint Patties
Instructions
Prepare a 20cm brownie tray by lining it with baking paper.

Pre heat the oven to 170 degrees C.

Melt butter and chocolate in a saucepan over a low heat. Stir until smooth.

Remove from the heat and add the sugar and cocoa, stir until combined.

Stir through the flour, vanilla,then the eggs.

Once the batter is combined pour half the mixture into the baking tray.

Arrange the mint patties on top of the batter.

Add the broken up pieces of peppermint crisp bars on top of the mint patty layer.

Use a spoon cover the candy bars with the remaining brownie batter.

Smooth over the surface of the brownies slightly.

Bake for approximately 45mins depending on your oven. Remove the brownie from the oven when the batter appears firmish in the middle.

Do not overcook, it should still be a little moist.

Cool brownies in the tray and refrigerate.

Cut when cool.
This is a really dense chocolatey brownie that tastes even better if it's eaten straight from the fridge. What do you think readers. Have you ever made stuffed brownies before?? Do you like to experiment with a basic recipe?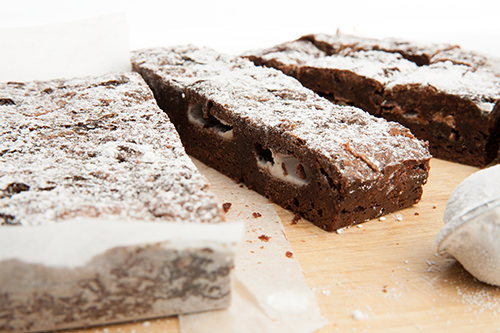 Before I say goodbye I want to share some of my other brownie recipes.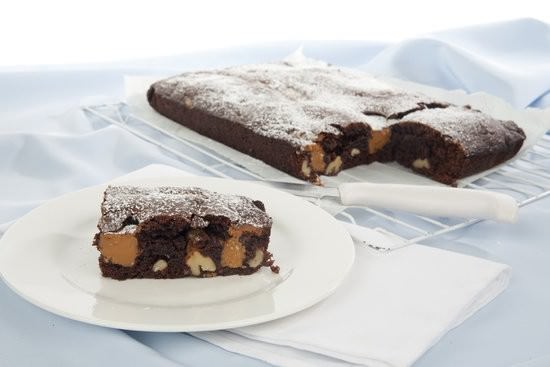 One of my most popular and most requested at home is the Chocolate and Dulce de Leche Brownie. This is a delicious salted caramel and chocolate brownie from the book My Secret Life in Paris.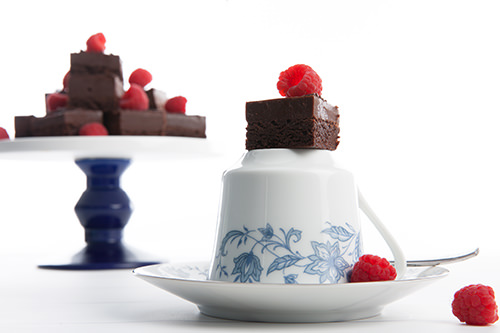 The most recent favourite is the Chocolate and Nutella Fudge Brownie. Two layers, one of dense chocolate brownie and one of Nutella fudge. Simple and amazing.
Do you enjoy brownies? What is your favourite flavour? Do you mix things up a little or do you stick with the same recipe?