I love my mini pizza supreme cookies! Obviously this is not a healthy lunch box recipe, but my kids thought these were awesome.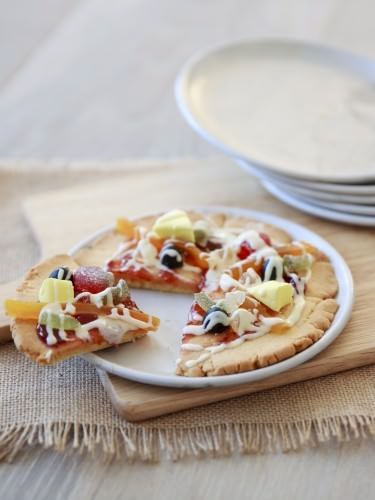 I think if mother-of-the-year was up for grabs my children would have nominated me in a flash.  Although something tells me serving sugar treats to kids would not secure a victory.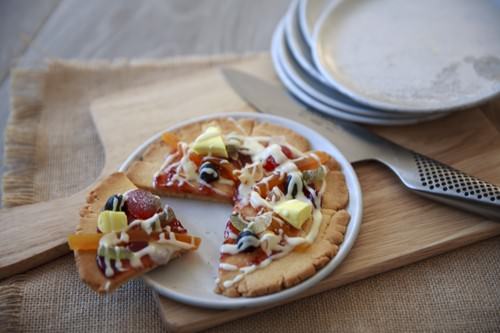 Do you think they look like real pizzas? I had so much fun choosing the lollies for these little creations, and the smell when they're baking is so good! The Pizza Supreme Cookie recipe starts with one of my favourite cookies as the base, my Nan's yoyo cookie recipe. The yoyo cookie is an old school biscuit which is crisp and short in texture and has a lovely vanilla flavour due to the addition of custard powder and vanilla essence.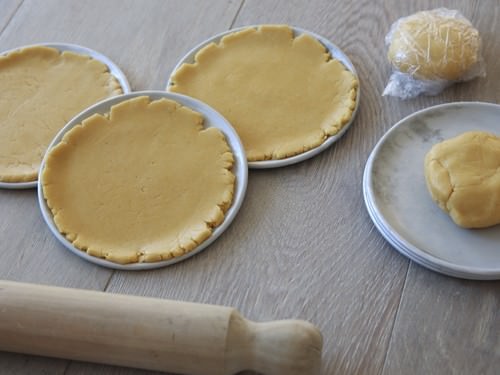 You could really use any cookie dough recipe which can be rolled. The Yoyo's are a good cookie to roll out so I decided they would be the base for my Pizza Supreme Cookie. I have recommended rolling the dough between to pieces of plastic wrap as the dough can be a little fragile.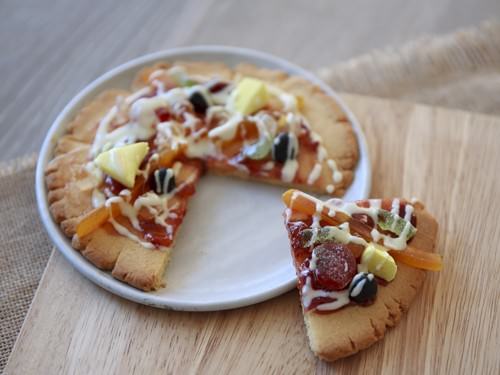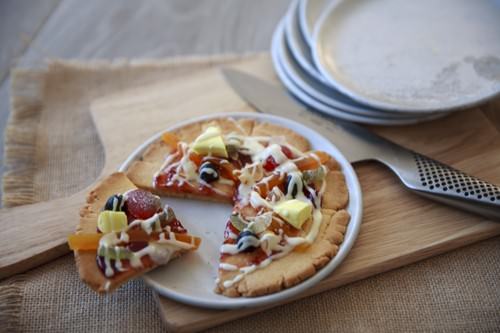 Pizza Supreme Cookies
This is a great novelty treat for a children's party and so delicious as well!
Print
Pin
Rate
Ingredients
Topping
3

Tbs

strawberry jam

6

orange snakes

sliced length ways to resemble capsicum

6

banana lollies

cut into triangles to resemble pineapple

12

in

black jelly beans

cut half for olives

6

green jubes

diced for green capsicum

6

white jubes

diced for onion

6

red jubes

sliced into 3 disks each for pepperoni

60

gm white chocolate melted
Instructions
Pizza Base
Preheat oven to 180 degrees and grease 6 mini pizza pans.

Cream butter and icing sugar in a mixer until soft and pale.

Add the vanilla and egg and continue to beat until light and fluffy.

On a low speed and the custard powder and then the flour.

Allow to mix until just combined.

Divide the dough into 6 flattened balls of 105gms each.

Wrap each flattened ball in plastic wrap and refrigerate for 1/2 hour.

Remove each dough ball one at a time from the fridge and roll between two pieces of plastic wrap. Continue to gentle roll until the dough is the same size as the pizza tray.

Remove the top piece of plastic wrap. Using the bottom piece of plastic carefully lift the cookie up and place the pizza tray on top of the cookie. Flip the cookie and tray over and remove the other piece of plastic.

Continue until all pizza bases are ready to cook.

If you would like pizza slices you need to gently cut the pizza's in half and then 1/4's.

Bake for 15minutes or until golden.

Remove the cookies from the oven BUT leave then in the trays. Rescore the pizza wedge lines carefully.
Topping
Heat the jam in a bowl until liquid.

Use a spoon to add jam to the middle of each pizza.

The back of the spoon is used to spread the jam over the pizza, leave 1 cm around the edges of the cookie.

Add the lollies as desired to each pizza.

Heat the white chocolate and with a spoon drizzle it over the pizza's to resemble melted cheese.
Usually when I am photographing the finished product I'm not too tempted to eat. I find concentrating on getting a good image takes precedent over my tummy… this time the familiar aroma of Nan's Yoyo cookie was too much, I had to try a wedge.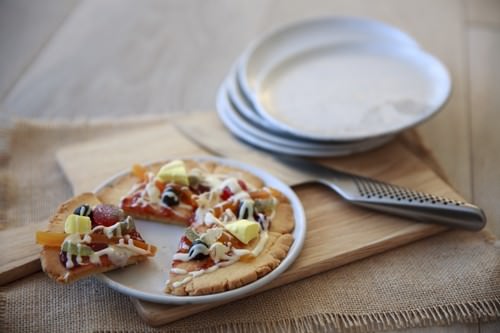 Like a normal pizza, the flavours of the Pizza Supreme Cookie had melded together to create one flavour that was so much better than the sum of it's parts.  The custard cookie worked so well with the white chocolate, strawberry jam and the sweet jube lollies.  I hate to say it, but even though it is just a fun kids cookie, it really does have a lot going for it in flavour too.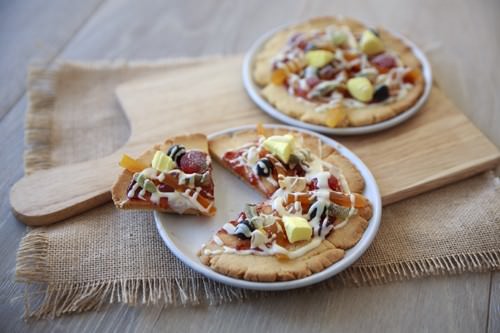 What is to become of this cookie experiment. I am trying out a few ideas for my boys 9th birthday. My idea is to have sweet thing looking like savoury and vice versa. I just love messing with kids heads, this has been a success so you will have to stay tuned and see what else I come up with…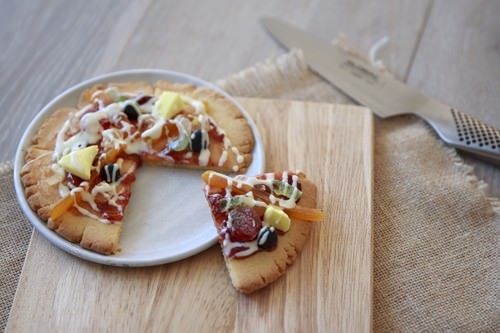 Once the cookies have cooled they are very easy to remove from the pizza trays and can be stored in an airtight container.