There are some food images you see, and you know instantly you have to reproduce the dish.  For me, this was just such a recipe. I had considered making the Mousse Cake for a celebration but with the cute little Easter eggs on top and an egg based chocolate mousse, I decided that it would be equally suit to Easter, and called it my Easter Egg Mousse Cake!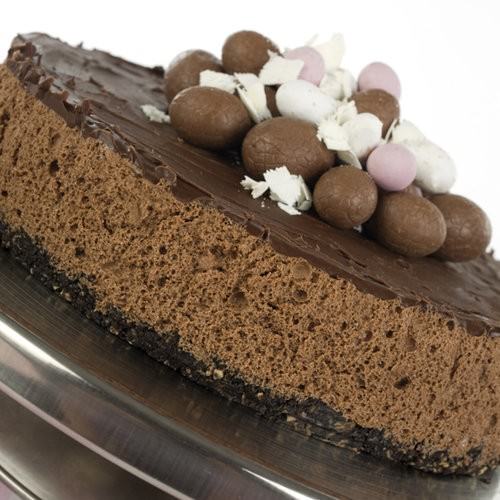 The recipe was an adaptation from the Free Coles Autumn Magazine. I guess the big question is, is it as luscious as it looks, and the answer, absolutely!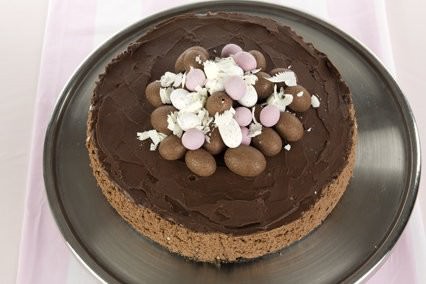 This is one stylish dessert cake. It looks impressive but it's an absolute cinch to make.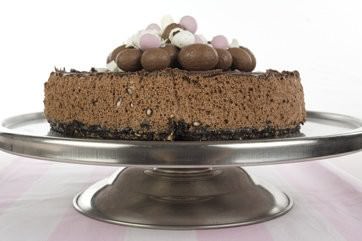 This really is an easy dish, and so decadent and rich!
Easter Egg Mousse Cake
Author:
Prep time:
Total time:
A delicious Chocolate Centrepiece for you table this Easter.
Ingredients
Base
150gm Oreo Cookies
40gm butter (melted)
60gm salted peanuts
Mousse Layer
250gm milk chocolate
50gm dark chocolate
½ cup cream
4 eggs separated
10gm sachet unflavoured gelatin
¼ cup boiling water
¾ cup caster sugar
Ganache Layer
¾ cup dark chocolate melts
½ cup smooth peanut butter
40 gm butter
Instructions
Mousse Biscuit Base
Line a spring form tin with plastic wrap.
Place the melted butter, Oreos and peanuts in a food processor and pulse until the mixture resembles breadcrumbs.
Press the mixture into the base of the prepared tin and refrigerate.
Mousse Layer
Heat cream in the microwave and add the milk and dark chocolate. Stir until the mixture is smooth. If necessary microwave again in 30 second intervals.
Once the chocolate mixture is smooth, whisk in the egg yolks.
In a small bowl add the boiling water to the gelatin and combine the two until the gelatin has dissolved.
Add the gelatine to the mouse mixture and stir until it is well combined.
Using an electric mixer and a clean bowl beat the egg whites to soft peaks. Gradually add the sugar until the mixture is thick and glossy and all the sugar has been incorporated.
Fold the egg whites gentle through the chocolate custard. Until just combine, try not to reduce the volume of the mousse by stirring.
Pour the mousse over the base and return the dish to the fridge.
Mousse Ganache
To make the ganache, firstly melt the butter in a saucepan over a low heat.
Add the peanut butter and then the chocolate and continue to stir until the mixture is smooth. Remove the ganache from the heat and allow it to completely cool at room temperature.
Pour the ganache over the mousse cake and refrigerate for at least two hour prior to serving.
Remove the tin and decorate with Easter Eggs and shaved white chocolate.
Easter Egg Chocolate Mouse Cake
Enjoy!
Enjoy!
There are plenty more Easter treats to make, just click here.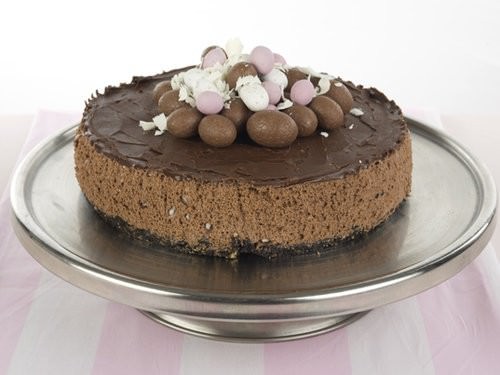 A question for my readers, do you usually make an Easter dessert? Or perhaps the Easter bunny is too generous and there is already too much chocolate in the house!