I am starting to get a little excited. Easter is nearly upon us! I love all holiday celebrations, but Easter is kind of special, as the festivities are centred around chocolate or a delicious Easter dessert, both favourites for me! These Creamy Chocolate Mousse Eggs have to one of my favourites!
…and who can forget the little kiddies, my chocolate munching monsters announce every year that Easter is better than Christmas and birthdays because they get tonnes of junk food, and they can eat chocolate before breakfast!
Yep! It is the one day of the year when I throw my arms up in the air and say "knock yourselves out kids." My hope is that it will be twelve months before they can face chocolate again.
Easter holidays are also a great opportunity to spend a little time in the kitchen with the kiddywinks. I have some great Easter recipe ideas which are perfect for the whole family, and a great way to get kids involved in cooking. After all it is school holidays and what better way to keep the kids amused.
Many more delicious dessert recipes can also be found on my Easter Treats to Make post.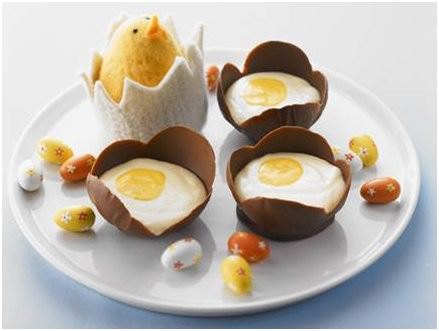 Easter Dessert – Creamy Chocolate Mousse Eggs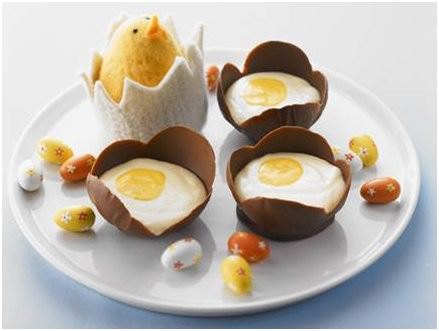 Ingredients
350

g

Milk Chocolate Melts

6

balloons

or Easter egg molds

250

ml

Philadelphia Cream For Desserts

a double cream alternative

250

g

White Chocolate Melts

2

egg whites

2

tablespoons

caster sugar

Yellow liquid food colouring
Instructions
Melt half the milk chocolate in a bowl over simmering water. Remove from the heat add the remaining chocolate and stir until smooth.

Partly inflate 6 balloons to the size of a small orange. Lower just the bottom section of a balloon into the melted milk chocolate to coat then place on a paper lined tray to set. Repeat with remaining balloons. Refrigerate overnight. When milk chocolate has set, pop, remove and discard balloons. Place a chocolate cup on each serving plate.

Combine the cream for desserts with the white chocolate in a bowl and stir over simmering water until the chocolate has melted. Remove from the heat and allow to cool.

Beat the egg whites until stiff peaks form, gradually beat in the sugar until dissolved to make a light meringue, and then gently fold into the chocolate mixture. Colour 1 cup of the mixture yellow.

Divide the white mousse mixture between chocolate cups. Top each with a spoonful of yellow mousse mixture to resemble an egg yolk. Refrigerate for at least 30 minutes before serving.
TIP: When using a balloon, refrigerating the chocolate coated balloons overnight will allow the chocolate to pull away more easily at room temperature.
Here are some more yummy Easter Recipe ideas.