Each month I have every intention of joining the Daring Bakers Challenge and creating a baked masterpiece. Sometimes things go to plan, and I participate and make something divine… and sometimes they don't. This month the challenge is to revisit a former Daring Baker Challenge and follow the guidelines for that month  This suits me perfectly because I really wanted to try the sweet pie challenge from the June Daring Bakers but… I ran out of time!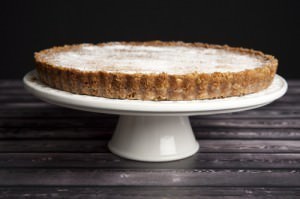 I wanted to make the Momofuku Milk Bar's famous Crack Pie; this is a rich, smooth and utterly indulgent toffee tasting, butterscotch flavour tart with a oatmeal crunch cookie base.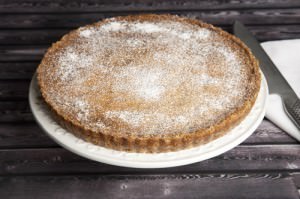 The funny thing is when I set out to start baking and told hubby the name of the dessert he said "Awesome, does it really have crack in it?" …seriously honey, where do you think I do my grocery shopping???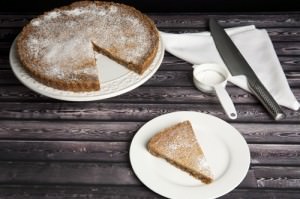 Once the I explained that it didn't have crack in it, but was name "Crack Pie" because it was so addictive he seemed far less interested. My family really are not into sweets!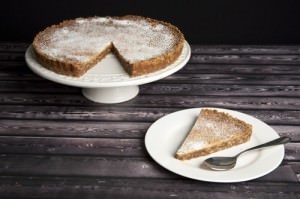 Crack Pie – Daring Bakers
Author:
Prep time: 2 mins
Cook time: 38 mins
Total time: 40 mins
The famous Momofuku Milk Bar's Crack Pie! Try not to become addicted.
Ingredients
Crust
9 tablespoons (1 stick + 1 tbsp) (135 ml) (4½ oz) (125g) unsalted butter, room temperature, divided (6 & 3 tbsp; 85gm & 40gm)
5 1/2 tablespoons (85 ml)(2½ oz) (70 gm) (packed) light brown sugar, divided (4 & 1½ tbsp; 50 gm & 20 gm)
2 tablespoons (30 ml) (30 gm) (1 oz) white sugar
1 large egg
3/4 cup plus 2 tablespoons (210 ml) (80 gm) (2¾ oz) old-fashioned oats
1/2 cup (120 ml) (2½ oz) (70 gm) all-purpose flour
1/8 teaspoon (2/3 gm) baking powder
1/8 teaspoon (2/3 gm) baking soda
1/4 teaspoon (1½ gm) salt
Filling
3/4 cup (160 ml) (170 gm) (6 oz) white sugar
1/2 cup (packed) (120 ml) (100 gm) (3½ oz) light brown sugar
1 tablespoon (15 ml) (8 gm) (¼ oz) dry milk powder
1/4 teaspoon (1½ gm) salt
1/2 cup (1 stick) (120mlk) (4 oz) (115gm) unsalted butter, melted, cooled slightly
6 1/2 tablespoons (100ml) heavy whipping cream
4 large egg yolks
1 teaspoon vanilla extract
Powdered sugar for dusting
Instructions
Crust
Position rack in center of oven and preheat to moderate 350°F/180°C/gas mark 4. Line a 13x9x2 inch/33x22x5cm metal baking pan with parchment (baking) paper. Lightly spray or butter a 9 inch/22cm diameter glass or ceramic pie dish.
Combine 6 tablespoons (85 gm) of the softened butter, 4 tablespoons (50 gm) of the brown sugar and the white sugar in medium bowl. Using an electric mixer, beat until light and fluffy, about 2 minutes.
Add egg and beat until pale and fluffy, about 1 minute.
Add oats, flour, baking powder, baking soda, and salt and beat until well blended, about 1 minute.
Dump oat mixture into prepared baking pan and press out evenly to edges of pan.
Bake until light golden, 18 minutes. Transfer baking pan to wire rack and cool cookie completely, about an hour.
Using your fingertips, crumble the cookie a into large bowl – there should be no identifiable pieces of cookie remaining. Add the remaining 3 tablespoons (45 gm) butter and 1-1/2 tablespoons (20 gm) brown sugar. Rub in with your fingertips until the mixture is moist and sticks together when pressed between your fingers.
Transfer cookie crust mixture to pie dish. Using your fingers, press mixture evenly onto bottom and up sides of pie dish (about 1 inch/2.5cm up the sides if your pie dish is deep). If your pie dish is shallow, place it on a baking sheet in case of overflow.
Filling
Position rack in center of oven and preheat to moderate 350°F/180°C/gas mark 4. If possible, use bottom-only heat, or the filling may brown too quickly.
Whisk both sugars, milk powder, and salt together in a medium bowl.
Add melted butter and whisk until blended.
Add cream, then egg yolks and vanilla and whisk until well blended.
Pour filling into crust.
Bake 30 minutes (filling may begin to bubble up). Reduce oven temperature to 325°F/160°C/gas mark 3. Continue to bake until filling is brown on top and set around edges but center still jiggles slightly, about 20 minutes longer.
Cool pie completely in pie dish on wire rack. Chill uncovered overnight.
Sift powdered sugar lightly over top of pie. Cut pie into thin wedges and serve cold.
3.2.1753
Despite his disappointment in the pie missing  its "secret ingredient" hubby agreed to try my crack pie. He had a pretty big slice and ate it in no time, the recipe got a big thumbs up.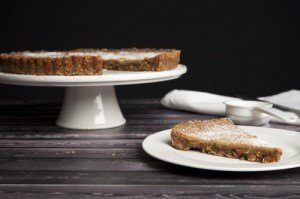 Crack Pie is very sweet but with a scoop of ice-cream it's quite manageable, even for my family.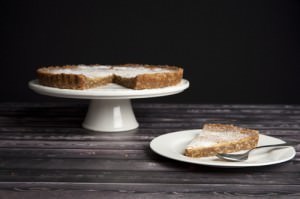 What was my verdict on Crack Pie? Well, like the drug you may try to have just a little taste but I guarantee you will be coming back for more. It is so sweet and cararmelly, I think I could take over a small country on the sugar high!
I am so pleased I tried making this, it will be something that I will definitely bake again.