Do you like surprises? How about a Sweet Surprise in the form of Lemon Meringue Cupcakes!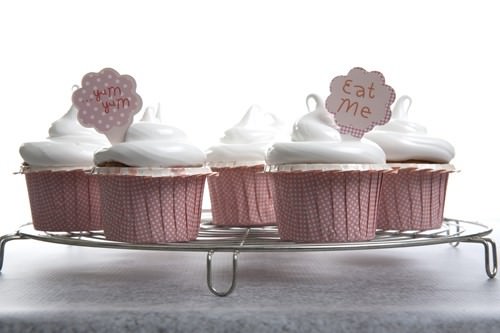 I love a serendipity moment every so often. I think it makes life that little bit more exciting.  This month dessert lovers are in for a sweet surprise.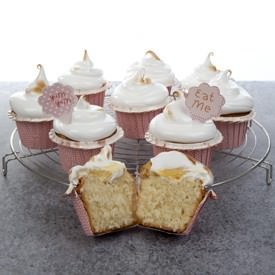 I had been planning to make lemon curd for so long!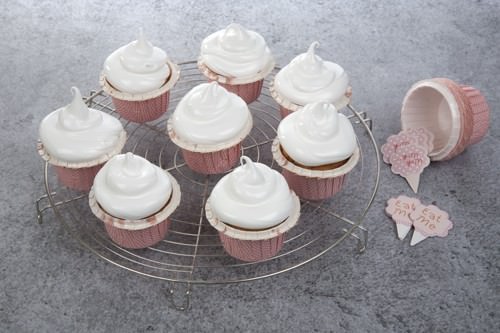 Each week I am given lemons from various lovely people and my store of lemons was growing well beyond that which can be consumed with normal lemon usage.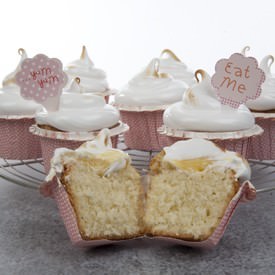 This is a deliciously light cupcake, with a surprise lemon curd filling, hidden under a sweet meringue cloud.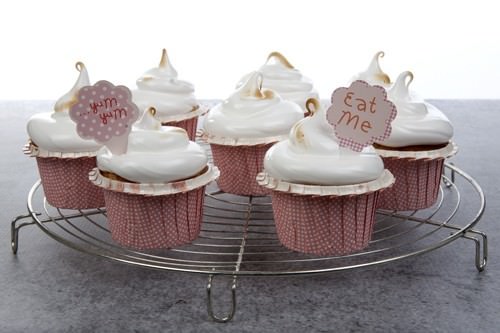 How I wanted to take a huge bite of these light as air beauties whilst photographing!
I even had the opportunity to test out the new blow torch my mum bought me for my birthday on the meringue.
Sweet Surprise Lemon Meringue Cupcakes
Recipe Type
:
cake, cupcake, sweet
Author:
A delicious twist on a classic dessert. Lemon meringue cupcakes are everything you love about the tart and more!
Ingredients
Cupcakes
125g unsalted butter
1 1/4 cups caster sugar
grated rind 1 lemon
3 tbsp lemon juice
2 eggs
1 1/4 cups plain flour
1 tsp baking powder
1 cup milk
Lemon Curd
2 egg yolks
3 Tbs sugar
4 Tbs lemon juice
2 Tbs Butter
Meringue
2 egg whites
pinch salt
1 /4 tsp cream of tartar
3/4 cup sugar
1/4 cup water
Instructions
Lemon Curd
Prepare a double boiler saucepan with about ¼ filled with water.
Bring the water to the boil, then lower the heat to a gentler boil.
Whisk egg yolks, sugar, and lemon juice together in a smaller saucepan until combined.
Place the saucepan over the boiling pan so that it just hovers above the water.
Stir constantly until the mixture thickens.
Add butter and continue stirring and cooking until the butter is completely melted and becomes one with the mixture.
Remove from the heat and allow to cool.
Cupcakes
Preheat oven to 180 deg.
Cream the butter with sugar until it is light and fluffy.
Add lemon rind and juice and mix well.
Beat in the eggs, one at a time, until combined.
Sift flour and baking powder together and add to the mix, alternately with the milk.
Spoon into 12 lined muffin tins, filling almost to the top.
Bake in oven for 25 minutes until cakes are lightly browned and cooked.
Remove from oven and cool on wire racks.
When cool, scoop a small piece of cake from out of the top and place a spoonful of lemon curd.
Top with meringue and brown with a blowtorch, if desired.
To make meringue:
Using an electric mixer with a whisk attachment, beat egg whites at low speed until they foam, add salt and cream of tartar.
Increase speed and beat to soft peaks.
Reduce speed to low as you prepare sugar syrup.
Bring the sugar and water to a simmer, until sugar is dissolved.
Increase heat and cook until soft ball stage (240F or 116C on a sugar thermometer).
Slowly drizzle the syrup into the egg whites, beating on low speed. Try to avoid the edge of the bowl and the wires of the whisk.
Increase speed to medium and keep beating for 10 minutes, until the mixture is cool and the egg whites form stiff, shiny peaks.