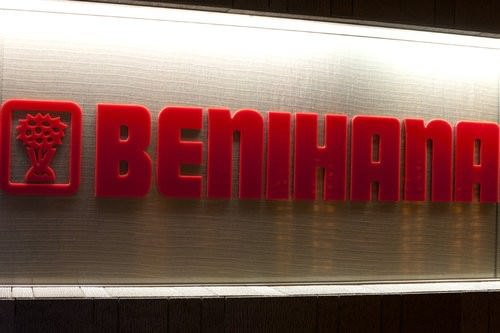 Move over Iron Chef Sakai, "Benihana's Restaurant" cuisine reigns supreme!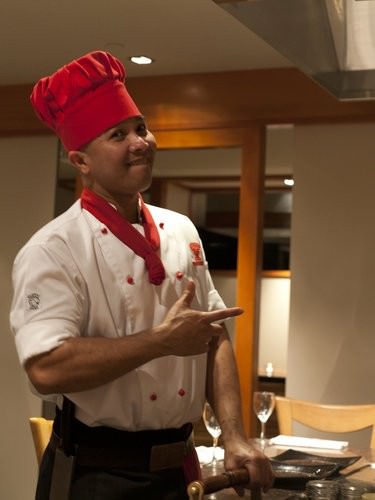 Surely we are on the set of Iron Chef?  Prawns are flying, salt shakers are being tossed into the red chef's hat, there are flames shooting up toward the roof, this is most certainly not your average restaurant. This is dinner and a show!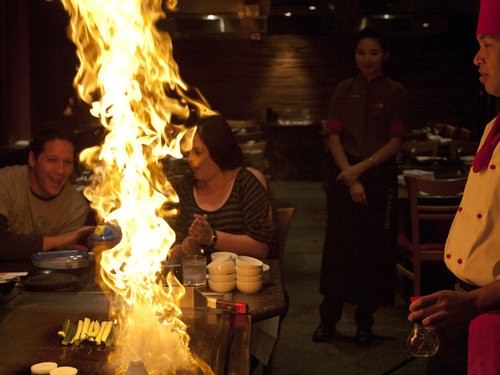 There's a baby behind those flame! We are seated at a hotplate with a family of three who live on the coast. They love the chef's theatrics and say Benihana is one of their favourite restaurants, which is why they have booked in again for Michaels 40th Birthday.  Baby Lachlan, (who is hidden behind the flames) was wide eyed and silent whilst food was tossed either side for his parents to catch in their mouth.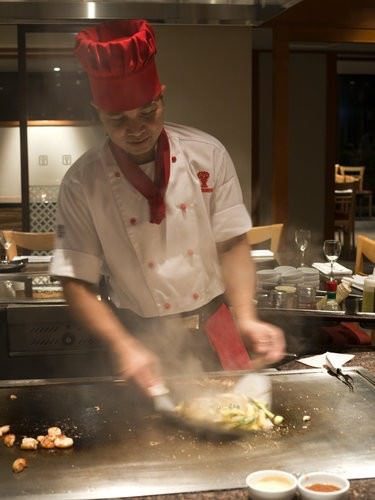 It is lively entertainment and before too long my cheeks are sore from laughing, smiling and cheering! The kids laugh openly as chef pours "coke" (soy sauce) on the prawns and I am pleased he is using "Jenny Craig" butter, on the salmon which he announces is "chicken" he sprinkles on the MSG (actually salt) and we are all in tears laughing at this hodge podge of ingredients.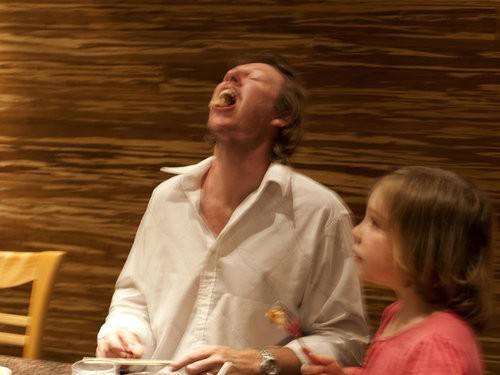 In actually fact what I love most about the restaurant was the fact that the food was so fresh healthy and delicious, it was completely unadulterated and natural.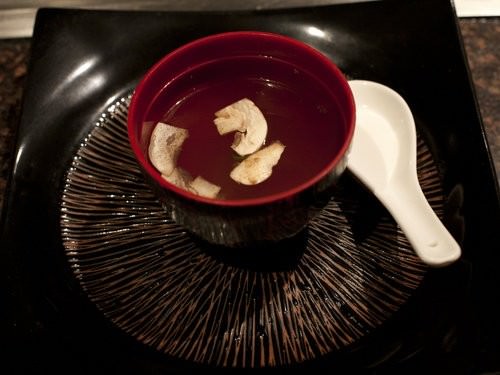 The meal started with a light refreshing bowl of onion soup, followed by the Benihana salad which features a very Japanese style dressing of ginger, soy sauce, lemon and shallots.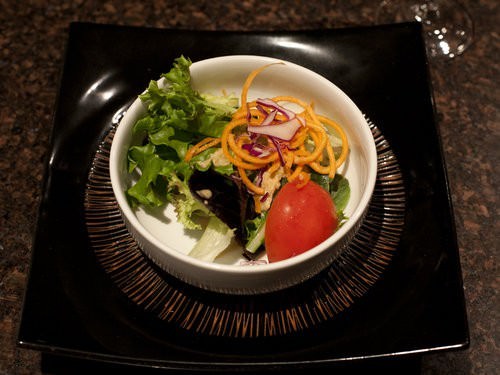 Thankfully our dining companions upgraded our order of steamed rice to the house special Hibachi Rice, a fried rice which is also made on the grill.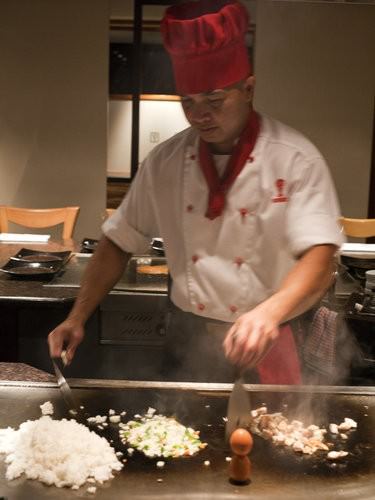 The Hibachi rice saw eggs balanced on the grill, frantic chopping and juggling of utensils and ingredients and the odd prawn tossed expertly into an unexpected mouth.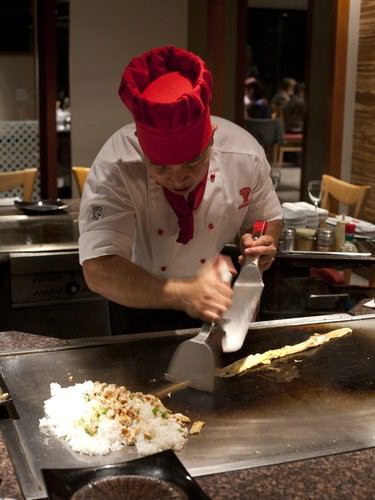 Even the kiddies managed to catch a prawn or two in their mouth although the first prawn did land squarely in an eye!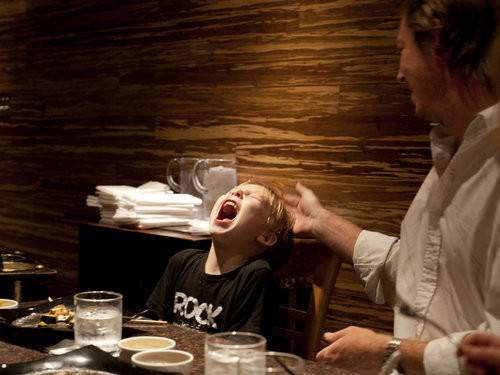 It mayhem at the grill, but my order of salmon is prepared perfectly, barely cooked, deliciously moist and tender.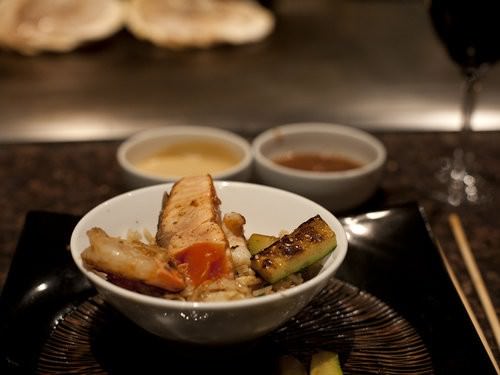 Mr GG was having the chicken and beef set, and again, "fresh is best" which is exactly what we received.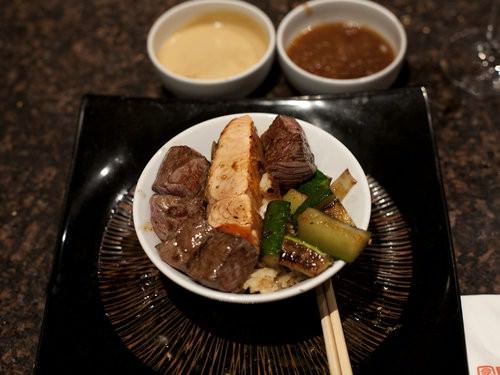 Thanks to the generosity of our dining companions Michael and Kylie we also tried the snapper which is part of the seafood deluxe set. The snapper is cooked on the grill in a paper parcel filled with onions, shallot and teriyaki sauce.  This was the clear winner! The snapper was so moist and soft it defies my chopsticks.  The teriyaki has caramelised with the onions and I am in a syrupy heaven. The set also came with plump seared scallops and more delicious prawns.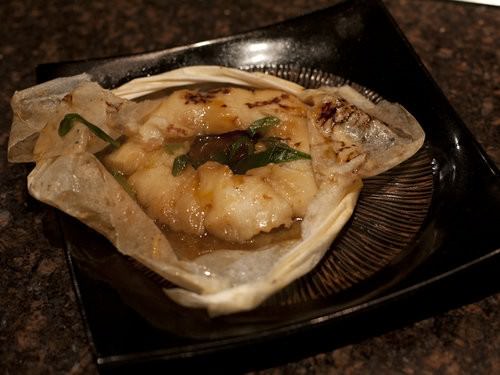 Dining with children means there is always a dessert space to be filled. Tempura ice cream was the order of the day.  As near as I could tell you take one GIANT ball of ice-cream and coat it in what appears to be a donut batter. The encased ice-cream is deep fried to golden perfection, the result being a light fluffy donut with and ice-cream centre. The ice-cream is sliced in three and served with a choice of syrups to drizzle over.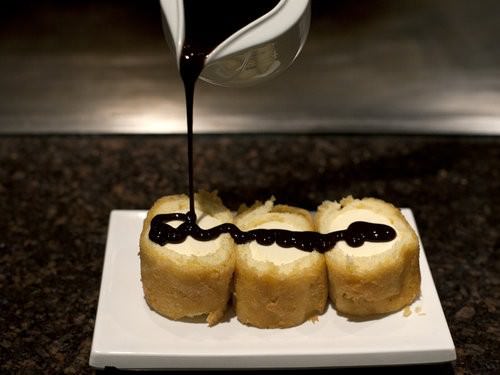 I cannot remember, or even imagine a more exciting or memorable meal. Have you experienced something similar?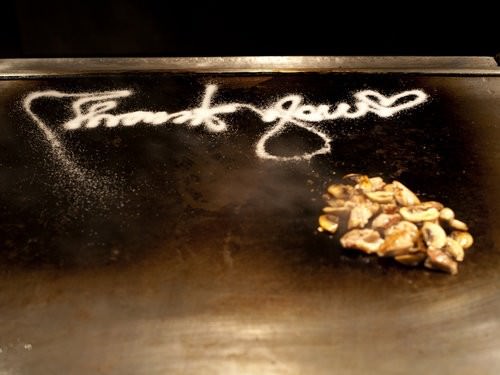 Hotel Marriott Resort
Level 3
158 Ferny Ave
Surfers Paradise
Phone: (07) 5592 9770