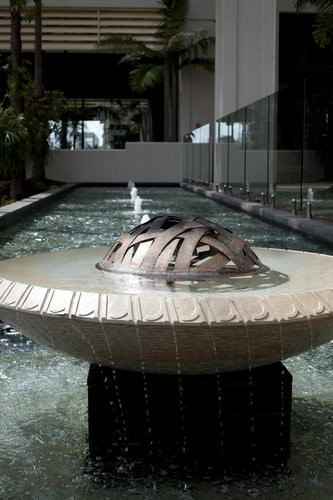 Finding Nemo on the Gold Coast
I have been quite busy lately and I really wanted to spend some quality time with my family. I decided to take advantage of the school holidays and book a quick three day getaway to the Gold Coast.  I didn't feel like all the hustle and bustle of "The Goldie" so I knew exactly where I planned to stay, The Marriot! Whilst the Marriot is located right in the heart of Surfers Paradise it is a destination unto itself.  I knew that once we checked in to the hotel we would have no need to venture elsewhere.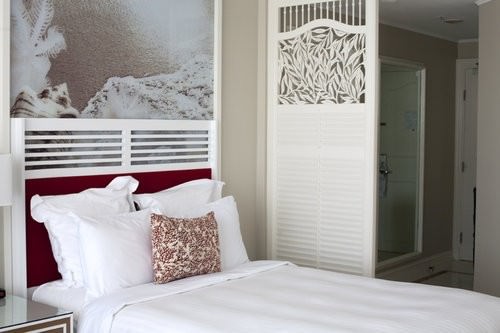 I am sure my readers will understand that until all the kids are happy, no matter how sumptuous the bed or fluffy the pillows, there is no rest for mum and dad. I sold hubby on the idea by assuring him we would not be trekking to the fun parks this holiday, or to vineyards and obscure restaurants.  This was to be a holiday of relaxing by the pool and soaking up a little bit of Gold Coast sunshine.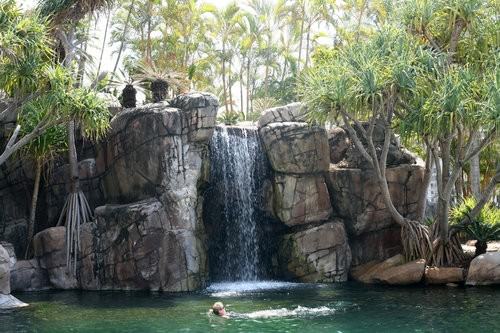 The pool I was referring to is actually more like a giant saltwater aquarium shared by tropical fish and guests.  My children had bought snorkels, goggles and flippers and were ready to swim with the fish the moment we arrived.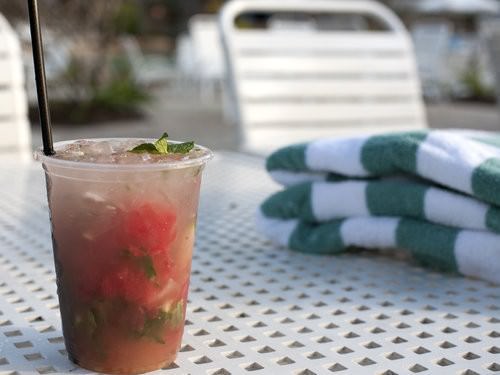 There is something so cute about watching your 4 and 6 year old chasing after a Parrot fish or looking for Nemo.  It was even better because I was enjoying the view from a comfortable deck lounge with a delicious cocktail in hand.
Next morning the little ones were up bright and early ready to take part in the fish feeding which occurs daily at 9.30am.  I spoke to Sebastian who looks after the aquarium and he explained that there are currently 7 or 8 different species of fish in the pool at the moment.  The hotel had just added another 170 tropical fish last week, these included Trigger Fish, Parrot Fish, Clown Fish and Moonrash.  The lagoon is four metres deep in sections and includes two sand beaches and rocky outcrops for the fish to hide. It was part of the original Marriot build and has been in existence for nearly 20 years, but is still the only one of its kind in the Southern Hemisphere.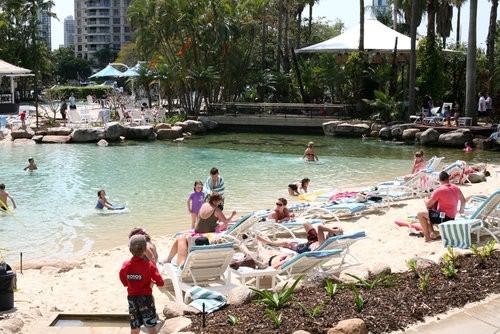 The pool is maintained at 25 degrees and 20,000 litres of water is exchange with the neighbouring canal each day. This provides the fish with a completely natural environment; it also means that there are are no chemicals used in the pool and plenty of "wildlife" around. Apparently this guy can be seen taking an early morning dip.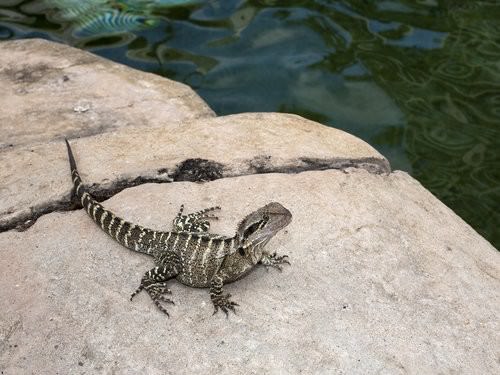 Now eventually my little rugrats did want a change of venue. So I had kept a surprise up my sleeve, the Marriott also has a regular pool and spa area and a water slide for the little ones.  I knew this would keep their interest for quite a while so I timed this "revelation" for an afternoon activity, ensuring it would be respectable to enjoy another cocktail or two.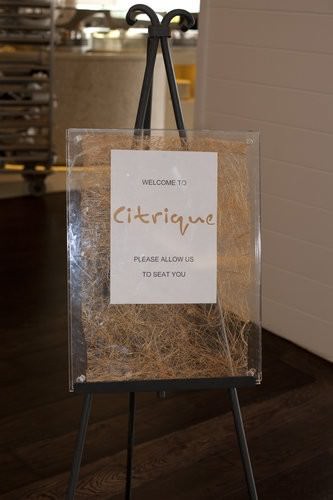 We have visited the Marriot on a number of previous occasion and we always take advantage of the delicious buffet available in Citrique Restaurant.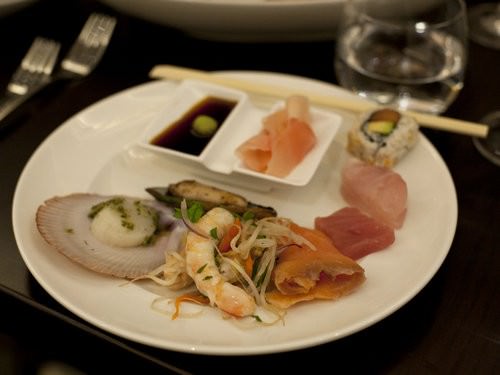 The seafood buffet has always been something really special, and I am told that it only recently re-opened with the same head chef as we have experienced in the past. Review to follow.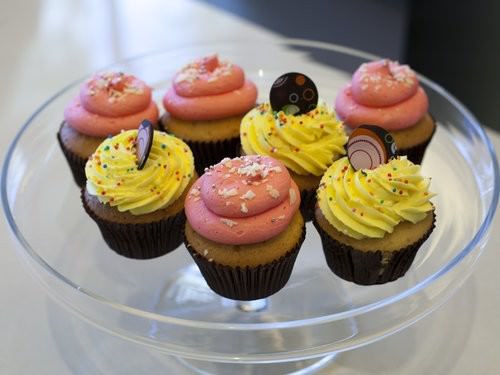 Each morning before the kids were awake my gorgeous husband would take a swim in the pool, do his regular workout in the Marriott gym, and collect my morning coffee from the on site cafe  Java +. Java makes a blissfully strong cappuccino which really helped get my eyes open and my heart started each day.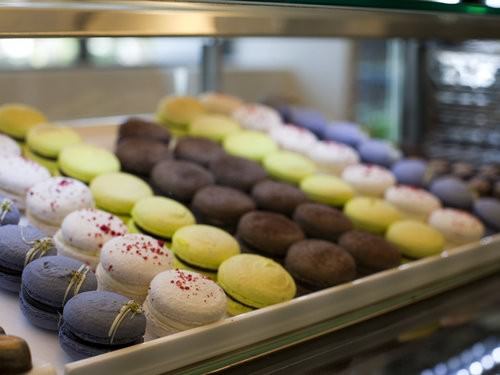 I also found that they had gorgeous selection of delicious desserts.  I am not much of a breakfast girl but I have a sweet tooth and I couldn't help adding a few of these little delicacies to my morning coffee request.
So what else is there to do at the Marriott Surfers Paradise? I did mention the gymnasium… I had good intentions of visiting, but alas there was always too much food in my belly to drag myself onto a piece of gym equipment.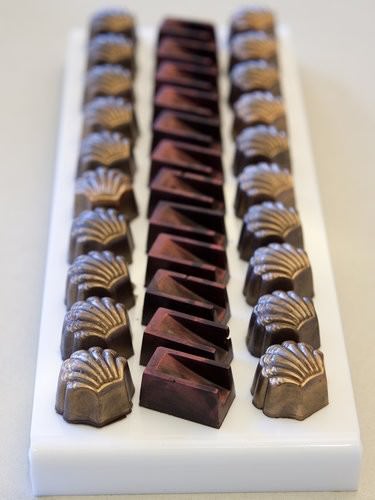 I did however make it down to the day spa "Lattouf", located on level one. The Express Body Overhaul is their signature treatment and it sounded like just the thing for me.  I booked myself in, and received the one hour pampering which included a full body sea salt exfoliation, a moisturising massage with aromatic oils, scalp and feet massage and a full facial cleanse, exfoliate and mask.  When my treatment was complete I barely knew where I was, or the day of the week!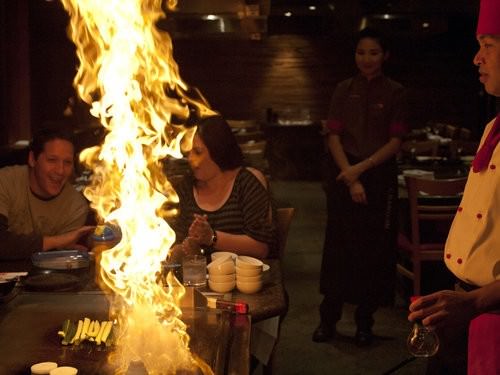 Relaxed to the point of being almost limp, I wandered back to the room to prepare for a fun filled night with Mr GG in the hotel's Japanese Teppanyaki Bar, Benihana. I can honestly say, I really didn't know what I was in for!  Review to follow.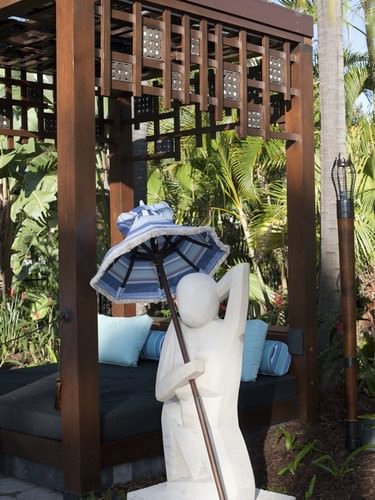 Whilst this has been the perfect family getaway, there is also a more romantic and exclusive option available at The Marriott. The Elandra Retreat Club offers added luxury and elegance in the rooms and services available. Located on the 27 floor guests are treated to an "elevated" level of style and service. I think this would be the perfect choice for a romantic getaway, perhaps I will have to book in and let you know 😉
So readers, what do you look for when booking accommodation, give me a list of priorities?
Surfers Paradise Marriott Resort & Spa
158 Ferny Ave
Surfers Paradise
Ph: 07 5592 98000