Today I wanted to share a recipe for Beetroot & Chilli Chocolate Brownies  from the Regional Future Chef Challenge.  Harry Mitchell of Macksville High prepared this dish for judges to win second place in the competition. The recipe he chose was with the help of a family friend who is a professional chef, Penny Moran.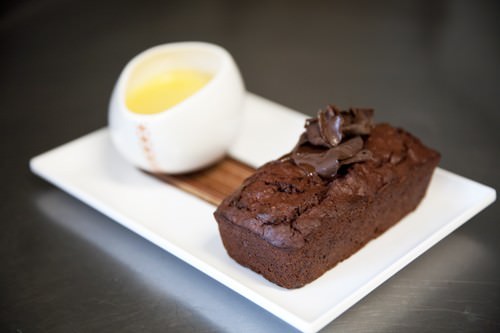 Harry would like to pass on his special thanks to his dear friend and Chef Mentor, Penny Moran.
Harry said, "I would visit Penny after school and cook with her and her family for three weeks straight during the competition stages. Penny handed down one of her favorite Brownie recipes and helped me to perfect the ingredients and methods. Having been guided by Penny, I have now learnt many new skills and secrets to winning dishes. So for that I would like to express my sincere thanks to Penny".
Such lovely remarks from a very talented high school student who is well on the way to success regardless of the career path he takes, although I do hope he chooses cheffing.
The recipe produces a brownie that I guarantee readers will love. The Chilli Chocolate Brownie, is rich and moist with the chilli adding another layer of enjoyment. If chocolate was a breakfast food I would be eating it right now 😉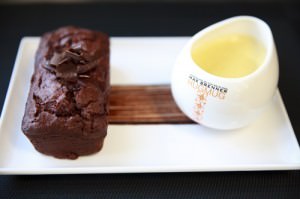 Beetroot & Chilli Chocolate Brownie
A delicious rich brownie that dresses up beautifully for a special occasion.
Print
Pin
Rate
Ingredients
Brownie
150

gm butter

150

gm brown sugar

150

gm sour cream

2

eggs whisked

270

gm fresh beetroot grated

1

tsp

vanilla

125

gm SR plain flour (use plain flour if you like a flatter

dense brownie)

1/3

cup

Cocoa

100

gm Almond Meal

1

tsp

chilli

you can also use fresh chilli if desired

1

tsp

salt

50

gm Chocolate to decorate
Crème Anglasie
500

ml

pure cream

4

egg yolks

60

g

caster sugar

1

tsp

vanilla paste
Instructions
Brownie
Preheat oven to 170 degrees

Prepare brownie tray with baking paper or oil.

Peel and grate beetroot, reserve for later.

Melt chocolate and butter in a saucepan.

Add brown sugar and whisk until combined.

Add sour cream and whisk, remove from heat.

Whisk eggs in a bowl.

Add the whisked eggs to the chocolate mixture making sure to keep whisking.

Add the grated beetroot and stir until combined.

Combine sifted flour, almond meal, cocoa and chilli, add to the chocolate mixture and fold through.

Pour the mixture into prepared tray.

Bake for approximately 20mins or until cooked.
Crème Anglaise
Heat the cream

Whisk the egg yolks with sugar and vanilla paste.

Add warm cream to the egg mixture, whisking continually.

Return the saucepan to a low heat and cook the sauce until thickened.

Do not boil the crème Angalise or the eggs will cook and solidify.

Strain and cool to serve.
Harry prepared, cooked and plated the Beetroot & Chilli Chocolate Brownie within the allotted one hour.  Even though this dish looks like something that would take a great deal of time to prepare, it can be on the table in a very short time.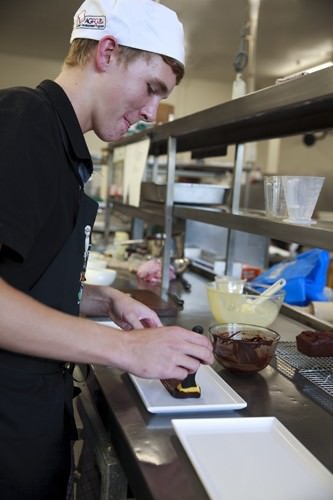 Serve the brownie warm, straight from the oven for a very indulgent dessert!
The Beetroot & Chilli Chocolate Brownie was one of the many highlights of the competition.
I am looking forward to seeing what the Regional Future Chef Team Challenge comes up with in October.  If you attend or teach at a Mid North Coast School and want to be involved in the team challenge contact Joel at the Future Chef Challenge.