It was a busy day in the kitchen as students from six local schools fought it out for the chance to win the title of Future Chef. Future Chef is a partnership between Youth Directions, Joel McCulla, head chef at Zulus Restaurant, local schools and the Australian Good Food Guide. The competition is opened to students from 15 to 18 years of age and aims to give them a taste of what it would be like if they chose to pursue a career as a chef.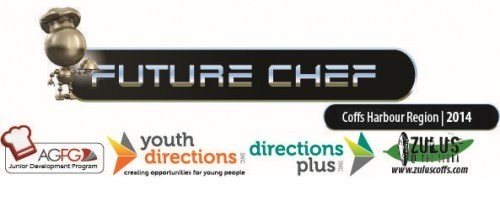 The students were given the theme "Autumn," and asked to produce a dish which showcased this topic. The dishes were initially cooked within the schools last month, and assessed by Joel and a judging panel. The winners from each school were invited to compete at a regional level against winning students from the other schools.  Six schools were represented in the Regional Future Chef Challenge, Bowraville Central School, Macksville High School, Dorrigo High Schools, Bishop Druitt College, Coffs Harbour Senior School and Orara High School. Coffs Harbour Ex- Services Club kindly offered the Rendez-vous Restaurant kitchen as the venue for the Regional challenge.  For most students this was the first opportunity to cook in a commercial kitchen with industry standard equipment.  Judging the final dishes was Joel McCulla (Zulus Restaurant) Shawn Sheather (AGFG) and myself.
Students were given just one hour to cook and plate up their dishes.  Each student needed to produce three identical plates.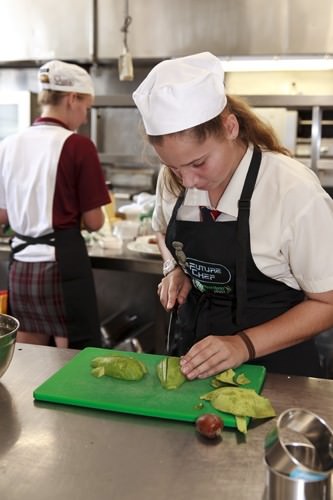 The junior were first in the kitchen. Holly Ide from Bishop Druitt College produced a Grilled Chilli Chicken w Avocado, Lime and Chilli Salsa, a wonderfully simple but flavoursome and fresh dish.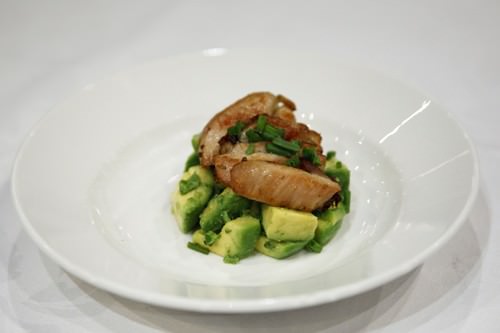 The beauty of this dish was in how well the flavours worked together. Cooking alongside Holly was Kimberly George from Macksville High.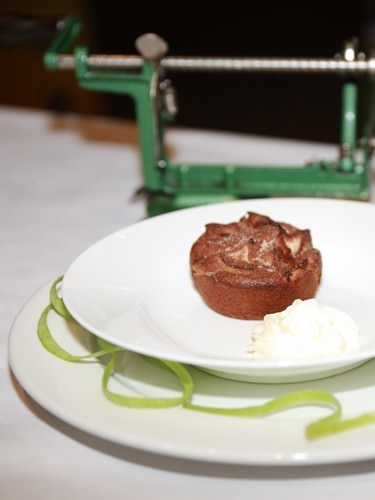 Kimberley had chosen to serve an Apple Tea  Cake. There is absolutely nothing like the aroma of a cake baking, or the taste of fresh out of the oven tea cake. As Kimberley was brushing the cake with butter and dusting with cinnamon sugar I realized this was going to be a very difficult competition to judge,  like they say… it's a tough job, but someone's got to do it! The next three student from the Junior Future Chef Challenge were shown through to the kitchen .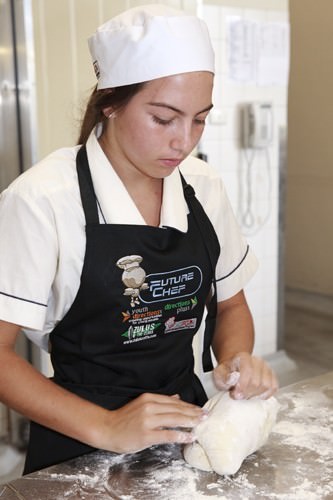 Montanna Coulsen of Bishop Druitt College was preparing a Pear, Prosciutto and Rocket Pizza, which firstly involved making and proofing the pizza dough base. It was a race against the clock in the cold kitchen to get the yeast activated and the dough proofing in the limited timeframe but Montanna made it look like a walk in the park.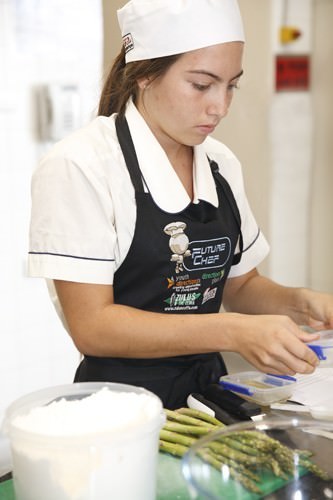 Before long we were all salivating over the pizza which was being pulled from the oven.  If I didn't know better I would have thought it was wood fired! The dough was crisp and light and the fillings complimented each other beautifully.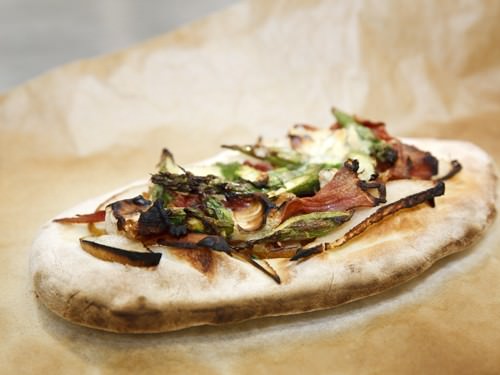 Montanna finished the pizza with torn chunks of Brie and Rocket.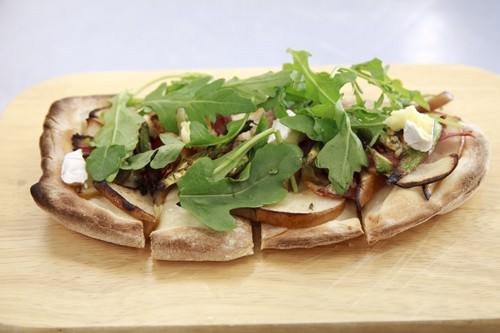 By this time I was feeling rather spoiled.  The food was amazing! Students knew their dishes well and were plating up food which I would happily order in any café.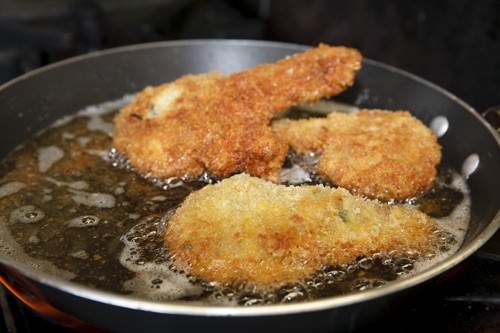 Dorrigo High entrant Jodan Cochran presented Lamb Cutlets w Spinach & Feta Salad. Jordan was not only cooking a seasonal dish but had also sourced much of the produce locally. She had used local lamb and cherry tomatoes from her nans backyard.  The eggs she used when crumbing the lamb had bright saffron yellow yolks, a testament to using fresh local produce.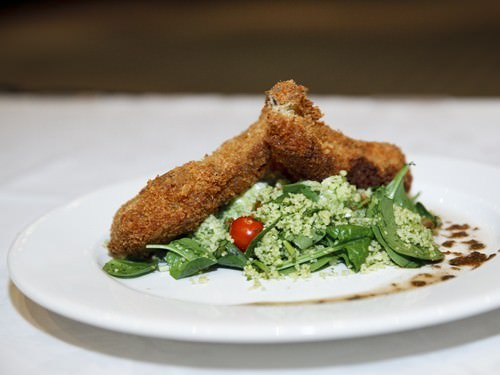 Tasting is believing!  The lamb was so moist and tender, perfectly cooked with just the right amount of pink. I am sure readers can imagine the crunch of the crisp, crumb coating.  Jordan had also used a spice rub on the lamb which added another layer of flavor.  The spinach and feta salad with cous cous was just the style of dish I would chose to eat, lovely and fresh.  The cous cous was incredibly light and fluffy and paired beautifully with the lamb. Even though I was seated next to Shawn Sheather of AGFG I simply couldn't resist gnawing on the lamb bone once judging was complete.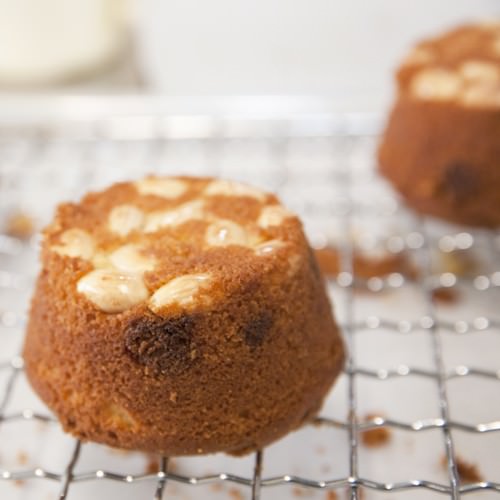 The final dish to taste from the Junior division was cooked by Lily Moore of Macksville High.  She had chosen to prepare an Almond Cake with Almond Praline.  Lily was so calm in the kitchen, firstly making the cake batter and once the cake was in the oven moving onto preparing the praline.  Watching the sugar syrup I wondered if she feared it might crystalize, if she did, her concern was not visible, she appeared completely confident with her dish and plated up a mouthwatering dessert.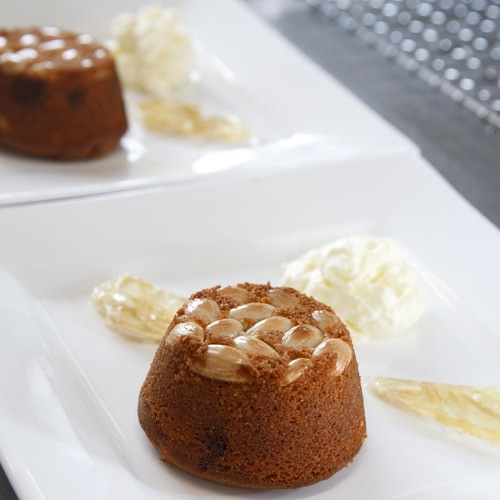 The cake had a delicious light crumb, sweet white chocolate and the crunch of almond making this cake a delicious light Autumn style dessert. Scoring all the dishes was a difficult task they were all so good.  The student were judged not only on taste, texture and appearance but how they worked  in the kitchen, food safety, hygiene and a number of other complements.  The final score sheets showed just 10% points difference between the top scoring dish and the dish which scored the least.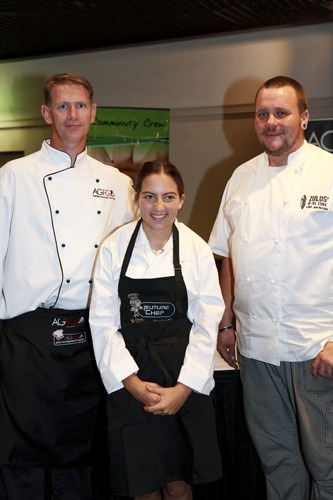 There can be only one winner and the Montanna Coulsen from Bishop Druitt College just managed to come out ahead with her Prosciutto & Pear Pizza. Most improved dish, and second place in the score count was Jordan Cochran from Dorrigo High with her Lamb Cutlets & Spinach Feta Salad.  All the girls should be very proud of the dishes produced on the day.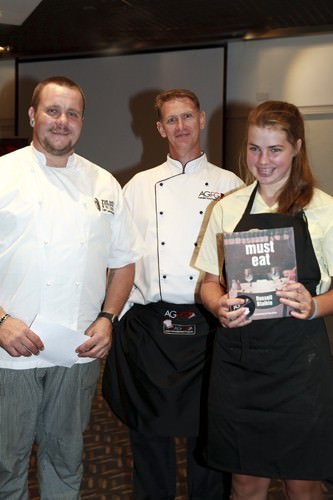 The girls received a generous prize package from local sponsors and AGFG.  They will also have the opportunity to cook as part of a team at Zulu's Restaurant for a once only, six course degustation.  The degustation will feature the winning dishes and tickets will be limited to just 40 places.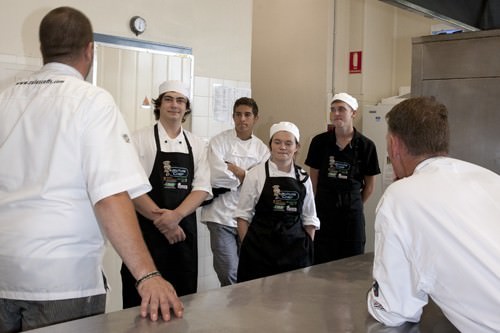 It was time for the seniors to take their place in the kitchen.  Joel and Shawn gave them their kitchen briefing and then it was action stations! There were a great range of dishes being prepared, Rachel Cook from Coffs Harbour Senior College was making Duck a' l'orange with a Sweet Potato and Beet Rosti.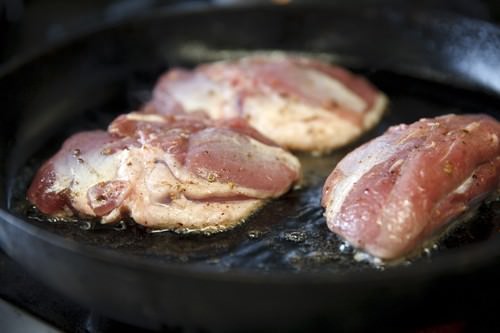 In just one hour she managed to cook a perfect duck breast, make the accompanying glossy orange sauce and cook off her rosti in the rich flavoursome duck fat.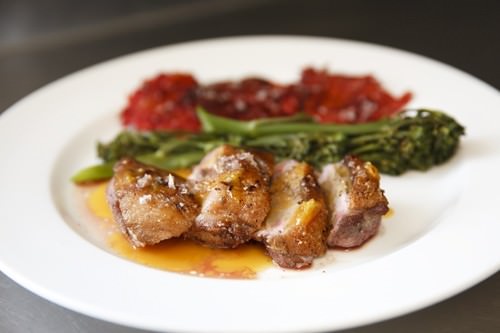 The dish screamed Autumn and the flavours were perfect.  I particularly liked the slight aniseed flavor that came through the duck.  Rachel had seasoned the duck with Chinese 5 spice which lifted the dish to another level and complimented the sweet velvety orange sauce.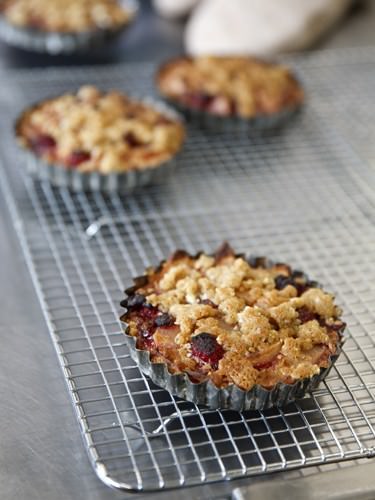 During this time Jayden Wilson from Orara High was busy preparing an Apple and Raspberry tart. The tart had a delicious buttery base and was filled with a generous serve of sweet apples and plump raspberries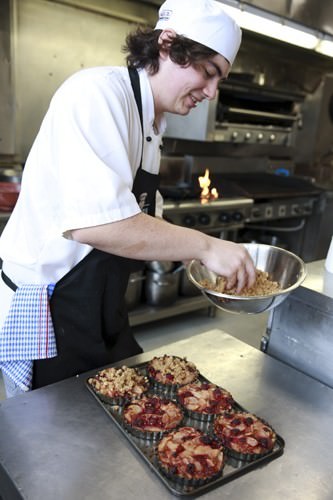 Jayden had then made a brown sugar crumble which he sprinkled over the tarts and grilled to a sweet caramel perfection.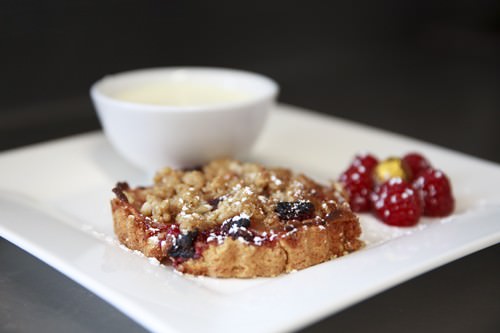 Tasting the tart was pure, sweet joy! The crisp pastry was mouthwateringly good and the filling was balance with the sweet caramel apple, tart juicy raspberry and a little lemon zest setting the flavours off beautifully.
Roberto Pietralunga from Coffs Harbour Senior College prepared a dish which was simply called "Dad's Pasta" on the judging sheets.  There was no recipe included and when I questioned him he said he didn't have a recipe.  Roberto was making his families traditional home-style recipe from memory and feel.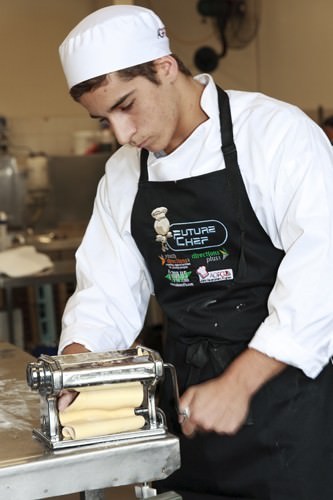 I have never seen someone so relaxed in the kitchen.  It was mesmerizing to watch the way he folded, laminated and (as one of the work directions ladies mentioned) caressed the pasta. He seemed so naturally at ease with a process that is technically quite difficult. Served with the pasta was a simple tomato sauce. The sauce included just four ingredients and I wondered if it would have the complexity to do well against the other dishes being produced. During the cooking Roberto asked me if I liked spicy food and I said I did, this pleased him and he adjusted the sauce.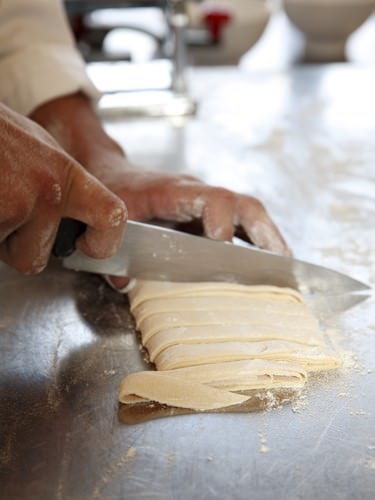 Generation of Italian "no how" had conspired to produce the most delicious, simple tomato sauce I have ever tried.  Roberto had used bacon to give the sauce a fatter, fuller flavour and just the right amount of chilli to add heat and depth to the sauce.  The sauce had cooked for almost the full hour on the stove so the flavours had melded perfectly together.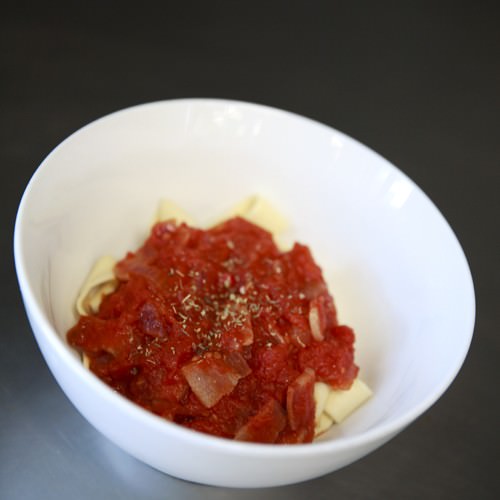 Slathered in the red sauce were the perfect strands of al dente pasta.  The pasta had been hand cut and cooked to perfection. A dish with just a few simple ingredient had been transformed into more than a sum of it parts.  It was literally music to my mouth. Shawn from AGFG commented that he would happily served that dish as it was with just the addition of a grissini or parmesan crisp for garnish. We all wanted a piece of crusty bread to mop up the bottom of the bowl!
The final dish for tasting was a Beetroot and Chilli Chocolate Brownie served with a Crème Anglaise. The dish was prepared by Harry Mitchell from Macksville High. Where Roberto had chosen a simple dish which he knew from memory Harry was cooking a more complex dish with a technically difficult component, the Crème Anglaise. Harry was so organized and efficient in the kitchen, there was so much to produce in just one hour but he had everything measured and timed perfectly. I noticed Shawn checking Harry's Crème Anglaise for "cooked egg" as it was strained, he came back and advised that it appeared perfect! It amazes me that a high school student would even attempt this sauce let alone pull it off so perfectly.  Crème Anglaise can have a nasty habit of turning into sweet scrambled eggs!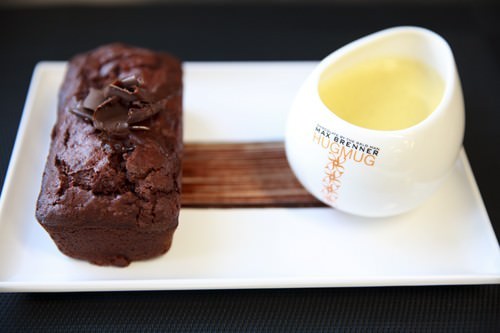 The proof of the pudding is in the tasting, and tasting this dish was pure indulgence.  The brownie had been made using 70% cocoa dark chocolate and was rich beyond belief, the beet added moisture and a little texture with the final component being the heat from the chilli. It was a brownie like no other I have tried. Definitely something special!  The crème Anglaise was sublime, creamy delicate in flavor and deliciously sweet and velvety.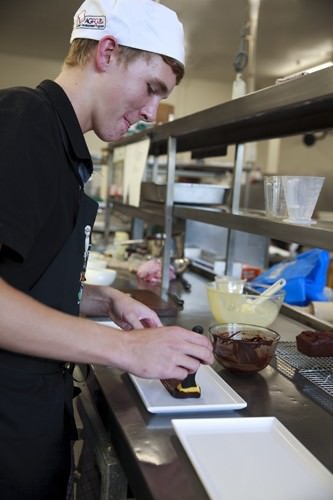 The dish was plated beautifully and showed an understanding of how to visually tie a dish together and a creative flair. Scoring all the dishes was even more difficult than the junior round had been.  As judges we found ourselves considering criteria which was well beyond the scope of a high school competition. The Future Chef Challenge has really opened my eyes to all the talent we have coming through in the younger generation. It is such a worthwhile way of encouraging an interest in hospitality and cheffing.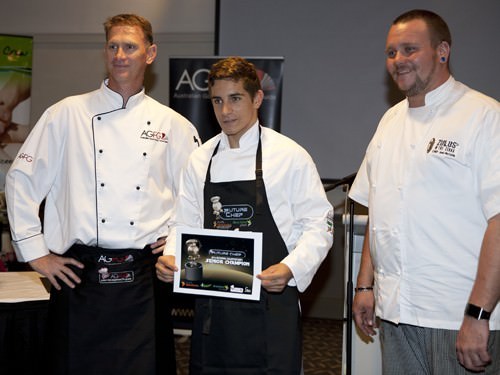 Finally we agreed the winning dish had to be the Pasta, making Roberto Pietralunga from Coffs Harbour Senior College the first Regional Future Chef (Snr). Second in the point score and the most improved dish belonged to Harry Mitchell from Macksvill High with the Chocolate, Chilli Beetroot Brownie.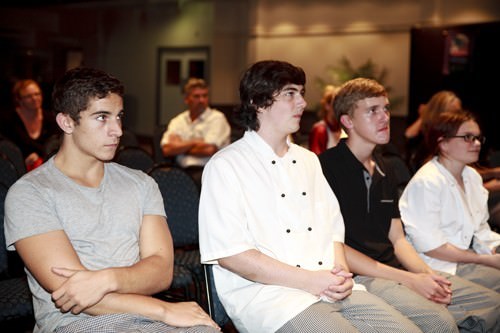 Shawn from AGFG took a moment to speak to the students.  He told them when he has been looking for apprentices in the past he will often ask them to come back with a dish they can produce for him.  He told the students what they had produced today in the Future Chef Challenge was better than what mos of his apprentices had served.  Encouraging, all of Shawn's apprentices have gone on to make a successful career for themselves as chefs. Shawn also commented that he felt this program would be beneficial to students on a state and national basis. After all, it's in the final years of High School that kids are looking at their career options.  At the moment competition such as these are only opened to chefs once they are an apprentice. Future Chef gives students the opportunity to trial a chefing experience and has the potential to allow industry the opportunity to talent spot prospective apprentices just months before they complete the HSC.
Working tirelessly on Future Chef over the last four months is Coffs Harbours answer to Jamie Oliver and Heston Blumenthal all rolled into one enthusiastic super chef.  Joel McCulla has given cooking demonstrations at the schools and mentoring to students with an interest in this career pathway.  He will be assisting the six top scoring Future Chefs in producing a six course degustation at Zulus Restaurant. Details are yet to be released but rest assured I will be taking one of those seats and sharing the nights proceedings with readers.
Proving that there is no rest for the wicked, Joel will be working with Youth Directions and local High Schools on a Future Chef Challenge Team Event in October. Each school will enter a team to produce a three course meal for judging. The team challenge is about appreciating local foods, reducing food miles and our food footprint. Produce will be sourced in the LGA and will have travelled less than 100kms. If your school would like to be involved there are positions still available, the contact details are below. This would also be a great opportunity for producers to sponsor teams and highlight the wonderful and diverse food we have available locally.
Future Chef Challenge
Work Directions coordinator – Maree
Ph: 02 6653 2900
Chef Joel McCulla
Mob: 0401 187 064