Do you have any Easter traditions?  We really don't have many, and the ones we do have are ALL about chocolate! Don't tell anyone, but I'm not that much of a chocolate fan. Luckily this Traditional Easter Cake contains no chocolate!
Anyway, in our house it's all about the Easter Bunny, and everything centres around chocolate. Sometimes we even hide more chocolates for an Easter Egg hunt. I think it's kind of easy to overdose on chocolate at this time of year so I want to start a few other, less sweet food traditions.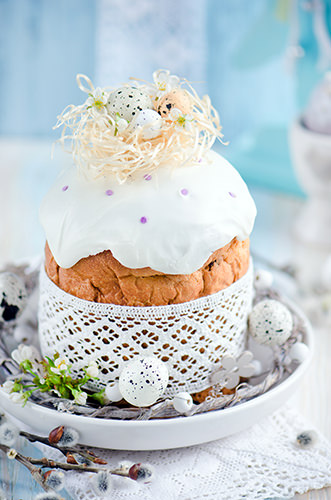 I know I could always make Hot Cross Buns but I really can't get that excited about these either. I never feel that a store bought product feels like a tradition. Also Hot Cross Buns are available so soon after Christmas it seems to spoil the idea of it being an Easter tradition.
Do I sound like the Grinch that stole Easter yet?
Anyway I decided to think of some more interesting Easter recipes to try this year. The first one I want to share is this traditional Easter cake recipe.
I wanted to take my Easter baking inspiration from another culture; my sister-in-law in from Slovakia. I thought it might be nice to bake an Easter cake from her country of origin.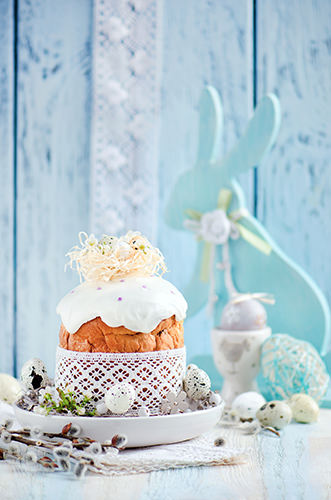 After doing a little bit of research, I found that in Slovakia the Paska is a traditional Easter bread. It's baked and shared among friends and family. I found various recipes but they all seemed to be very similar to my brioche recipe. I decided to make a Paska using my own brioche recipe as the base and then simply add the raisins and cheese centre required for the Paska.
The flavour and texture of the bread is a little difficult to explain. Imagine brioche, rich and sweet with dried fruit, like a hot cross bun and iced in a lemon glaze. Running through the bread is a centre of bread is a delicious cheese dough! YUM.
Yep, I'm definitely all for celebrating Easter with a tradition that doesn't include chocolate,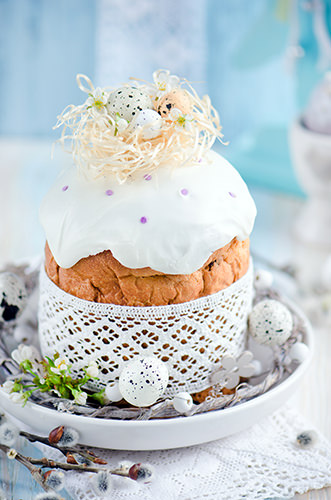 Ingredients
Basic Dough - Yeast
10

gm yeast

1/2

cup

warm water

1

tablespoon

sugar
Basic Dough
1/2

cup

sugar

1/2

cup

water

2

cups

milk

warmed

115

pound

gm or 1/4 butter

1 stick

8

cups

flour

2

tablespoons

salt

3

eggs
Cheese Dough:
10

gm yeast

1

Tbs

sugar

1/2

cup

warm milk
Cheese Dough
1

cup

sugar

450

pound

gm or 1 dry cottage cheese

1

cup

raisins

4

egg yolks

1

teaspoon

salt

1

teaspoon

lemon zest

1

teaspoon

baking powder

3

cups

sifted flour
Instructions
Activate the Yeast for Basic Dough
Add warm water to a small bowl and mix in the yeast and the sugar.

Set aside the yeast for 5 minutes until frothy.
Basic Dough
Pour warmed milk over butter, add the sugar and warm water.

Stir until the butter melts.

Add the milk mixture to a bread maker, with the flour, salt, eggs and activated yeast mixture.

Set the bread maker to knead the dough.

If making by hand, knead by hand until smooth and elastic.

Cover the dough and place in a warm place to rise until it doubles in size.
Activate Yeast - Cheese Dough
Add warm milk to a small bowl and mix in the yeast and the sugar.

Set the yeast aside for 5 minutes until frothy.
Cheese Dough
Mix cottage cheese with spoon until smooth.

In a bowl combine raisins, yeast mixture and cottage cheese.

Add egg yolks, remaining sugar, salt and lemon zest to the cheese mixture and stir until combined.

Place the cheese mixture in the empty bread maker, add baking powder and flour; Set the bread maker to knead the dough.

Once the cycle is complete it's time to assemble the loaves.
Assemble Paska
Preheat oven to 325 F or 170 degrees celcius.

Turn the basic dough out onto lightly floured board and divide into 4 parts. 1 part is for decorating the top of the loaf if you don't intend to glaze the loaf. The remaining 3 are for the 3 loaves.

Shape 3 of the dough loaves into rounds. Let basic dough rounds stand on board, covered, for 15 minutes.

Take 1 part of basic dough on board; lightly punch it down a little.

Divide cheese dough into thirds.

Roll out 1 part of cheese dough into long log and place it around the edge of basic dough loaf.

Gently turn the edges of the basic dough over to enclose the cheese dough.

Place dough in a round pan and let it rise for 30 to 45 minutes.

Repeat for remaining 2 basic dough rounds and remaining 2 parts of cheese dough.
Optional Decorations
The final basic dough round is used to make a decorative plait around the top of the loaf. (not shown, I iced my Easter Cake)

If you are going to make a plait, divide the remaining basic dough into 3 sections.

Take one section and divide it into three again. Make a plait with the dough and add it to the top of the bread.

Brush the bread loaf with egg yolk and sprinkle with caster sugar.

Repeat for the remaining loaves

Bake the loaves for 10 minutes. Increase oven temperature to 350 F (180 celsius) and continue baking for an additional 40 minutes.
After smelling this bread baking and then devouring at least half of it all by myself, I thought I should get some more information abut the Slovak Paska from my sister in law. I made a phone call and much to my horror Lisa had never heard of Paska.
Needless to say, I was feeling a little dejected after our conversation. I had created this delicious traditional Easter recipe with Lisa's Slovakian heritage in mind, and all of a sudden it was not quite so traditional.
Then my brother shared an amusing story about a Slovak Easter tradition that Lisa HATES! Apparently, this is a REAL custom in Slovakia. He said the men visit the houses of their girlfriends and "playfully" hit the women with a stick and then splash her in the face with water. Once this ritual is complete the men are given shots of alcohol and dyed boiled eggs.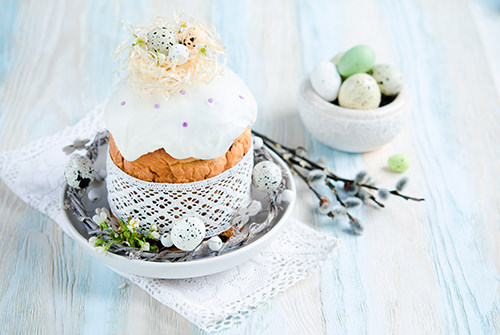 Even young girls are likely to get woken up by their brothers wielding a stick and a water pistol. Suffice to say this is not a tradition my brother will EVER be allowed to participate in.
I did a little more googling and found that Paska is a traditional Eastern European Easter bread. Google mentions countries such as the Ukraine, Poland and Slovakia enjoying the treat. Regardless of the origins of the bread, I think it will make a lovely inclusion to our breakfast menu Easter morning!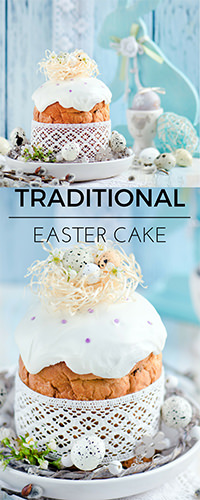 Although this may not be a traditional Slovak Easter recipe I'm sharing it with you because it was too good not to publish.  This will be my traditional Easter Cake.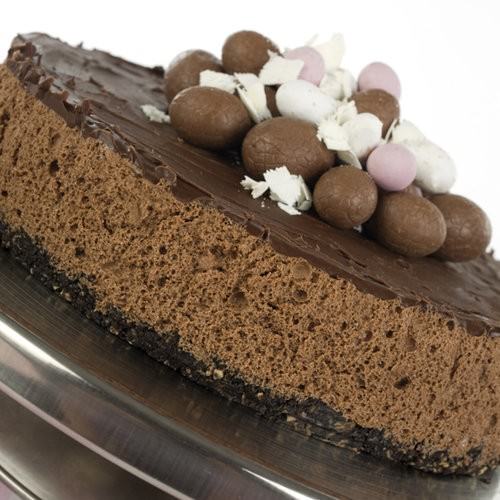 Do you have any traditional Easter recipes? In the past I have made an Easter Mousse Cake and other chocolate Easter Treats.