It's time for a little Easter cuteness in the form of some Chocolate Easter Egg Nests!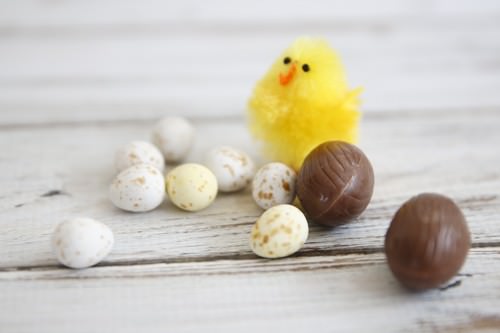 Poor little chickie needs a nest for her chocolate Easter Eggs.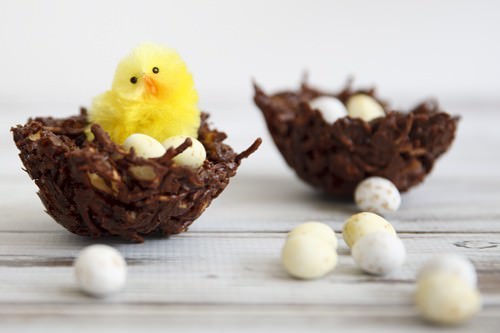 What about a Chocolate Easter Egg nest made of crunchy noodles, honey and shredded coconut? Yum, even my non eater was hanging around when these were being made… and he doesn't usually have a sweet tooth. The boy exists on air only usually!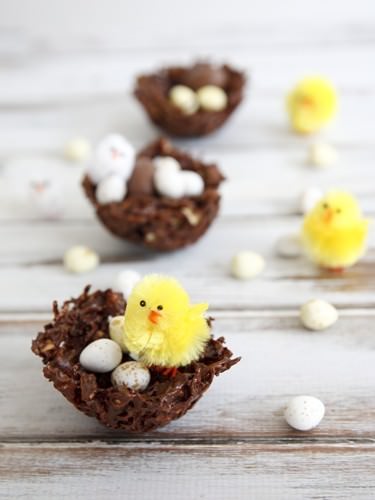 These are so simple and make a unique Easter gift. My little Easter Egg nests are going to the neighbours, and the children's school bus driver.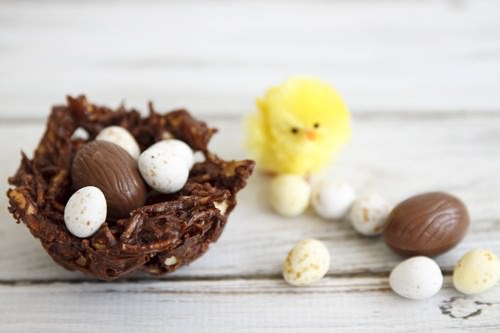 I also thought one giant Easter Egg nest would make a great centre-piece on the table over the Easter period if the weather isn't too hot. Having chocolate out of the fridge is still a little "touch and go" here at the moment.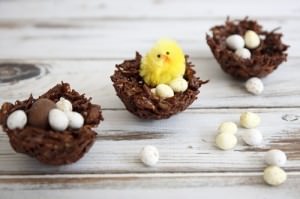 Ingredients
220

gm dark chocolate

30

gm salted butter

1 1/2

Tbs

honey

1/4

cup

shredded coconut

1/4

cup

Chang crispy noodles

1 1/2

Cup

Large Chang Crunch Asian noodles
Decorations
6

chocolate Easter eggs

18

speckled mini Easter eggs
Instructions
Line small rice bowls with plastic wrap.

Put the dry ingredients into a large bowl.

Add the chocolate, butter and honey to a microwave safe bowl and heat in bursts.

Stir the chocolate mixture until smooth.

Carefully add the melted chocolate mixture to the dry ingredients. Stir through gently ensuring the chocolate cover all the noodle mix.

Put enough chocolate mixture in each of the bowls to make a nest.

Press gently with the back of a spoon.

Continue to fill the remaining rice bowls.

Refrigerate the nests until firm.
Decorating
Once the nests a re firm use the plastic wrap to lift the nest away from the mould.

Add a chocolate egg and three of the mini speckled eggs to the nest.

Place the nest into a clear cello bag and add a gift tag and a chickie.

Keep refrigerated until needed.
Why do I like these little nests?
Mostly because they are cute and non commercial. A simple handmade gift.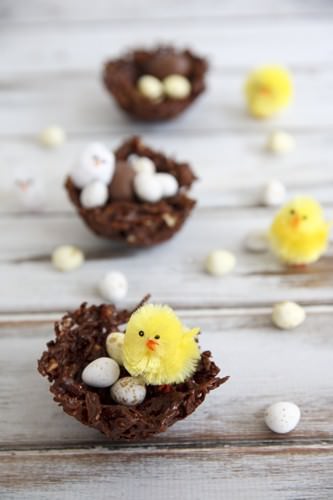 I really enjoy making things for people, and I love that this is easy enough for the kids to help make and decorate.  When the kids are on Easter break we will go into production.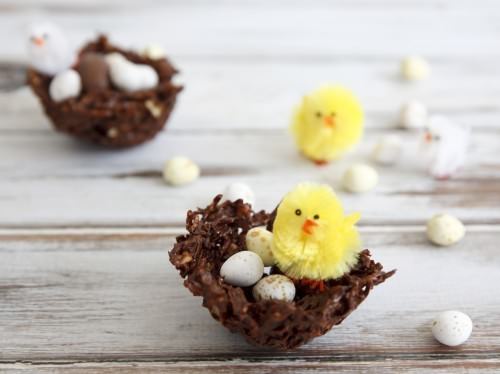 What do you for Easter? Do you have a traditional recipe… is it a family recipe or a modern thing you do with  the kids?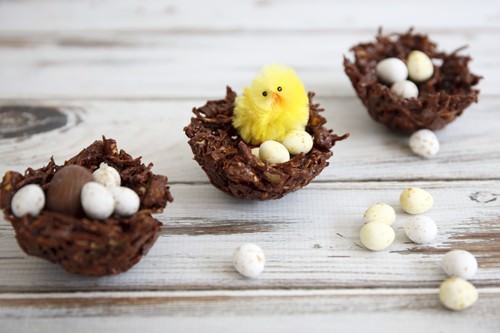 Why not pin or bookmark this page so you can make these cute little chocolate Easter Egg nests with your kiddies (or grand kiddies) in the Easter holidays.