Good morning readers, is it time for a coffee? I hope it is because I have the most decadent White Chocolate Mousse Cake in a cup to share. First, let me tell you a little story. Di Bella Coffee of Brisbane asked me to develop a recipe using one of the specialty coffees in their range.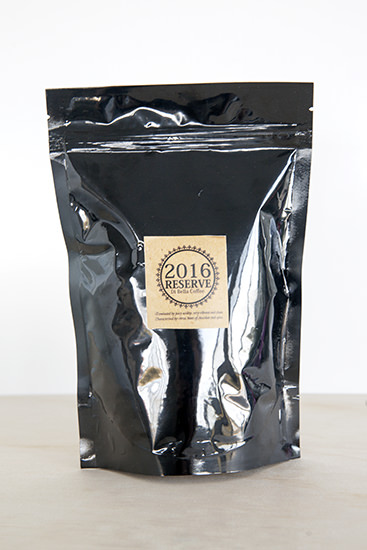 The specialty coffee makers blend, roast and distribute a range of specialty blends and single origin beans to domestic, commercial and wholesaler customers.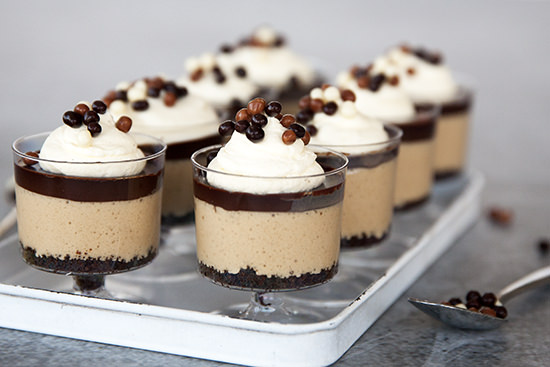 I chose to sample the Reserve Blend 2016. I made myself a latte while I contemplated the flavours and my recipe options. The Di Bella 2016 Reserve has a lovely rich chocolate and spice flavour, and fruity aroma. I had been considering making a mocha dessert, but once I sampled the coffee I wanted a cleaner flavour than the combination of milk chocolate and coffee would deliver. The idea of using white chocolate with the Reserve Blend coffee to make a mousse, started to formulate in my mind.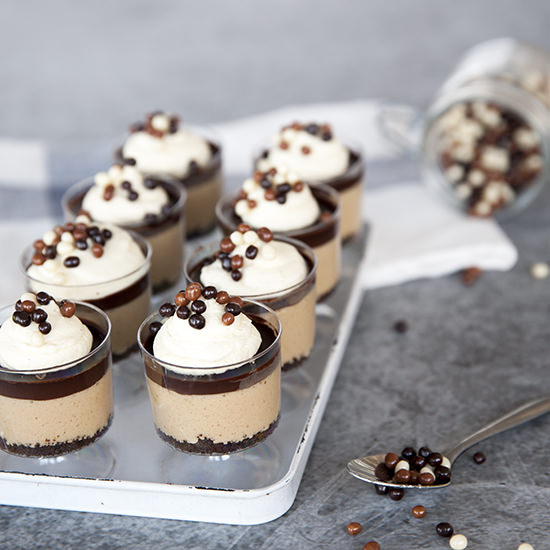 I have a trusted favourite mousse recipe which produces the lightest ever dessert. Its always full of airy bubbles and has a nice fluffy texture. I could imagine these coffee bubbles sweetened by the milky white chocolate and I knew I was on a winner.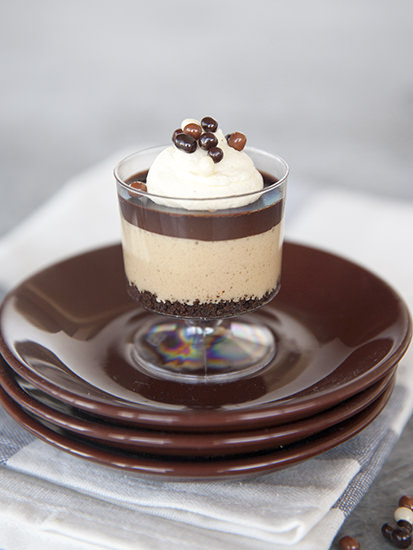 This recipe would be beautiful served as a whole Mocha Chocolate Mousse Cake as I have done previously in the Easter Egg Mousse Cake below.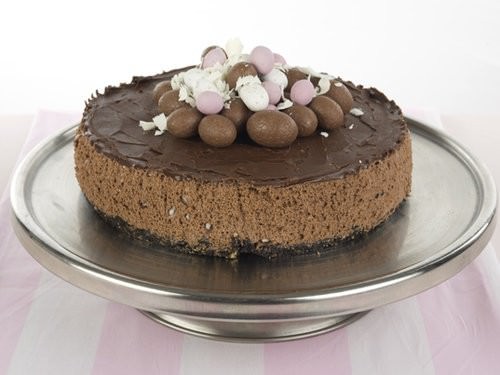 Today I had other plans. I had promised a friend I would bring a dessert to a birthday party. She had organised a beautiful birthday cake so I thought it would be easiest to serve the Mocha Chocolate Mousse Cake in individual cups. This would make it simple for people to help themselves, rather than having to slice another cake.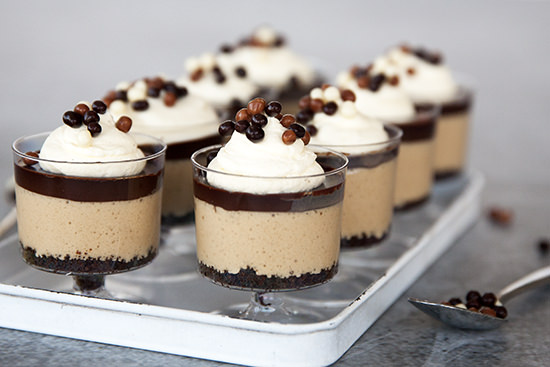 Mocha Chocolate Mousse Cake
This delicious recipe is so versatile. Make one large cake or divide the recipe into small glasses for an individual serve.
Print
Pin
Rate
Ingredients
Base
250

gm Chocolate Ripple Cookies

120

gm melted butter
Mocha White Chocolate Mousse
2

cup

shots strong black Reserve Blend 2016 Di Bella Coffee

Maximum 1/3 total

250

gm white chocolate

1/4

cup

pouring cream

4

eggs separated

10

gm sachet unflavoured gelatin

¼

cup

boiling water

¾

cup

caster sugar
Chocolate Ganache
80

ml

Frangelico

200

gm dark chocolate

good quality

2

Tbs

golden syrup

pouring cream
Topping
200

ml

whipped cream

1

Tbs

icing sugar

1

tsp

vanilla

1/2

cup

Chocolate crispies
Instructions
Biscuit Base
Place biscuits in a food processor or TM bowl. Process until a fine crumbs forms.

Add the melted butter and combine. TM 5sec/speed 6.

Press a tablespoon or so of the crumb gently into the serving cups and then refrigerate.
Mocha White Chocolate Mousse
Heat cream and chocolate pieces in the microwave for 1 minute.

Stir until the mixture is smooth. If necessary microwave again in 30 second intervals.

In a small bowl add the boiling water to the gelatin and combine the two until the gelatin has dissolved and doesn't have any lumps.

Whisk the coffee and the egg yolks into the white chocolate mixture.

Add the gelatine mixture to the white chocolate and coffee. Mix thoroughly.

In a clean dry bowl beat the egg whites until soft peaks form. Slowly add the sugar a teaspoon at a time until all the sugar has been incorporated and you have light glossy meringue.

Fold the egg whites gently into the white chocolate sauce. Try to keep the mixture as light and airy as possible.

Pipe or spoon the mousse into the prepared cups.

Refrigerate the Mocha Mousse Cups until the mousse is set.
Ganache Topping
Heat cream, golden syrup and chocolate pieces in the microwave for 1 minute.

Stir until the mixture is smooth. If necessary microwave again in 30 second intervals.

Stir through the Frangelico and leave the ganache on the bench to cool.

Once the ganache is cooled spoon 1 Tbs of the mixture on each of the completed cups.

Return the cups to the fridge.
Decorating
When it's time to serve the dessert, top each cup with the whipped cream and use the sprinkles to decorate.
They may look complicated, but these mocha mousse cups are really easy to make. The recipe will make about 30 individual cups.  If you were catering a more formal affair you could use shot glasses or something similar.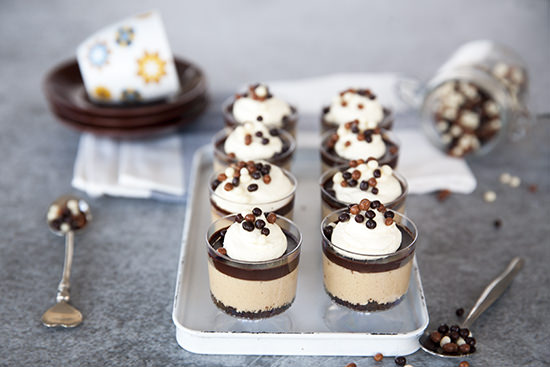 I was so pleased that everyone enjoyed the desserts, they were a big hit.  Friends said they usually wouldn't eat a coffee dessert but absolutely loved the balance of flavours in the Mousse Cups. I am not sure whether to credit my wonderful cooking or the amazing coffee blend I was using but to be on the safe side I know I would make it again.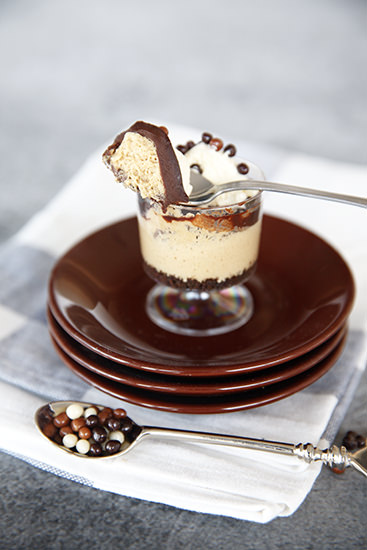 Don't forget to pin this recipe so you have it ready the next time you need a crowd pleasing dessert